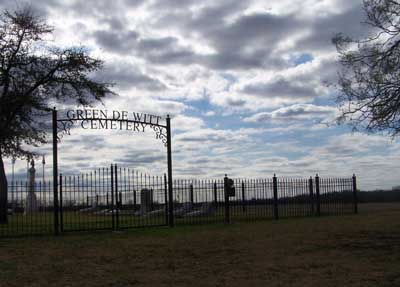 The town of Gonzales is about an hour's drive east and a little way south of San Antonio. In the days when Texas was a Spanish and then a Mexican posession, San Antonio, Goliad and Nacogdoches were the centers of what little population there was. But in the 1820s, the newly-established and independent Mexican nation sought to encourage America and European entrepeneurs to take up generous land grants, and bring in settlers. Stephen F. Austin was the one that everyone knows about: the urban heart – if you could call it that – of his grant was at San Felipe on the Brazos River.
Colonel Green DeWitt was the other entrepeneur of note – and the settlement at the heart of his grant was at Gonzales on the Guadalupe River – the farthest west of all the Anglo settlements in Coahuila-Tejas. The town was named for the then-governor, Rafael Gonzales. Nothing remained of much of either town after the Texas Revolution – both were burned to the ground.  San Felipe is a park and historical site … but Gonzales was re-built.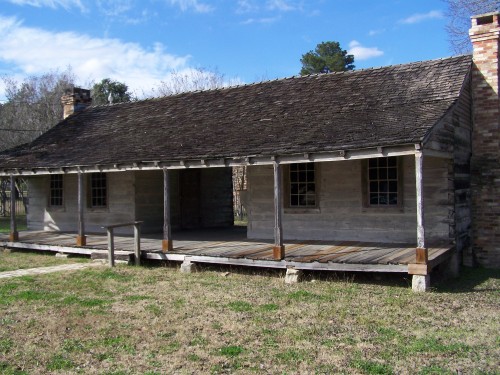 The Eggleston House – the oldest structure in town: a two-pen dog-trot log cabin, built by a returning merchant for his family. Gonzales was where Sam Houston gathered a group of volunteers with the stated purpose of relieving the seige of the Alamo in early 1836. Instead, he got word that the Alamo had fallen. He ordered that his army fall back, that civilians evacuate to the east … and the town be burned to the ground.
Much of the rest of town dates from the late 19th and the early 20th century. The city plan follows the lay-out of the original town- with a series of civic squares.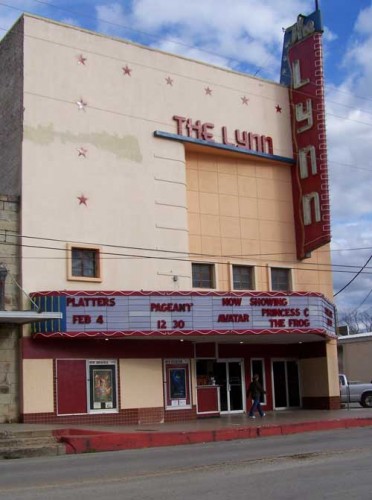 All that a town of any size requires: a movie theater…
The newspaper … established in 1853. The old saying is that in England a hundred miles is a long distance, and in America, a hundred years is a long time. The reverse is also true.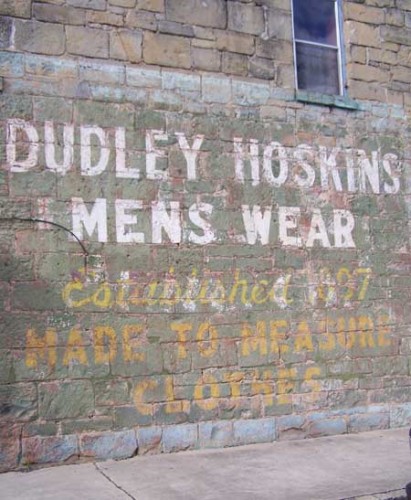 The ghosts of regional businesses past … although my daughter and I kept flashing on Mr Humphries, in Are You Being Served?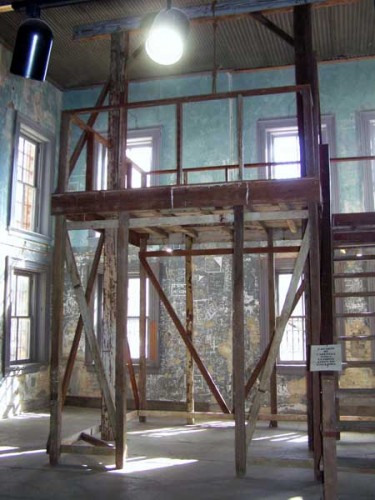 And the ghosts of crime and punishments past – the gallows in the old jail-city hall building.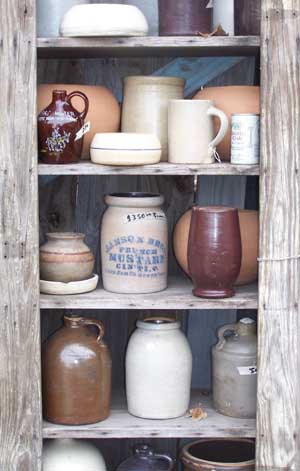 Somehow, I just don't see that antique Tupperware will look this interesting in an antique shop outdoor display in a hundred years. But then, you never know.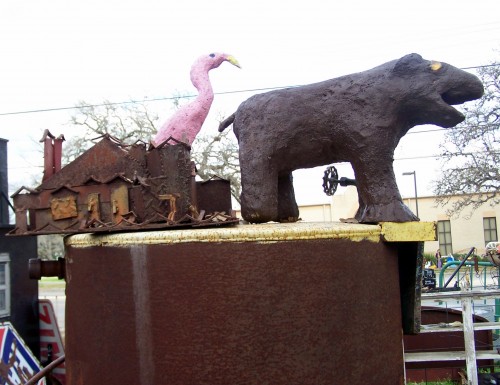 On the other hand, this assortment will always look strange …
Gonzales' main claim to fame is that it was the site of the Battle of Gonzales – that Lexington and Concord moment, in the Texas Revolution, when the commander of the Mexican garrison in San Antonio asked for the return of a little cannon which had been loaned for local defense to the town's militia. And the local volunteers replied, "Come and Take It."
(Early Gonzales features very much in one of my books, as the place where the heroine lives  with her family … until the night that word comes that the Alamo has fallen.  32 men of the town –  many of them husbands of her friends and a few of them the former pupils of her schoolteacher husband – are dead. The town will be burnt by the retreating Texian army within hours, and she and her children must leave at once.)