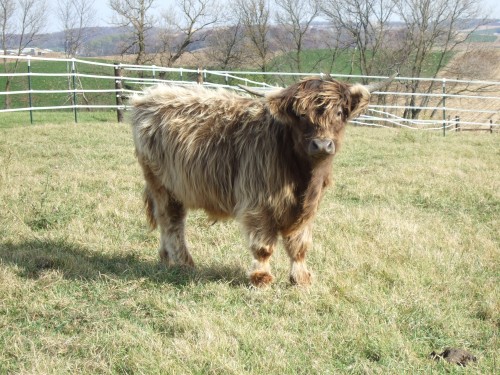 Anecdotal ag information under the fold if you desire.

That is a photo of Arthur, our prize steer. He is not quite a year and a half old. His confirmation is the best we have ever seen from our tiny herd of Scottish Highlands and of the Highlands we have seen on other farms. We suspect winter will be good to him and he will be enormous (for the breed) by next summer and ready for butchering. He was our first calf. Here he is back in May of 2010 right after he was born with his mom, Annabelle.

We butchered two steers this year and the beef is of a very high quality – my wife and I were both surprised at how good it is. We sold one full beef in quarters and kept the other for ourselves. It is pretty cool to have good ground beef and steaks in stock at all times.
The ground beef is extremely lean – well, all grass fed beef typically is. If you are used to grain fed steaks and aren't looking for a change, this probably won't be for you. We use no hormones and feed these animals nothing but pasture grass in the summer, and hay from our fields in the winter. The taste is not wild, but to me, "beefier". You don't get the buttery melt in your mouth taste of a well marbled ribeye from a place like Ruth's Chris, but the best cuts from our beef hold up well.
You have to be careful cooking the beef – this isn't a breed for well done steaks, if that is how you like them. Fortunately my family all likes medium rare to rare (barely cooked in my case).
Burgers are great too, but care again must be taken not to over cook them or you will have a sawdust sandwich. The burger is where you really get the beef flavor that everyone must have enjoyed a long time ago, before feed lots, hormones, grain and all the rest.
It was very easy for my wife to sell the extra steer – there is a high demand, at least in these parts for naturally raised grass fed beef. People like to come by and see the "happy" cows munching on grass. We say "organic" and that is OK as our tiny operation is so small that we don't have to be certified organic to say such.
We are ready for winter as the hay is all put up and ready to go.
More ag updates as time provides.