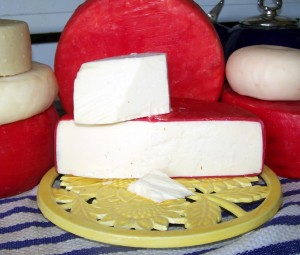 After following all the directions given for making cheeses last fall, to include covering the various wheels with wax – we stashed the results on the bottom shelf of the refrigerator to age. This is a very necessary step, or so we are assured: one or two of our ventures into D-I-Y cheesery had to age for up to a year to achieve perfection – the smoked gouda and the parmesan, for example – although most needed only about three months or so. The largest mold that we have does a two-pound wheel very nicely: that is, the curds which result from applying judicious amounts of heat, starter, rennet, and cheese salt to four gallons of whole milk fill it up to the top. This, when weighted and pressed to extract the remaining whey and compact the cheese curds, results in a cheese wheel about twelve inches around, and from two to almost five inches thick. It must sit and dry for a couple of days at room temperature, once taken out of the mold, before being waxed, labeled with the date (and how many months it must age!) before being stuck in the refrigerator to age.
This week, we cut into the first wheel of cheddar; and was it good! It wasn't very much like commercial cheddar from the supermarket, which usually has a smooth and kind of gelatinous texture, as well as a pronounced orange tint. Ours came out rather more like very, very expensive artisan Cheddar, with a slightly crumbly grain to it – somewhat like feta, but much firmer – and a lovely, creamy taste to it. It was mild, rather than sharp, it melts beautifully, and when I decided to make macaroni and cheese with it last night … I am telling you – food of the gods. The only disadvantage is that we will probably eat this up faster than we can make and age more. We rather like making things ourselves – bar the one or two flops. While it is cheaper to buy ready-made ordinary items like cheese … it is absolutely less expensive to make the good stuff yourself. And you know exactly what goes into it.
Now, my daughter is looking speculatively at the canning supplies that are on display in our local HEB and wondering just how hard home-canning could be. It isn't, although there are some things, like green beans, which if badly done, can give you botulism. I'd rather stick to fool-proof things; jams, jellies and pickles. And just last night, I went and looked up some recipes for making whole-grain mustard.