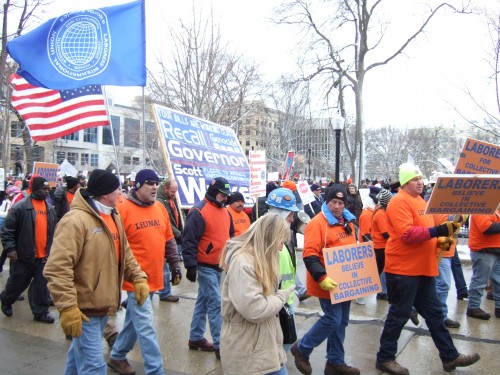 Does anyone remember the "protests" last February from up here behind the cheddar curtain? I sure do.
Next Tuesday the recall primary goes off, with Kathy Falk, dedicated union lover running against Tom Barrett. Yes, that Tom Barrett, the guy who lost to Scott Walker in Nov. of 2010. Falk has been effectively kneecapped by her own party. She is a lefty liberal from Madison with strong union backing and the Donks realize there is no way for her to win against Walker.
I have heard from a few places that team Obama/Emmanuel have had something to do with the Democratic Party killing off Falk. I don't have any proof besides what I have heard from friends and volunteers in the Falk campaign.
Barrett is a far more moderate choice than Falk. Early ads against Barrett were run by AFSCME and others.
Neither candidate is really mentioning collective bargaining for government unions anymore. It is a dead issue. This fact, combined with the Donks getting behind a much more centrist, corporate sponsored candidate tells me one thing. The recall and all of the b.s. associated with it is nothing more than a power grab. Plain and simple. The left and government unions have been played. Will they vote for Barrett if Falk loses? Probably. But that will be a bitter pill to swallow indeed.