Posted by Chicago Boyz Archive on May 7th, 2013 (All posts by Chicago Boyz Archive)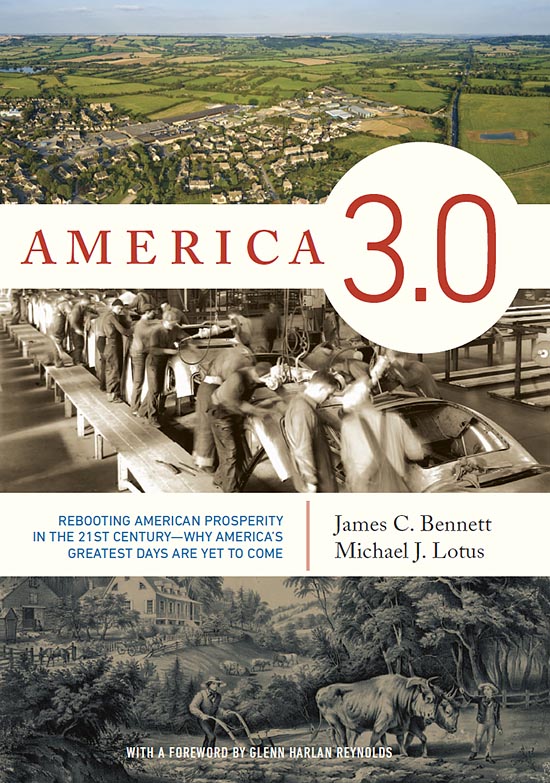 This will be cover on America 3.0: Rebooting American Prosperity in the 21st Century-Why America's Greatest Days Are Yet to Come, which will be published on May 28, 2013.
Jim Bennett and I went back and forth with our publisher, Encounter, on this cover. We are grateful for their diligent work, and we are very pleased with the final version. Encounter had the original idea of three bands depicting America 1.0, 2.0 and 3.0. The original picture for 1.0 was different, but this one works nicely. It shows a farmer plowing with animal muscle power. That is precisely the image that captures the A1.0 era. It was a time of family-scale farms, and it was before the introduction of mechanical power. The second image is of an industrial era auto assembly line. This is the epitome of A2.0. It is mass production, motor power, wage work not independent business ownership, big business, big labor and in the background, big government. It was a great world in many ways, but it is a past that will never come back. Of course, it is impossible to photograph the future, and unless we had the budget to make a "science fiction" picture, the top band, A3.0 could only be a rough approximation. Still, this pictures captures much of the story. It shows an exurban landscape, with a highway but lots of green. We anticipate that there will be much more dispersion of the American people across the landscape, for reasons we describe in the book, especially in Chapter 1: America in 2040. Also, the color scheme shows increasing brightness, indicative of the hopeful future we foresee for America.