One of the maddening things about researching General Douglas MacArthur's fighting style in WW2 was the way he created, used and discarded military institutions, both logistical and intelligence, in the course of his South West Pacific Area (SWPA) operations. Institutions that had little wartime publicity and have no direct organizational descendent to tell their stories in the modern American military. This is a huge problem for readers/researchers interested in World War 2 Southwest Pacific history because most modern historians have become like modern journalists. They both have lost the have lost ablity to do systematic record searches "outside the accepted narrative." And as my previous post "MacArthur — A General Made for Convenient Lies" made clear, MacArthur's historical narrative was written by his enemies.
A case in point of a 'here today and gone tomorrow' logistic institution was MacArthur's "Red Bull Dust Express", or more properly, "Motor Transport Command No. 1." Unlike the fabled "Red Ball Express" that trucked supplies to Patton's 3rd Army in it's dash across France. The efforts of the 3,500 African-American truckers in the racially segregated 29th and 48th Quartermaster Truck Regiment's to convoy supplies across the Australian Outback to a besieged Darwin, in the dark days of 1942, have been largely forgotten. Their story was hidden behind veils of wartime censorship, Mid-World War 2 American Army organizational restructuring and the post war demobilization.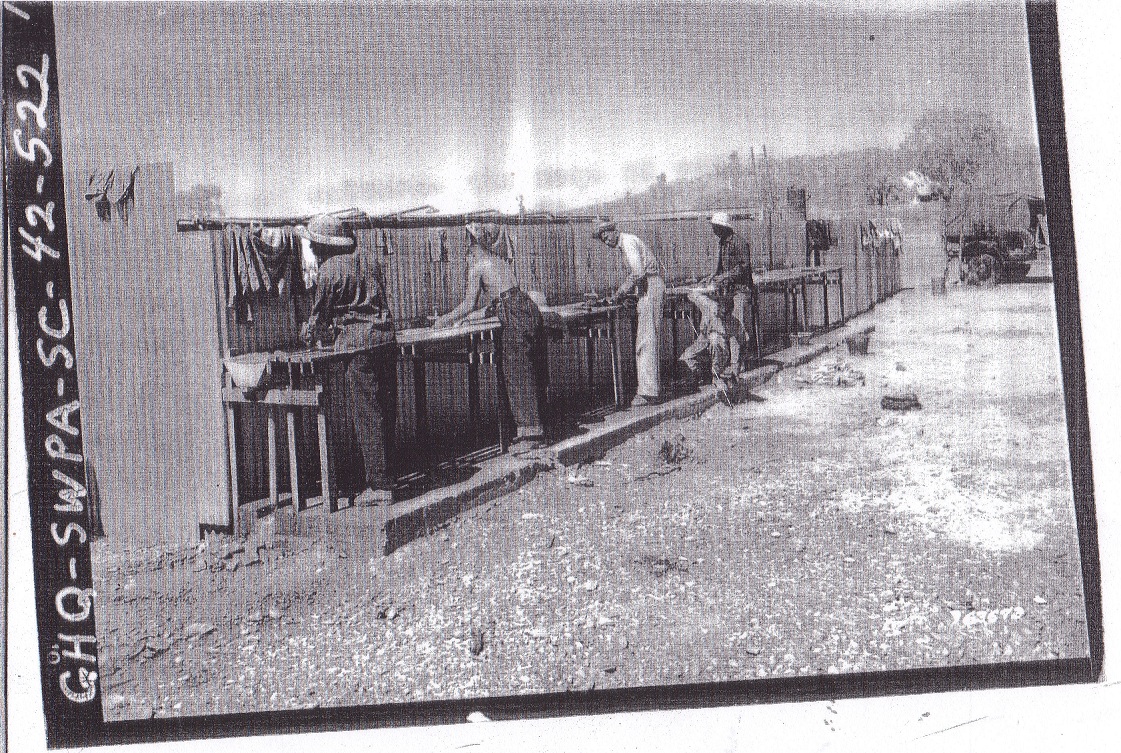 The African-American drivers of the 29th Quartermaster Truck Regiment taking a water break at Mt Isa, Australia

Darwin, Australia in 1942 was on the front lines with Japanese. It had been a forward resupply point for the Allied defense of Java and Timor in the then Dutch East Indies, what is now Indonesia. For that effort, on 19 February 1942, Darwin was subjected to the same attentions of the Imperial Japanese Navy's Kido Butai Carrier Strike Fleet as Pearl Harbor with the same one-sided result.
Fortunately for Darwin, the US Army Air Force's P-40E equipped 49th Pursuit Group was transiting through at the time, en route to Java. They were able to hold the line after the disastrous February 1942 raids until Royal Australian Air Force (RAAF) 77 Squadron Kittyhawks arrived to defend Darwin in the latter part of 1942 and the Spitfire equipped No. 1 Fighter Wing arrived in early 1943. The Australian government dropped a heavy veil of censorship over these battles and Darwin's resupply, both to deny the Japanese knowledge and also to avoid a public panic while it desperately sought to get Australian troops back from the Middle East.
In the following months of early 1942, Japanese air power on Timor isolated the Port of Darwin from Allied freighter convoys, leaving Northern Australia vulnerable to Japanese invasion. Darwin needed to be resupplied by land and it needed it immediately. The problem was that while Australia had railways to move supplies, they did not have enough railway lines in the right places. The North Australia Railway's line extended from Darwin to Birdum, the southern terminal, for a distance of 316 miles (508.5 km). The northern most terminal for the Central Australian Railway, running from Port Augusta in South Australia to Alice Springs, Northern Territory was was 636 miles (1023.5 km) south east of Birdum. The total rail and highway distance from Port Augusta to Darwin was 1,723 miles and the total distance from the primary military supply sea port of Brisbane via this route was 2,438 miles (3923.6 km).
The story of the 29th and 48th Quartermaster Truck Regiment's accomplishments in closing that gap is hard to find. The American Army's organizational restructuring in the middle of WW2 moved truck units from the Quartermaster branch to a new Transportation branch, requiring that you both know that fact and go Joseph Bykofsky and Harold Larsoll's US Army "Green book history" volume titled UNITED STATES ARMY IN WORLD WAR II, The Technical Services, THE TRANSPORTATION CORPS: OPERATIONS OVERSEAS When you get to pages 481 – thru – 483, you will find their story.
Their operating conditions were as awful:
Operations were begun on 28 June with a fleet of 1,482 vehicles manned by nearly 3,500 Negro drivers. The camp at Mt. Isa was located in an area abounding with wallabies, rock pythons, and spinifex, a wiry, oily grass that blazed fiercely when ignited. Three intermediate camps were established along the route, each of which had a driven well for water supply, radio communication facilities, a gasoline supply, and an open-hearth kitchen. Night Camp 4 was at Birdum. A twelve-day round-trip schedule was followed. The motor convoys traversed "some of the grimmest, hardest country on earth," almost entirely uninhabited.125 Even in the middle of the Australian winter, when the project began, the days were hot. Vehicles, drivers, and landscape were coated with a red "bull dust," as fine as talc, which impaired visibility and necessitated wide spacing between trucks in the convoys. Dust respirators were necessary. Tiny bush flies filled eyes, ears, nose, and mouth and invaded mess kits. The drivers serviced their vehicles after each day's run. Heavy repairs were made by mechanics, who sometimes worked all night. Maintenance costs increased steadily during months of operation on rough roads. Spring leaves snapped, radiator hoses gave way, and abnormal engine wear was shown by a steeply rising oil-mile curve. The experiment of removing outer dual wheels to halve tire maintenance made tires burst into flame at noon temperatures of 130 degrees. By September 1942 a mess hall, a dispensary, power pumps, showers, and latrines had been constructed at each camp. However, the weaker men were breaking down under the strain. Because of the dust, respiratory and eye infections were on the increase, and one of every three drivers had kidney complaints caused by constant jolting.
As their accomplishments were herculean. Between 28 June 1942 and 30 October 1942, when Motor Transport Command No. 1 was disbanded, the 29th and 48th Quartermaster Truck Regiment's drove a total of 9,504,948 vehicle miles in 173 convoys. They carried 30,329 tons of cargo, 2,402 mail bags, 3,487 Australian soldiers, and 842 Americans.
When Allied air power made sea convoys to Darwin safe again, the "Red Bull Dust Express" ceased…leaving behind a road, a few truck stops with wells, a telephone line and a truck assembly plant in Brisbane where "knocked down" (AKA disassembled for space efficient freighter shipment) trucks from the USA were reassembled for service in the SWPA. Both the African American truckers and their truck plant were sent north to New Guinea. The idea of knocked down vehicles was later used by MacArthur to ship his landing craft for his Engineer Special Brigades.
When the war ended in August 15, 1945, both 29th and 48th Quartermaster Truck Regiment's renamed "successor units" were in Luzon, Philippines. They spent their time trucking surrendered Japanese to captivity and waiting for ship transports to send the "high point" drivers home, to be demobilized and forgotten…
…until now.
And remember that when it comes to MacArthur SWPA history, like with modern journalism, the internet gives you the ability to do your own record searches "Outside the Narrative".