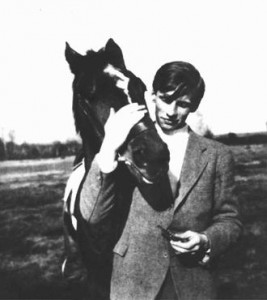 Alexander Schmorell, who was a member of the anti-Nazi student resistance group known as the White Rose, has been canonized by the Russian Orthodox Church Abroad.
Schmorell was of German nationality but Russian ancestry. Deeply religious, he had strong artistic and literary interests–his favorite author was Dostoyevsky—and was studying to be physician. He met Hans Scholl in 1940, and in mid-1942 collaborated with him on the initial White Rose leaflets. Later that year he served as a combat medic on the Eastern Front, and what he saw there reinforced his already-strong anti-Nazi convictions.
Following the arrest of the Scholls and Christoph Probst, Schmorell attempted to escape to Switzerland, but was betrayed by someone he thought was a friend, a woman named Marie-Luise: "Alex's picture and description had been all over the place by now, and she felt that she had no choice but to report him, if not to save her own neck, but to save her unborn baby's," according to the post at the above link.
Shurik, as he was known to his friends, identified strongly with Russia and with Russians:
I love Russia's endless steppes and breadth, the forest and mountains, over which man has no dominion. I love Russians, everything Russian, which cannot be taken away, without which a person simply isn't the same. Their hearts and souls, which are impossible to grasp with the mind, which can only be guessed at and sensed, which is their treasure, a treasure that can never be taken away.
Alexander Schmorell was executed by the Nazi state in July 1943. Shortly before he went to the guillotine, he asked his lawyer to tell Marie-Luise that he had forgiven her completely.
A moving description of the canonization ceremony here.
See also my previous post about the White Rose.