So, I had a book club meeting in Fredericksburg, Texas, this morning – which was a blast for me personally, as it was one of my own books that they had read for the monthly selection. Just about everyone in the group came to the discussion, which was a definite coup for the member who had contacted me with a question about one of my website pages. So – a great time had by all, and on the way back, we decided to stop at this place.
We have been driving by the place every since we began visiting Fredericksburg, and never had gone in – so, why not? Fischer & Wieser is a local small business and their products are terrific, if sometimes a bit pricy. When we first began visiting, Fredericksburg was about the only place where you could buy them, but the two guys who founded it are terrifically enterprising – and not only are their sauces, jams and preserves available in the Texas HEB chain of grocery stores, they are also available through Amazon. But the old Peach Haus is still their main show room and activity center.
Last November at the Hall of Authors at New Braunfels' Christmas Market, the woman at the table across from us had a stack of the Fischer & Wieser cookbooks, and let me leaf through one. Oh, the temptation! But I need another cookbook about as much as I need another dog or cat – so I gave it a miss. I was still very impressed with the story of the company, though; two local guys from two of the old-line German-Texan families, a generation apart in age, who teamed up to create fantastic specialty foods.
So – it shouldn't have been a surprise to see a little Romney campaign "I Built This Company" sticker on one of the windows – and certainly not to see this brand of sweet ice tea on display.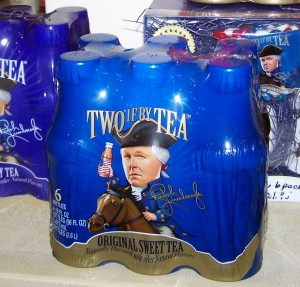 I gave a miss on the tea, myself – but I bought some local honey and one of their new barbeque sauces. I sampled and gave a miss to the Ghost Pepper BBQ sauce, though. That is for people who believe that Tabasco sauce is a little too bland.