It has become something of a tradition for Leftists to commemorate the US A-bomb attacks on Imperial Japan, and on 9 August to try and make the case that even if the first bomb was needed — which it was not — that the second bomb was what amounted to a war crime because the American government and military knew the Japanese were trying to surrender, but wanted to intimidate the Soviet Union with the A-Bomb. This is the heart of Gar Alperovitz's book Atomic Diplomacy: Hiroshima and Potsdam
in 1965, his 1994 revision Atomic Diplomacy: Hiroshima and Potsdam: The Use of the Atomic Bomb and the American Confrontation with Soviet Power
and his 1995 book Decision to Use the Atomic Bomb: And the Architecture of an American Myth
.
Starting in the 1990's military historians, using declassified "Ultra" signals intelligence files proceeded to destroy "Atomic Diplomacy: Hiroshima and Potsdam" and all the books based upon it. Edward Drea's 1992 Macarthur's Ultra: Codebreaking and the War Against Japan, 1942-1945
, Richard Frank's 1999 Downfall: The End of the Imperial Japanese Empire
and Robert James Maddox's 2007 Hiroshima in History: The Myths of Revisionism
all do a very good job demolishing "Atomic Diplomacy" based arguments.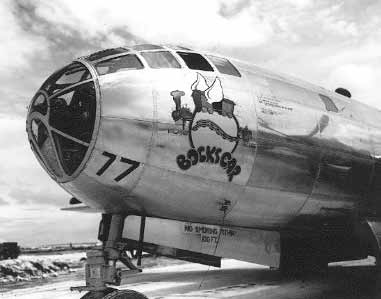 Atomic Bomb Pit #2 – B-29 BocksCar's Loading Site on Tinian
On Chicago Boyz it has also become a tradition for me to write on this subject at this time of year, doing my part to point out the untruths of "Atomic Diplomacy" as well.
See the following posts:
2012 – Nagasaki Plus 67 Years
2011 – Happy V-J Day!
2010 – Nagasaki, Hiroshima and Saving Hirohito's Phony Baloney Job
and Hiroshima — The A-bomb plus 65 years
This 2013 column will address this subject by concentrating on "US Military Preparations The Day Nagasaki Was Nuked" to point out that in both word and in deed, the US Military believed Japan was going to fight to the bitter end, until it finally surrendered on August 14th 1945. And if Japan had not surrendered, every weapon America had would be involved in the hell on earth which would have been the conquest and subjugation of the Imperial Japanese Military and People.
The first place we will go this year is to the headquarters of General Spaatz, commander of Strategic Army Air Forces in the Pacific. On the day Nagasaki was nuked, he took two actions that underlined his belief that Japan would not surrender.
First on 9 Aug 1945, he ordered that an Atomic bomb "pit", AKA a hardstand with hydraulic lift, to be completed no later than 15 Sept 1945 on Okinawa.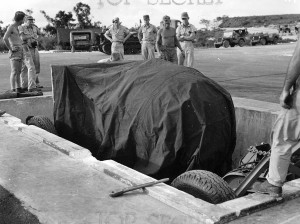 This was for operational reasons based on the Nagasaki mission experience. The A-bomb carrying B-29 "Bockscar" showed that it would be very useful to have a SECURE A-Bomb pit area on Okinawa, to help maintain security over the weapon; after its problem plagued bombing mission. A mission which finally landed on Okinawa on its last drops of fuel instead of at the planned Iwo Jima emergency field.
The Spaatz documents I found also relate that General's Spaatz, Twining, LeMay and Admiral Nimitz wanted to use the 3rd A-bomb on Tokyo as soon as it was available, and that Chief of the Army Air Force General Arnold replied that it was under consideration "at the highest levels".
The other interesting thing for me about this 9 August to 15 September 1945 time line for a A-Bomb pit was if Japan kept fighting, on 16 September 1945 the Typhoon IDA would have struck Okinawa and likely flooded out this pit.
The second action taken by General Spaatz that day also involved a bomb, not an atomic bomb, but a precision guided one. The Remington Rand, Inc. built VB-6 Felix was a 1,000lb (450 kg) bomb with an octagonal control shroud and a heat seeking device in the nose. Intended for use against strong infrared emitters (like e.g. steel blast furnaces and oil refineries), the VB-6 was tested with some success during July 1945, but the program was cancelled at the end of World War II.
Spaatz ordered a squadron of B-29's outfitted with the first 300 VB-6 Felix to be delivered as soon as possible to support the Invasion of Japan air campaign. Hardly the action of a General who thought Japan was about to surrender.
The third action that happened this day was at a much lower command level, but started at a much higher one. On 27 June 1945 Under Secretary of War (and future Secretary of War for Sept 1945 – July 1947) Robert Patterson intervened in a US Army bureaucratic dispute to expedite production of flame tanks for the invasion of Japan. This action resulted in all flame tank programs being given the same "Triple A" procurement priority held by the B-29 and the Atomic bomb. By the time of the Nagasaki A-Bombing, this "Triple A" priority had been applied by the US Army's Chemical Warfare Service across all of its flame tank programs to "get nine women pregnant to have a baby in a month" and deliver more Flame tanks for the invasion of Japan.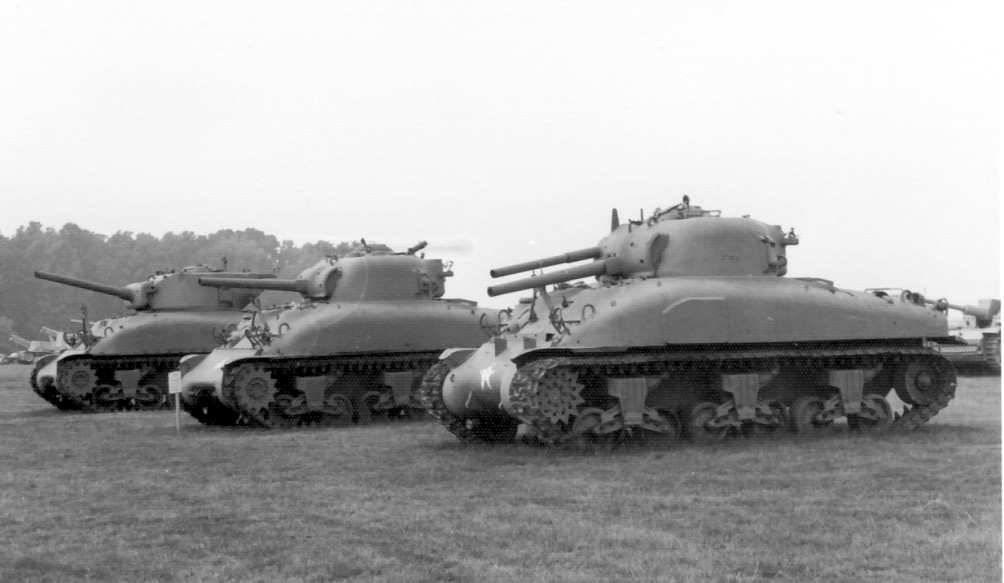 Prototypes of Three Different Main Armament Flame Tank Designs Under Construction August 9th 1945
On or about August 9th 1945, a letter contract was issued by Major Hollingsworth of the Chemical Warfare Service (a veteran of the Hawaii Flame Tank Conversion effort) for the production of additional Morgan RAM E13-13 flame tanks. Morgan, the contractor, replied that given the M4 Sherman tanks, it could produce to the following schedule to support the invasion of Japan:
10 units at end of the 9th week (15 Oct 1945 – 10 total)
10 units at end of the 10th week (22 Oct 1945 – 20 total)
15 units at end of the 11th week (29 Oct 1945 – 35 total)
20 units at end of the 12th week (05 Nov 1945 – 55 total)
25 units at end of the 13th week (12 Nov 1945 – 80 total)
25 units each week there after until completed. (19 Nov 1945 thru — 11 Mar 1946)
80 + 425 = 505 E13-13 Morgan flame tanks.
These 505 flame tanks were in addition to 920 other M4 Sherman flame tanks and 50 LVT(A)1 amphibious flame tanks under written contract.
Neither Under Secretary of War Patterson — who knew both the "Ultra" and "Atomic" secrets — nor the military men like Spaatz involved in Pacific fighting, nor Major Hollingsworth stateside fighting the "war of production" knew when or _whether_ Japan would surrender. All they could do, facing the hell of an invasion of Japan, was the best they could do preparing for it while hoping for a miracle.
Is it a wonder that such men, engaged in those activities, said "Thank God for the Atomic Bomb" as their miracle to their dying day?
The real wonder is why anyone fell for Gar Alperovitz's "Atomic Diplomacy" in the first place.
Notes And Sources:
A-bomb Pit —
Robert James Maddox paper titled "Generals, Admirals, and Atomic Bombs Ending the War With Japan." pages 415 and 418 of _The US Army and World War II: Selected Papers from the Army's Commemorative Conferences_, ed. Judith L. Bellafaire Washington, DC:Center of Military History, US Army, 1998,
And the documents Robert James Maddox cited are;
1) 'Commanding General 313 Bomb Wing to Twining, 9 Aug 1945,
Operations and Plans Division, General Staff,' and
2) 'Twining to Nimitz, Spaatz,' same date (9 Aug 1945);
3) Spaatz quote from 'Spaatz to General Lauris Norstead (Arnold's
chief of staff), 10 Aug 1945'
4) Arnold's reply in 'Norstrad to Spaatz ,10 Aug 1945'
All are located in box 24, Spaatz Papers, Library of Congress.
Atomic Bomb Pit 2 – BocksCar Loading Site
http://wikimapia.org/17958947/Atomic-Bomb-Pit-2-BocksCar-Loading-Site
VB-6 Felix Delivery —
SUMMARY TECHNICAL REPORT OF DIVISION 5, NDRC, VOLUME 1, "GUIDED MISSILES AND TECHNIQUES", OFFICE OF SCIENTIFIC RESEARCH AND DEVELOPMENT, WASHINGTON, D.C., 1946
page 65 states
"In the closing weeks of the war the Twentieth Air Force headquarters placed an order for a squadron equipped and manned to take Felix into combat. Their assembly was incomplete as the war ended."
HISTORICAL SUMMARY of SECRET PILOTLESS AIRCRAFT GUIDANCE AND CONTROL SYSTEMS FLIGHT-TESTED PRIOR TO JULY, 1946, RAYTHEON MANUFACTURING COMPANY, WALTHAM MASSACHUSETTS, Contract No. NObsa-30143 Jan. 10, 1947 page 1-11 states:
"A cable from the 20th Air Force, received August 9, 1945 asked that 300 FELIX bombs be shipped to Guam."
E13-13 Flame Tank Production —
UNITED STATES ARMY IN WORLD WAR II, The Technical Services, "THE CHEMICAL WARFARE SERVICE: FROM LABORATORY TO FIELD" by Leo P. Brophy, Wyndham D. Miles and Rexmond C. Cochrane, OFFICE OF THE CHIEF OF MILITARY HISTORY, UNITED STATES ARMY, WASHINGTON, D.C., 1959,
Page 370 states:
"Director of the New Developments Division, War Department Special Staff, Brig. Gen. William A. Borden, on 26 June 1945 suggested to the Assistant Chief of Staff, G-4, that, in view of reports from the Pacific areas indicating the great effectiveness of the armored flame thrower, the E12-7R1 project should be assigned a priority "equally as high as the Manhattan Project."

Upon reviewing General Borden's memorandum the Assistant Chief of Staff, G-4, passed it on to OPD for comment. Someone apparently brought the matter to the immediate attention of the Under Secretary of War, for the very next day the Under Secretary informed the Commanding General, ASF, that production of the E12-7R1 should have sufficient priority to insure delivery on schedule. The following day—28 June-General MacArthur cabled the War Department urging that units be equipped with the E12-7R1 flame thrower."
Monthly Progress Report to Division 11 of the National Defense Research Committee on MORGAN RAM TYPE FLAME THROWER FOR M4A1 TANK covering period July 15 – August 15, 1945, File No. 11-498, Contract OEMar-1364, Directive CWS-10, Army L.O. Brig. Gen. W.C. Kabrich, Navy L.O. Major J.W. Mehring (USMC),
page 2 states:
"The five E13R1 flame guns including trunnion assemblies and dummy gun barrels were shipped to the M. W. Kellogg Company in Jersey City on Aug 3.

During the past two weeks we received a request from Major Hollingsworth to check into the possibility of procuring 500 E13R1 pintle valve and nozzle assemblies in the shortest possible time. We have advised Major Hollingsworth that by subletting this work we can obtain production on the basis of 10 units at end of the 9th week, 10 units at end of the 10th week, 15 units at end of the 11th week, 20 units at end of the 12th week, 25 units at end of the 13th week, 25 units each week there after until completed."