I live in the River North district of Chicago, a vibrant area full of professionals, high rise buildings, and a large service economy. We are adjacent to the Loop (and many of the people who live here chose this area so that they could walk to work) which employs many of these residents in an internationally competitive group of companies, both public and privately held.
In my interactions with these residents, few are political, and I would say that most Illinois citizens I've met over the year could be considered middle-of-the-road. However, due to factors unique to the state of Illinois, the state is dominated by Democrats who control most of the levers of power at the state, city, county and local levels. As such, a state of mostly moderate individuals is set up, governed, and managed as if it was the most left-leaning state in the country.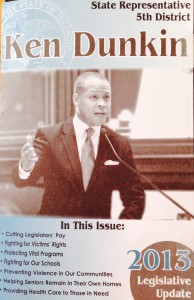 Ken Dunkin is our Illinois State representative for the 5th District, and he helpfully sent me this brochure that outlines his goals and accomplishments as a state legislator. This update provides a great window into the mindset of an Illinois Democrat.
Ken Dunkin is famous for being the only Illinois legislator to skip Gov Rod Blagojevich's impeachment hearing, and thus being a de-facto loyalist to the bitter end. It is really hard to add anything more to that sort of fact; even his fellow Democrats finally came to the conclusion that Blago had to go, but not Ken.
It appears that Ken has learned a little bit. He starts by saying that he is for "cutting legislators' pay", possibly recognizing that there likely is no less popular group of individuals than Illinois state representatives. The fact that even Ken has come to this conclusion is astonishing.
When you read the priorities in his brochure, you can fully understand the mindset of Democrats. His sole concerns are how to divvy up the tax revenues provided by productive citizens among the residents of his district. These are "vital" programs that provide financial support to his constituents.
A typical legislator would understand that government cannot be funded unless there are vibrant private sector businesses generating wealth to pay the taxes that his constituents rely on for their sustenance, and would "crow" about items like 1) new companies coming into the district 2) laws to make the companies in his district more successful 3) new buildings and improvements added in his district.
The fact that none of these issues are mentioned nor even contemplated anywhere in his brochure SHOULD be astonishing, but they represent the "end state" of Democratic thinking and the full embrasure of the welfare state, so I would expect nothing else. The private sector only exists in how you can squeeze money from them and redistribute it to your constituents, so why even mention it?
Also interesting are the "gun" comments he chooses to make. In a district wracked by unimaginable gun violence, he focuses on military-style assault weapons bans and also FOID card violations, mainly designed to make it harder for law-abiding citizens to exercise their court-mandated rights to be able to defend themselves. There are so many topics that he could mention to reduce violence including 1) fighting gangs 2) putting those who commit gun related crimes into jail 3) demanding that the citizens cooperate with the police to reduce violence. He is merely following the party lines.
The Fifth District
The fifth district must be seen to be believed. The Illinois Democrats have gerrymandered this state to an astonishing degree. Rather than make districts that are compact and reflect geographic reality and common citizenry, the Democrats went to great pains to create districts that are majority Democratic to disenfranchise the Republicans.
The district is so long and distorted that the web site even comes with an "expand" button so that you can navigate your way through the diagram!
When you want to see the end-state of the Democratic dreams, come to Illinois. In a middle-of-the-road state they work tirelessly to marginalize the citizenry and will stoop to no ends to ensure that they remain in power indefinitely. The cost of this is that sensible, middle of the road people who provide the income and ideas necessary to keep the state running won't indefinitely remain somewhere where they are powerless pawns when other states, especially adjacent ones, provide fine alternatives.
Cross posted at LITGM