For as long as I can remember this little book has been moving with me from home to home. I have had it for a long time.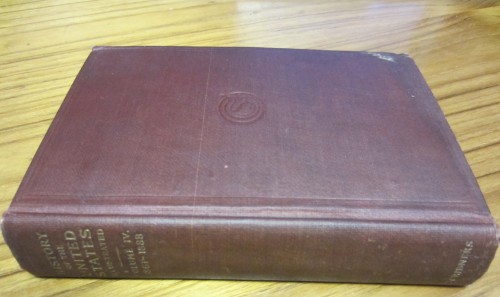 "History of the United States Illustrated, Volume IV, 1861-1888" by E. Benjamin Andrews. Printed in 1903.
Having put a stop to most of my book buying until I read my current stack, this one was next. I am glad I hung on to it. Knowing the way I operate I am sure that I got it from a garage sale or something.
Mr. Andrews, and I would suppose that most people around the turn of the century, were intensely proud of what America had accomplished up to this point. This was made pretty clear after the Civil War and Reconstruction portions of the book. The public works and transportation projects that were completed were astounding given the technology of the time.
One portion of the book in particular caught my interest over all the rest, and that was the section on the Fisheries Disputes. Oddly, there isn't even a wiki entry on this, as a whole subject.
Basically, these disputes were between the US, Great Britain and Canada over fishing rights. Many treaties had been drawn up over the years, but due to wars, some treaties were considered null and void, and typically one side would have one strong position with their legal points, and the other side would do the same. I don't want to bore you with too many details in this footnote of history, but I found it fascinating how the author of a general history of the United States during this time found the Disputes so important to include them in the volume.
I had never even heard of the Fisheries Disputes before, and I have been reading history books all of my life.
Which brings me back to the main point of this rambling post. I remembered part of America 3.0 while reading the part about the Fisheries Disputes. This from page XXV of the Introduction:
However, the focus of this book is on the longer term, centuries into the past and decades into the future. Over such a large span of time our current political struggles, as engrossing as they are now, will mostly sink into history as mere noise around a discernible signal. Only the passage of time will confirm what that signal is, and whether our hopeful predictions were well grounded.
Does anyone remember the Dubai Ports Scandal? I am sure some of you do, but in a few years there won't be too many left that do. Interesting how history keeps teaching me.
Cross posted at LITGM.