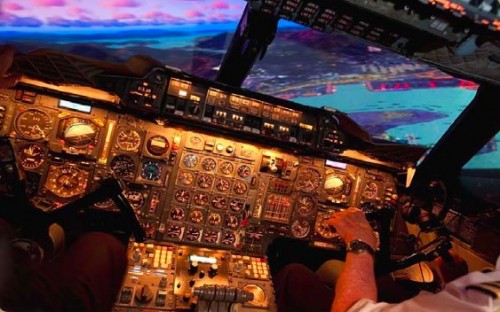 There is an airline grade simulator for the Concorde supersonic transport, located in the UK and available to the public, with instruction by former Concorde flight crew members.
The simulator was originally built in 1975 as a full-motion simulator, with the "motion" part provided by six hydraulic rams. The view out the cockpit windows was created by moving a television camera over a large model landscape in an adjacent room. I'm not sure whether the flight dynamics calculations were done by analog, digital, or a combination of both methods. In 1987, the simulator was upgraded to replace the TV camera and the physical map with computer-generated imagery. Original cost of the simulator was £3 million, and the 1987 upgrade cost an additional £3 million.
When Concord operations ceased in 2003, the simulator was decommissioned and re-installed at the Brooklands Museum, minus the hydraulic actuators for the motion feature. ("enabling access to a Concorde cockpit for less able visitors to the museum" is the reason stated for this decision, but I would imagine it also had something to do with the maintenance costs for the hydraulics.)  The restoration of the simulator involved the replacement of whatever electronic systems were doing the computations with modern flight simulator software, and a more modern projection system for the visuals. The flight controls and the majority of the flight instruments are connected to the simulation engine, along with some sections of the Flight Engineer's panel.
Simulator time is available for 165 pounds for about an hour, with 15 minutes actually at the controls, or the "Gold" package at 425 for a two-hour "flight" with 30 minutes at the controls, plus lunch and champagne.