As someone who has studied WW2 history for over 40 years (on an amateur basis), as soon as the Crimean situation occurred I went over to my bookshelf and pulled out my favorite book that covered the Crimean campaign – "Stopped at Stalingrad" by Hayward. The book is highly recommended and covers air / ground coordination in that era and has an excellent overview of the ground campaign in the crucial 1942-3 time period.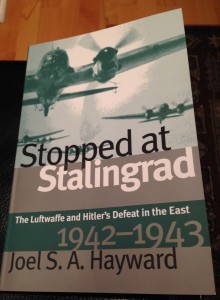 The scale of today's troop movements and activities is so small relative to that era. Only a few thousand troops can decide an entire campaign. The days of millions of soldiers on all sides of the wire have been relegated to the past.
While this volume focuses on the military aspects of the campaign in WW2, many other books talk about ideological motivations and logistics, notably the horrifying "The Wages of Destruction" by Tooze.
The contrast between today's situation and the "total warfare" that existed really from the end of WW1 and through the civil war in Russia as well as the horrors in the Ukraine in the 1930's and then on both the German advance and Russian re-capturing of the various regions is very instructive on one key dimension – as Putin takes over Crimea, he actually intends to FEED the population.
It is important to realize how poorly civilians have always been treated in these Eastern campaigns by all sides. To say that people were viewed as an afterthought is a giant understatement. Civilians were second to territory, resources (oil), or ideological objectives.
Today by most accounts Putin realizes that he needs to actually administer the region and needs to take steps to build up morale, keep the economy functioning (on some level), and that this will be a financial burden on Russia. The days of just stripping off assets, turning locals into slave labor, and siphoning off any agricultural products (I am not just talking about "surplus", I am talking about everything) are apparently past us. I am no fan of Putin and in no way want to appear to be in favor of his activities, but feel that this is a fact worth mentioning.
By the abysmally low standards of twentieth century Eastern warfare, the Crimea incident likely had the least impact on civilians.
Unfortunately the situation in Western Ukraine has the potential to be closer to a "typical" historical Eastern event with mass bloodshed, significant disruption to the economy and population, with civilians caught in the middle and having their needs ignored.
Cross posted at LITGM