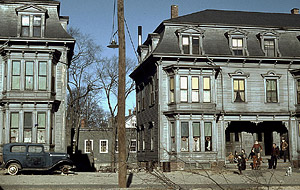 Children in the tenement district, Brockton, Mass., Dec. 1940 (Jack Delano, FSA)
(Click the thumbnail to open a large image.)
The past few years have seen some articles (such as this excellent recent one) about digitized archives of historical photos, particularly in the USA. These photo collections are historical treasure troves, but media treatments of them are necessarily limited in scope. Why not go directly to the source and browse the archives yourself?
A good place to start is the Library of Congress's photo collections. (See also this Library of Congress site.)
One way to find interesting photos is to search on the photographer's name and browse the results. Some names to start with might be these from the FSA:
Jack Delano
Dorothea Lange
Russel Lee
Carl Mydans
Arthur Rothstein
Ben Shahn
I'm sure there are many others whose work is worth a look, but these will get you started.
Many of the photos — including, I assume, all of the FSA images — are in the public domain. Even better, you can download full-sized scans of many of these photos and make high-quality prints.
(Via the Streetphoto forum.)
UPDATE: The FSA photos, interesting as they are as historical documents, are also superb examples of propaganda. If you look at them it's difficult not to come away thinking warm thoughts about New Deal programs. Of course that's what the people who commissioned the photos, and the people who made them, had in mind. In hindsight it's clear that those New Deal programs didn't do much, if any, good. But look at the photos and you will almost want to believe the myths. (Not that valuable historical documents aren't generally produced by people with agendas — who else produces documents? — but it's prudent to keep the agendas in mind.)