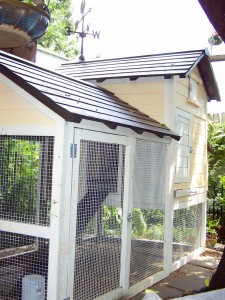 Granny Jessie kept chickens during the Depression – quite a lot of them, if my childhood memories of the huge and by then crumbling and disused chicken-wire enclosure, the adjoining hutch and the nesting boxes are anything to go by. Some of her neighbors went on keeping backyard livestock well into the 1960s – we occasionally sampled goose eggs at Granny Jessie's house where we could hear a donkey braying now and again. Mom had to help care for the chickens, as child and teenager – and wound up detesting them so much that this was the one back-yard DIY farm element that we never ventured into when we were growing up. Mom hated chickens, profoundly. It seems that keeping chickens is one of those fall-back things, when hard times loom.
But my daughter and I were considering it over the last couple of years, along with all of our other ventures into suburban self-efficiency – the garden, the cheese-making, the home-brewing and canning, the deep-freeze stocked full, the pantry likewise. I put off doing anything about chickens until two things happened: we finally encountered the woman in our neighborhood who keeps a small flock of backyard chickens, and she took us to see her flock. She told us that it was not much trouble, really, and the eggs were amazingly flavorful. In comparison, supermarket eggs – even the expensive organic and supposedly free-range kind were insipid and tasteless.

The second thing was spotting a ready-made coop at Sam's Club a good few months ago. We kept going back and looking at it, whenever we made our monthly stock-up. It had a hutch, an attached roofed run with open sides secured with hardware cloth, and an appended nesting box accessed through a removable roof. But still … the price for it was what I considered excessive. Then, at the beginning of the month, the coop was marked down by half. Seeing this, we transferred some money from the household savings account, and with the aid of a husky Sam's Club box-boy, stuffed all 150 pounds of the box which contained all the necessary flat-packed panels into my daughter's Montero.
I put it together over Mother's Day weekend, painting it the same colors as the house: sort of a primrose-peach color with cream trim. The coop and run was constructed of rather soft pine, with some kind of greenish wood-stain slathered over it all, which took two coats of paint to cover entirely. I wish that I had gotten out the electric drill with the screwdriver attachment a little earlier in the game; the side and roof panels were all attached together with 67 2-in and 2 ½ inch Phillips-head screws. Yes, I counted; I did about the first forty by hand … sigh. The remains of half a can of polyurethane spar varnish went on the roof to make it entirely waterproof. We topped it with a wind vane ornamented with a chicken, and it all went together on a bedding of concrete pavers set in decomposed granite, wedged underneath the major shade tree in the back yard. By municipal guidelines we are permitted up to three chickens and two of any other kind of farmyard animal: goat, cow, horse, llama, whatever – as long as their enclosure is at least a hundred feet from your neighbors house. The chicken coop may not, strictly speaking, be 100 feet from the next door neighbor's house on the near side, but he is the one with the basset hounds, one of whom can hear a mouse fart in a high wind, and can be heard about a block away when he really puts his back into his bark.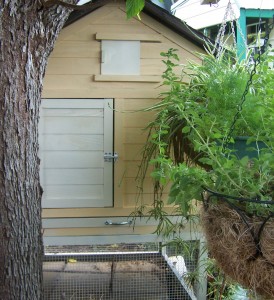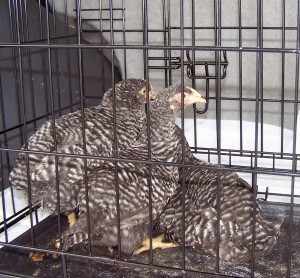 We went out to a feed store in Bracken for feed pellets, bedding chips, a feeder and a water dispenser. The feed store also had artificial eggs made from heavy plastic, but so cunningly textured they looked very real. The feed store manager said that what they are also used for is as a means of dealing with local snakes that prey on chicken eggs … they slither into the nesting boxes, swallow an egg whole and slither away. If you suspect your nest is being raided in that fashion, you bait the nest with a plastic egg. Snake swallows it, but can't digest, pass or vomit up the egg and so dies, in the words of one of Blackadder's foes – "horribly-horribly." (Ick-making to consider, but then I've gotten quite testy about critters predating on my vegetables, and set out traps for rats and dispose of dead rats without any qualms.) From many different places; Sam's, our local HEB which now offers stacks of chicken feed in the pet food aisle, and now the semi-rural feed store – we are getting the notion that keeping back-yard chickens is getting to be a wide-spread thing. I wonder how much Martha Stewart is responsible for this development.
This morning we were off to the south of town, to a small enterprise in Von Ormy for three pullets. We had wanted Orpingtons, but they weren't available at any of the close-in providers, and the owner recommended Barred Rocks – those are those pretty black and white chickens with bright red combs. My daughter wants to name them Lorena, Maureen and Carly – Larry, Moe and Curly, feminized. They are supposed to start laying when they are mature, in about late summer, according to the owner of the bird-providing enterprise. Our three pullets are about ten weeks old, and somewhat timid yet – little knowing that they have won the grand prize in the chicken lottery of life. Eventually, they will have the run of the garden; we are assured they will brutally diminish bugs of every sort, gratefully fall upon green vegetable scraps, and come to be quite friendly with us. Early days, yet. And that was my week. Yours?