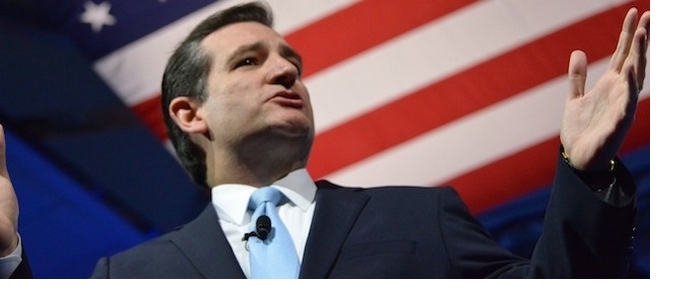 Ted Cruz, more than any other candidate, really seems intent on reducing the size of government in Washington  and the scope of its power in our lives. Ted is a deeply religious man, and normally I'm uncomfortable with candidates who wear their religious beliefs on their chest. However, the perfect is the enemy of the good, and that's a very tiny flaw to overlook.
Most impressive to me is his Five for Freedom plan. This from the first section:
Abolish the IRS, the Department of Education, the Department of Energy, the Department of Commerce, and the Department of Housing and Urban Development. A Cruz Administration will appoint heads of each of those agencies whose sole charge will be to wind them down and determine whether any programs need to be preserved.
Internal Revenue Services – end the political targeting, simplify the tax code, and abolish the IRS as we know it.
Department of Education – return education to those who know our students best: parents, teachers, local communities, and states. And block-grant education funding to the states.
Department of Energy – cut off the Washington Cartel, stop picking winners and losers, and unleash the energy renaissance.
Department of Commerce – close the "congressional cookie jar" and promote free-enterprise and free trade for every business.
Department of Housing and Urban Development – offer real solutions to lift people out of hardship, rather than trapping families in a cycle of poverty, and empower Americans by promoting the dignity of work and reforming programs such as Section 8 housing.
He also wants to eliminate 'special interest' agencies and lists 25 just to start, including the UN IPCC, the CPB, and sugar subsidies. On immigration he has a harder line than Trump:
RESTORE THE RULE OF LAW
We need a President who will follow the law, hold those who break it accountable, and take seriously the duty to protect Americans. To restore the Rule of Law, a Cruz Administration will:
End President Obama's illegal amnesty. President Obama has issued over 20 illegal executive memoranda rewarding illegality. I will rescind each and every one on my first day in office.
Increase deportations and end catch-and-release. Our laws are not being enforced. I will restore our commitment to enforcement, public safety, and the Rule of Law by rededicating DHS to fully enforcing the law, including through deportations and returns.
End sanctuary policies, sign Kate's Law, and deport criminal immigrants. There are about 340 sanctuary jurisdictions in the United States. They make a mockery of our laws and endanger our citizens. I will end support for these jurisdictions.
Prohibit illegal immigrants from receiving financial benefits and strengthen E-Verify. American taxpayers should not be funding benefits for those who are here illegally, and American jobs should not go to those who are here illegally. I will protect Americans' well being by stopping the flow of taxpayer dollars and instituting a strong e-verify system.
REFORM LEGAL IMMIGRATION TO PROTECT AMERICANS
In order to strengthen our immigration system, protect national security, and better serve American workers, we must:
Suspend the issuance of all H-1B visas for 180 days to complete a comprehensive investigation and audit of pervasive allegations of abuse of the program. New allegations detail appalling abuses of the H-1B visa program – a program meant to create American jobs and spur economic growth. I will suspend the program for 180 days to investigate abuses.
Halt any increases in legal immigration so long as American unemployment remains unacceptably high. The purpose of legal immigration should be to grow the economy, not to displace American workers. Under no circumstances should legal immigration levels be adjusted upwards so long as work-force participation rates remain below historical averages.
Enforce the public-charge doctrine. Current law requires legal immigrants to certify that they will be economically self-sufficient. A Cruz Administration will ensure they do not receive government assistance, which defies the law and harms American taxpayers.
End birthright citizenship. Birthright citizenship was not intended to legalize the children of people who are breaking the law by entering and staying in the country illegally. I will take steps to pass legislation or a constitutional amendment to end it.
Cruz wants a return to lawful, constitutional government. As an attorney, he has argued and won cases in district courts and the Supreme Court defending Americans against the Left's assault on the Bill of Rights. He's also been highly critical of Obama's disregard for Article I of the Constitution and has written about it repeatedly. Here's a snippet from The Imperial Obama Presidency:
President Obama frequently claims power to act when Congress will not, as though his powers are somehow enlarged the moment Congress refuses to address his priorities.   "I take executive action," said the President, "only when we have a serious problem, a serious issue, and Congress chooses to do nothing."[3]  He repeatedly threatens that "if Congress won't act, I will."[4]  Frustrated by Congress's refusal to enact his agenda or by laws that he simply finds to be inconvenient, President Obama has too often resorted to unilateral executive action to override acts of Congress or to implement policies that he was unable to enact through the proper constitutional process.  Many examples are documented in a series of reports I authored last Congress[5] and in a recent law review article titled "The Obama Administration's Unprecedented Lawlessness" in the Harvard Journal of Law and Public Policy.[6]
At any other time in our history, it would have gone without saying that this is not how our system of government works.  Article I of the Constitution vests Congress, not the President, with the sole power to legislate.  Article II, by contrast, charges the President with the responsibility to "take Care" that the laws enacted by Congress be "faithfully executed."  Given this division of power, the President cannot act until Congress does.  But President Obama sees congressional inaction, not as a limitation on his power to act, but as a license to act.  This is the logic of Caesar, not the logic of a president in a constitutional republic.
On foreign affairs, two items on his list struck me as eminently sane:
ISIS seeks to destroy our very way of life. We must defeat them. That starts by calling the enemy by its name – radical Islamic terrorism – and securing the border. Border security is national security.
On day one, a President Cruz will immediately repeal every word of President Obama's dangerous Iran deal and will prioritize American national security interests in every instance.
On the domestic front, he's equally ambitious:
Cruz Simple Flat Tax
Under the Cruz Simple Flat Tax, all income groups will see a double-digit increase in after-tax income. The current seven rates of personal income tax will collapse into a single low rate of 10 percent. For a family of four, the first $36,000 will be tax-free. The IRS will cease to exist as we know it, there will be zero targeting of individuals based on their faith or political beliefs, and there will be no way for thousands of agents to manipulate the system.
Regulatory Reform
Too many small businesses are being crushed by encroaching regulations. We need to get the government out of the way so the people can do what they do best — innovate, expand, and create new jobs.
A President Cruz will pass the REINS Act, holding Congress accountable to vote on any major cost-inducing regulation.
There's no greater regulatory reform than repealing every word of Obamacare. We need to enact reforms that make health care personal, portable, and affordable. Specifically, we need open insurance markets across state lines, expand Health Savings Accounts, and delink health insurance from employment.
A Cruz administration will end the EPA regulations like the Waters of the U.S. rule and the Clean Power Plan that burden small businesses and farmers
Perhaps most importantly, Cruz has been consistent in holding these principles throughout his career. These aren't election year talking points designed to pander to the base. There's lots more detail at his website and I encourage you to read through. The more I see of Cruz, the better I like him