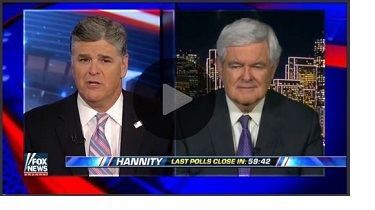 Gingrich: Trump's pivot speech a big step in right direction
Interesting comments from Sean and Newt on what Donald Trump needs to do in order to win the election. To sum up:
Focus on the economy.
Think big, make big proposals.
Stay disciplined, show he can be president.
Oddly, this dovetails with a conversation I had last night with a coworker. He's a 40-ish, pony-tailed engineer of Indian extraction who was born in Guyana and emigrated to the US to live and work. He was watching Hillary's triumphant speech on CNN at the gym last night and we ended up in a long conversation about society and politics.  I had him pegged as a leftist and was surprised to hear him start discussing what Trump needed to do in order to win. The above three points were all things he mentioned. He shocked me even more when he finished up by saying if Trump can impress the electorate with a hopeful vision and behave like he can be trusted with the presidency, he thought he would win very big in November. Anecdotal but interesting.
Update: Here's the speech to which they are referring.