Last summer I posted a couple of columns on growing up in Chicago in the 1940s.
My family history is a story of Chicago as my mother was born there and her parents met in Aurora, a suburb where my grandfather's sister ran a boarding house. My grandmother lived there while working as a supervisor in a corset factory after she had moved to Chicago from Canada. My grandfather, Joseph Mileham, was a railroad engineer, the equivalent at the time of an airline pilot. My father's family were farmers and lived 60 miles from Chicago. He and my mother met in Chicago when they were both working at a music company. They had a typical long Depression courtship which included a trip to California by my mother after she lost her mother and brother the same year, 1926.
My growing up was an almost idyllic childhood, although of course it had its moments.
The house I grew up in is shown here.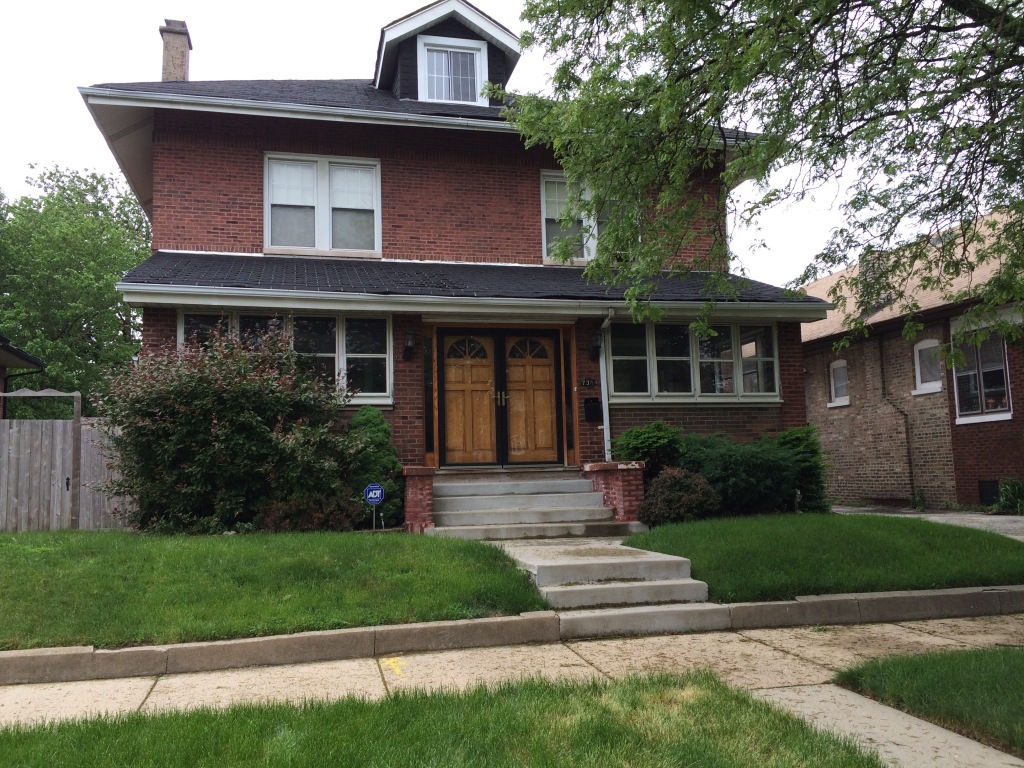 That photo was taken a few years ago. I took a more recent one a few years ago and the owner of the house, a black guy about 35, came out to see who I was. He insisted on taking me on a tour. He was quite proud of it. He asked if I could send him photos of the house when we lived there. Here are a few more of them.
Now, that neighborhood was the subject of a feature story in the Chicago Tribune today.
In my mind's eye, the South Shore of my youth was pristine.
With its big old homes and apartments, four grocery stores and doctors' offices, South Shore had all kinds of residents — laborers, city workers, artists, businessmen and executives — raising their families side by side. A black child in the '80s could feel insulated from the trappings of urban life. It's where first lady Michelle Obama called home.
Auburn-Gresham, the Southwest Side neighborhood where I would later attend and graduate from grade school, was no different. My block on South Aberdeen Street felt downright suburban, with boys my age more concerned with riding bikes, watching cable TV and playing video games than engaging in gang conflict.
The blacks are now leaving as it has become a hellhole.
Now a multitude of black residents have called it quits with their hometown, searching for safety and prosperity beyond the city limits — my own friends and family among them.
It's been a humbling experience watching as those worlds, those communities filled with stable families and businesses, crumble into the dust.
Outsiders and former residents read headlines describing violence on the South Side and wonder what has gone wrong in the largely black neighborhoods. But few discuss the toll that black flight is having on Chicago, long a beacon for progress and employment for African-Americans stretching back to the days of slaughterhouses, steel mills and Pullman porters.
Chicago, the city that had once been home to the most prominent African-Americans, from Joe Louis and Mahalia Jackson to Michael Jordan and Oprah, lost 181,000 black residents just between 2000 and 2010, according to the U.S. Census Bureau.
Who did this to that neighborhood ? This writer even seems to be figuring out how ridiculous "Black Lives Matter" is.
Anyone paying attention to local crime for the past few years knows that Chicago police, for all their structural defects and insularity, aren't responsible for the vast majority of the bloodshed that has torn apart families, robbing parents of their children or children of their parents.
But it was a recent shooting of a Dunbar Vocational Career Academy student and the virtual silence about the school's slain students that made me appreciate just how inconsequential a young black life in Chicago can seem.
No kidding. In the meantime, the BLM thugs are planning riots this summer if Trump is nominated. Good thinking.