Since New Years 2018, there have been 23 attacks with 45 (+) home brew do it yourself (DIY) assault drones in Syria aimed at Russian and Assad Regime bases.  Three to four separate types of assault drone/small scale cruise missile designs have been identified to date.  Russian intelligence in various media sources say they are being built in Idlib, Syria by Syrian rebel forces.
.
.
Photos of this 3D printed Syrian rebel drone were posted on BBC social media accounts.
.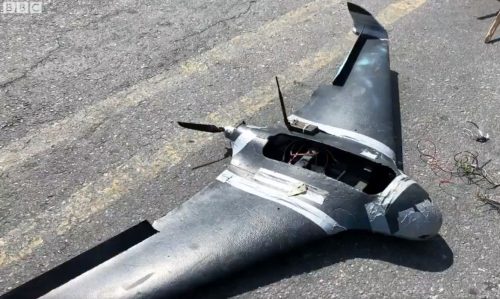 .
The drones used in the January 2018 attacks on Khmeimim airbase and the naval logistical base in Tartus drew on existing radio controlled aircraft technology.  They had diesel engines, wood, plastic and Styrofoam construction, global positioning system guidance and aerometer altitude sensors.  The larger of the two DIY drones carried up to ten bomblets and had an estimated range of 100 KM.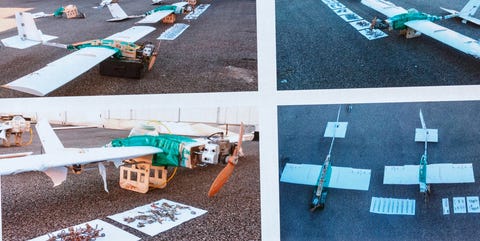 One of the important technical features of the bomblets used in the first attack was their off the shelf construction from available in Syria components.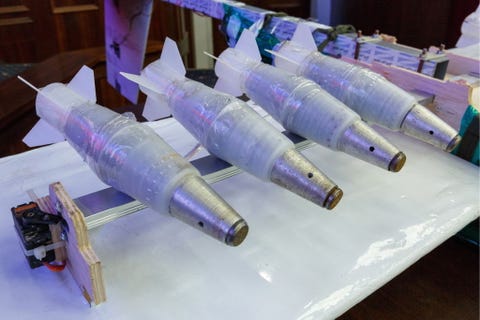 One or more of these drones seems to have been successful in striking a Russian Su-24 at Khmeimim airbase in January 2018, as shown below.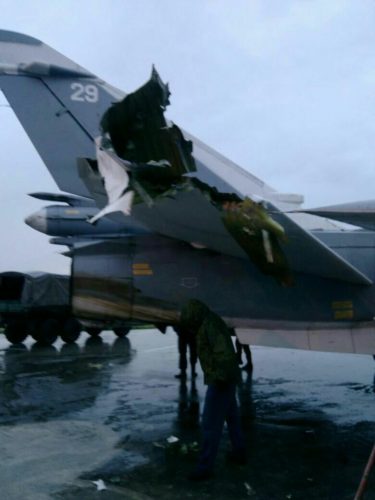 The SU-24 damaged above cost at least $50 million.  Media sources place the total damage at anywhere between three strike fighters and seven strike fighters an a hind Gunship.  Drones costing maybe $100,000 put between $50 million to $400 million in high tech aircraft out of action for months.  There are a -lot- of implications in those numbers.
.
The latest on Syrian DIY drone developments can be found at these links —
.
A Russian technology anti-drone jamming gun similar to the one below most likely brought down the Elevon drone-clone used by Syrian Rebels: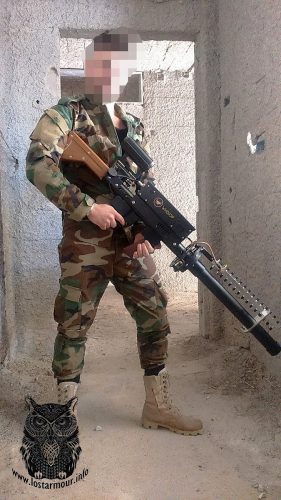 Summary:
The emergence of DIY Assault Drone/Cruise missile production by Syrian warlords marks a "Revolution in military affairs" that rivals the 1967 sinking of the Israeli Destroyer INS Eilat by Egyptian Styx Cruise missiles. (See this Steel jaw scribe blog post for detailed history reference)
We are going to see more such assault drones in our near future, and a lot closer to home.
If ISIS can do this in was torn Syria, under Assad regime bombardment and without a functioning electrical power grid.  We will most definitely see this sort of thing inside the USA.
Source & Notes:
Russian Bases in Syria Attacked With Black Market Drones
By Kyle Mizokami Jan 11, 2018
https://www.popularmechanics.com/military/weapons/a15062767/russian-bases-in-syria-attacked-with-black-market-drones/
Russian Forces in Syria Repelled Massive Drone Attack on Hmeimim and Tartus
By Tamir Eshel -Jan 8, 2018
https://defense-update.com/20180108_uav_attack.html
THE SINKING OF THE INS EILAT: 50TH ANNIVERSARY OF THE FIRST SURFACE TO SURFACE ENGAGEMENT WITH ASCM'S
21 October 2017
http://steeljawscribe.com/2017/10/21/the-sinking-of-the-ins-eilat-50th-anniversary-of-the-first-surface-to-surface-engagement-with-ascms
DIY Drone Attacks on Russian, Saudi Targets Signal Change in Fight Against Militant Groups
Paul McLeary January 12, 2018 4:25 PM
https://news.usni.org/2018/01/12/diy-drone-attacks-russian-saudi-targets-signal-change-fight-militant-groups
Aileron (UAV)
https://ru.wikipedia.org/wiki/%D0%AD%D0%BB%D0%B5%D1%80%D0%BE%D0%BD_(%D0%91%D0%9F%D0%9B%D0%90)
Lockheed MQM-105 Aquila
https://en.wikipedia.org/wiki/Lockheed_MQM-105_Aquila
EVALUATING REPORTS ABOUT ALLEGEDLY DESTROYED RUSSIAN AIRCRAFT AT KHMEIMIM AIR BASE IN SYRIA
https://southfront.org/evaluating-reports-about-allegedly-destroyed-russian-aircraft-at-khmeimim-air-base-in-syria/