As with many topics, I don't go looking to beat the drum how many people are wrong, but I do rather lie in wait around the accusation that America is a particularly racist, or even most-racist nation in the world. People are stunned, angered, shocked to have the idea even challenged. Their claim is ludicrous, among the least-reflective things a person might say, yet I do have clear understanding how people might get to that idea. The key is in that word reflective. If one simply follows the prevailing news and conversation, I don't see how one could come to any other conclusion. America leads the world in news stories about racism. We are probably well up there in incidents of racism as well, partly because there are 330M of us. The Chinese may rack up bigger numbers, which we seldom hear about, of racist incidents against the Uighurs, but in most of their territory there aren't any incidents of clear racism at all. Because there's only one race there. Stay tuned.
But why so many stories of racism? Real stories, not made up.
It is a relatively simple exercise to stand back and say "compared to whom?" but it is difficult because it is not natural to most of us. Just because something is simple does not mean it is easy. Prayer for one's personal enemies, for example. Dieting and exercising would be another. Once one can get to the second half of that sentence and say "America is a racist country…compared to whom?" the ground suddenly changes. In one simple sense, America is a racist country. We have racist comments, racist incidents, and racist attitudes all over the place, all the time. Yet there is a simple reason for that, and it's not just because we have horrible white people here.
If we are going to measure countries in terms of how racist they are, I propose we start by asking "Do they actually have different races there?" Okay, that just changed the whole discussion completely, didn't it? Before looking at my examples, consider your own. Take your time.
Consider less-racist country X. What is in their population? Are they homogeneous? If they have different groups, do their Walloons or Frisians, those radically-different races, believe everything is nice and equal?
Finland. They keep everyone out except Swedes. Even those they have friction with. They don't have any of the same riots and troubles, and right-wing racist incidents that the rest of Europe has – because they haven't accepted immigrants in. (Update: Comments say they have accepted a bunch of Somalis. I looked this up and it is still not a huge group by American standards. And, as the commenter notes, they don't seem to be acting like Finns. Not so far, anyway.) So, no problems. OK, fine. (Look, I like the Finns very much. But I like not pretending even more.)
Let's look at Japan and ask "Why are there only Japanese people here?" Even Koreans have been regarded as less-human, and don't even mention Filipinos. The Japanese kept everyone out. So internally, if you are just walking down the street in Osaka, the whole place doesn't look racist at all. What lovely, unprejudiced people! Or China. Ask them what the word gweilo means and see if you can get anyone to expound at length on the topic. Don't bother to even ask about the Uighurs, BTW. The Chinese people know nothing about this. How do the Chinese regard other races?
Or hey, Latin America. They have more of blended populations, without sharp lines between the native, slave, and colonising-descended populations, so it's all much more equal than here. Think of Pele! Except the lighter-skinned people pretty much rule the darker ones. Here's the Supreme Court of Brazil:
And Mexico: just for comparison. (Link is to a page with separate photos of each. I couldn't find a group shot.)
They look whiter than this photo of the Supreme Court of New Mexico, below, never mind the SCOTUS: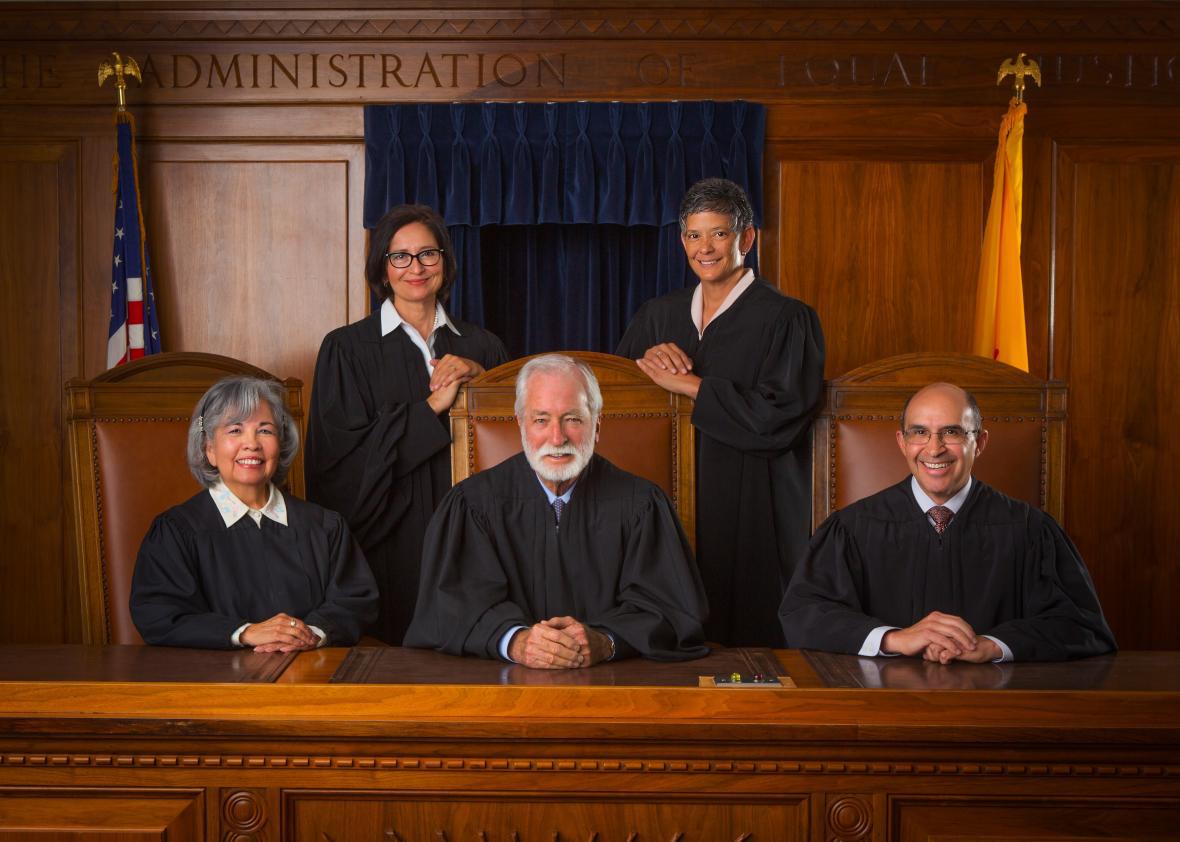 Europe? Without even looking at the intemperate statements some are making about the new immigrants…I don't even need to mention Jews, and a minor unpleasantness in the 1930's. I will only say "Gypsies." Tsigani, Cigan, Gitano, Zigeuner. Class dismissed. Oh, and no comments over your shoulder about how racist America is on the way out, okay?
The Middle East, of course, has done a wonderful job with its guest workers in Saudi Arabia. Or the treatment of Jews in general throughout. As with most places, they don't even like each other very much, never mind people of a different color from somewhere else.
The Canadians may do better. Oh wait, the Norman French, The East Anglians, and the Scots still haven't fully worked things out yet. Still, people seem to like Toronto. Or maybe the Australians and New Zealanders. Take up the discussion with the First Nations, Aborigines, and Maoris and get back to me. I will cede credit with their permission.
Nominate those non-racist nations we can learn so much from.