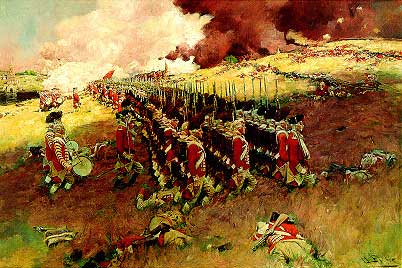 The Battle of Bunker Hill by the fabulous Howard Pyle.
I've been tagged by History Guy for something called the "meme of seven".
The rules:
1. Link to your tagger and post these rules on your blog. Done.
2. Share 7 facts about yourself on your blog, some random, some weird. See below.
3. Tag 7 people at the end of your post by leaving their names as well as links to their blogs. No. But see below.
4. Let them know they are tagged by leaving a comment on their blog. N/A.
5. Present an image of martial discord from whatever period or situation you'd like. Done. See above.
Here are seven facts (including opinions in the guise of facts):
1. I was very stirred by the scene in the Battle of the Bulge where the young tank crewmen sing some German song to convince the cynical and battle-hardened commander Robert Shaw that they were ready to go fight the Americans. I was a really little kid at the time, maybe 8 years old. I understood that these guys were trying really hard to get into a fight where they were all going to die, which I found confusing and appealing, for some reason. I figured out that people fight and die for things they can sing about more than for things they can explain in words. I remember this all very clearly. I have seen nothing to change that conclusion since.
2. I'll Probably Feel A Whole Lot Better When You're Gone is the greatest pop song of all time … .
3. … Except on the days when SOS is the greatest pop song of all time.
4. During my first semester of law school I was tied for first in my class. That was my only noteworthy academic accomplishment, ever. I got lazy afterwards, but it didn't matter. I probably drank more that semester than in the rest of law school put together, and I drank alone. I would study, go to Nick's English Hut, get a shot of bourbon and a bottle of Harp, get buzzed, write a letter to someone, then go to my shack-like apartment and crash. I had no money, I charged everything, especially the booze, and paid the minimum each month and decided not to worry about it. The words "f*ck it" were audibly pronounced as I paid those minimums. I also did my own cooking, ate like a king, and got fat. Depression, loneliness, romantic disaster, fathomless consumer debt, severe weight gain and nascent alcoholism may not work for everybody, but they sure worked wonders for me.
5. I recently counted my books for the first time in many years. I've got about 3,600 around the place. No I haven't read them all yet. But no worries. The unread ones are part of my grey knowledge, which makes it OK. Life is short. The book-pile is high, and getting higher.
6. The picture of Bunker Hill above is hanging in the upstairs hall at my house. Not the stolen original the FBI is looking for, but a copy. It is really a brilliant picture, and Pyle is under-rated.
7. I love the past more than the present or the future. But I don't want to live there, or pretend that it can come back.
As to tagging seven people, I'd rather not. So, instead, I invite anyone to tell us (in the comments) of the most memorable or significant scene of "martial discord" you know of, either from first-hand experience, or in a literary, pictorial or cinematic depiction.
Note, Jonathan thought at first that the post said "marital discord", which is pretty funny. Nope. Martial discord, i.e. pertaining to military conflict.