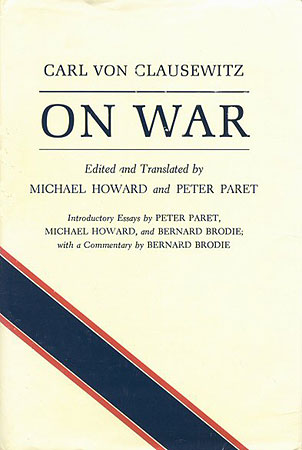 The roundtable will begin in January. Further details and an anticipated schedule will follow soon. Stand by for that post.
Below the fold are short biographies and links for our truly outstanding group of contributors who have agreed to participate. Please take a look. (And read along with us.)
Thanks to Mark Safranski for helping to assemble this group.
[UPDATE] Mathew Borton is a Graduate student of technology at Purdue University Calumet, studying rules of engagement and law of war as they pertain to cyber-warfare. He served with 3d Marines in the late 90s before returning to the civilian world and a variety of technical consulting jobs. Mathew has a strong interest in all things geek as well as a mild addiction to military history and science.
Shane Deichman has spent nearly two decades in the national security field as both a scientist and a manager. He is a 1994 graduate of the U.S. Naval War College, where he was first introduced to "On War". He spent four years in the Fleet Marine Force as a science and technology advisor. He founded his own company in 2008 (EMC2 LLC, a consulting company focused on emergency management and disaster preparedness). He blogs at Wizards of Oz, Dreaming 5GW, Antilibrary and ChicagoBoyz.
"Fester" is a paper-thin pseudonym. He graduated with a masters in public policy with a strong focus on urban economics and policy analysis. He is interested and fascinating by boundary condition problems and non-traditional analytical approaches, although he worries about the 'gnossis' effect of this approach on my thought process. "Counter-insurgency can often be conceptualized as decentralized neighborhood development" is a great beer bash discussion starter. Fester blogs at Newshoggers.
[UPDATE] "josephfouche" is a software engineer and system administrator slaving away for a technology startup somewhere in flyover country. He's been reading military history since age nine and talking about it since his fourth grade teacher, asking a pro forma question, inquired if any student in the class knew anything about the Crimean War. (She got more than she bargained for.) He blogs at The Committee of Public Safety, a group blog dedicated to understanding the subtle interplay of human nature, culture, war, and power.
"Lexington Green" is a lawyer in Chicago. Lex blogs at ChicagoBoyz and Antilibrary. Lex graduated with an overall GPA of 2.9 from the University of Chicago. He has been reading military history his entire life.
"Historyguy99" is a historian, and U.S. Army veteran of the war in Vietnam. After having a 30 year career in global logistics, he earned an advanced degree in history and began to teach. Currently he is an adjunct history professor with the University of Phoenix and Axia College. He blogs as historyguy99 and hosts HG's World, a blog devoted to history, connectivity, and commentary. He is a co-author of soon to be published, Activist Women of the American West and contributing author to The John Boyd Roundtable.
Critt Jarvis is a former U.S. Army medic (91B), airborne, Korean/Russian linguist (98G), with tactical and strategic assignments in Korea (Det L) and the former East Germany (Field Station Berlin.) Today, a social media platform and communications expert, he is best known publicly for helping NYTimes best-selling author Thomas PM Barnett establish his personal brand as an international thought leader in the field of national security. Now 59, founder of Conversation Base LLC, he works quietly in the background, reducing cost opportunity and general friction for innovative entrepreneurs. Critt blogs at crittjarvis.com, scans Twitter, and has a presence on LinkedIn and Facebook. His personal goal for 2009 is to establish a physical presence in Basra, Iraq, and initiate a conversation that might "educate, inspire, and entertain, fostering citizenship and culture, the joy of learning, and the power of diverse perspectives."
"Kotare" is a New Zealander with interests in global affairs, outdoor pursuits, reading, and single malt whisky. As a government official he has worked in the national security and nation-building fields. He blogs at The Strategist and is a contributor to Antilibrary.
Nathaniel T. Lauterbach is a Captain of Marines. He fought in Afghanistan in 2004, and in Iraq in 2005-6, each time deploying with the 22d Marine Expeditionary Unit. While on deployment he was responsible for air support operations. He has led three platoons, filled several staff assignments, and served as a detachment commander. In 2006 he was selected by the Field Accession Board to transfer from a ground officer's MOS to aviation. After completing Naval Flight Training he was designated a Naval Aviator, and is currently flying the UH-1Y Huey. He graduated from the University of Wisconsin in Madison. He is an avid reader of all things military. Nathaniel is married and lives in southern California.
Samuel Liles is a tenured associate professor at Purdue University Calumet, and he is currently attending Purdue University (West Lafayette) as a PhD student. Samuel started his career in the Army National Guard, was inter-service transferred to the Marine Corps, and has worked in two different sheriff department correction divisions. In 1993 he left law enforcement and embarked on a consulting career in information technology and started up the ladder of academia. Samuel is interested in the spectrum of information operations and how cyber warfare realistically impacts the broader scope of conflict. Samuel blogs at Selil blog.
Jay Manifold attended the University of Chicago as a physics major in the late '70s and became a co-blogger at ChicagoBoyz after attending a blogbash in November of '03. His relevant interests are complex adaptive systems, organizational behavior, and risk management; his irrelevant but often predominant interest is amateur astronomy. He is a board member-at-large of the Astronomical Society of Kansas City and a keyholder at Powell Observatory; an alarmingly active member of Covenant Chapel Evangelical Presbyterian Church; and an alarmingly inactive member of the Project Management Institute. He feigns productivity as an IT project manager at an unnamed but easily guessed telecommunications company and resides in Kansas City, Missouri. Jay blogs at A Voyage to Arcturus and ChicagoBoyz.
"Carl Ortona" received his BA from the University of Chicago (still a point of pride) and his PhD from the University of Toronto (including a year in Germany at LMU in Munich). Both degrees were in political science with an emphasis on political philosophy. He has since taught at several universities in Canada as well as in Louisiana. Much to his chagrin and surprise as a stern, joyless Midwesterner, he has found living in the 'Deep South' to be pleasant and enjoyable. He is excited about the prospect of re-acquainting himself with (to quote Mark Twain) "the awful German language" and Clausewitz.
William F. Owen is a former British Army. Middle East Editor for the Shepard Group, and military theorist. He is a Clausewitz adherent, and a Liddel-Hart, Sun-Tzu, Boyd, MW and EBO sceptic. He posts on Small War Council.
[Update] Jay Parker is a project coordinator who lives in and works from Vermont. His interests include foreign policy, politics, history and generally theorizing about the state of global affairs. He blogs at Soob, Dreaming 5GW and Antilibrary.
"PurpleSlog" lives in the Milwaukee area. He has interests in pop culture, economics, Information technology, information security, national security issues and US public policy (though he does not blog about them all equally). Purpleslog says: "To put it the Ann Althouse way, I am an IT guy and sometimes I blog about IT." He blogs at PurpleSlog and Dreaming 5GW.
Chris Rasmussen is a social software knowledge manager and trainer within the US Intelligence Community (IC). Chris says "I may be a 'tech guy' during the day now, but my educational background is History and National Security Studies. I want to balance social science back into my life." See this and this about Chris.
[UPDATE] Cheryl Rofer's career has moved from the hard sciences to the social sciences, the hard sciences informing her analysis of international relations. With an A.B. from Ripon College and an M.S. from the University of California at Berkeley, both in chemistry, she has worked on the nuclear fuel cycle, fossil fuels, lasers, technologies for destruction of hazardous wastes and decommissioning of nuclear weapons, and management of environmental cleanups from New Mexico to Estonia and Kazakhstan. Her travels have taken her to both countries, and she is learning Estonian. She blogs at WhirledView
Mark Safranski, holds an MA in diplomatic history and is a teacher, educational consultant and an adviser to a privately held internet platform company, Conversationbase, LLC. He was the editor of The John Boyd Roundtable: Debating Science, Strategy, and War, published by Nimble Books. Mark blogs at Zenpundit. Mark can also be found at several well-regarded group blogs including, ChicagoBoyz, Progressive Historians and at a U.K. academic site, The Complex Terrain Laboratory. Mark is a free-lance contributor to Pajamas Media.
"Seydlitz89" is an American male over 50. He is a former Marine Corps officer and US Army intelligence officer who served in a civilian capacity in Berlin during the last decade of the Cold War. He was involved as both an intelligence operations specialist and an operations officer in strategic overt humint collection. This experience sparked his serious interest in strategic theory. He is now involved in education. He has published two papers on Clausewitzian strategic theory, both at the DNI website. He is also involved in the theoretical application and case studying of Clausewitzian strategic theory and Max Weber's social action theory to education. He will be presenting at a conference in Cardiff Wales, UK in March of 2009. He is interested in the many connetions between not only Clausewitz and Weber, but also between Clausewitz and Svechin. He attended the Clausewitz conference at Oxford in 2005.
Tim Stevens is a postgraduate student in War Studies at King's College London, researching strategic aspects of information environments. Aside from studying, and his day job at the International Centre for the Study of Radicalisation & Political Violence, he helps run the Insurgency Research Group, is managing editor at the Complex Terrain Laboratory, and writes his own moderately unsuccessful blog, Ubiwar. He's old enough to know better but young enough to still say "yes".
Aled Roberts Tien is a graduate of the University of Chicago in economics. He has been working and living in Asia (HK, China and Singapore) for the past 14 years in the high technology sector. He has always been interested in the history and politics of war.
"Sir Francis Younghusband" is a contributor to the current affairs group blog ComingAnarchy.com. Since accepting that assignment in 2004, he has gotten altitude sickness in the Pamir Plateau, suffered through gastrointestinitis in the Tonle Sap basin, been subjected to "exploding" chicken in Chinese Turkestan, wandered lost and moneyless through Shiraz, and most recently obtained a master's degree in War Studies from the Royal Military College of Canada. Younghusband currently lives in Japan and is preparing diligently for his next adventure.