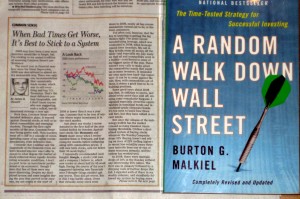 I was reading a Wall Street Journal column by James Stewart recently. He has a column called "Common Sense" which outlines his approach to selecting stocks and investing. His strategy involves buying when the stock market drops 10% and then selling when the stock market rises 25%. This type of investing (which looks at relative market levels) is a type of "technical analysis" as opposed to "fundamental analysis" which looks at the merit of individual stocks relative to financial metrics. To be fair, Mr. Stewart's model is a mix of technical and fundamental analysis, but the "buy"and "sell" signals are pure technical analysis (in my opinion).
The headline of the article really caught my eye, however:
When bad times get worse, it's best to stick to a system
That quote reminded me of a line from one of my favorite investing books titled "A Random Walk Down Wall Street" by Burton Malkiel. On p146 he discusses his opinions of technicians which rings eerily familiar:
I personally have never known a successful technician, but I have seen the wrecks of several unsuccessful ones. Curiously, however, the broke technician is never apologetic. If you commit the social blunder of asking him why he is broke, he will tell you quite ingenuously that he made the all-too-human error of not believing his own charts
In my mind, sticking to a system and not believing his own charts are one and the same.
As far as the book by Malkiel, I like to pick it off the shelf from time to time and read it again. The book is 30+ years old (it has been updated), but the main thesis is the same; a broad basket of stocks, best in an indexed fund, will typically beat active management when fees and taxes are considered. While this idea is pretty much accepted as common sense nowadays, when this theory first came out it was seriously attacked by the investment community, since it undercut their validity and high costs (relative to indexing, which can be done cheaply in a transparent manner).
I also like the book because the author acknowledges the thrill of individual stock-picking, and allows that some people are good at it, and that it can be "fun". While he doesn't recommend it for the whole portfolio, he notes the lure and that doing it with part of a portfolio or not "rent money" is also understandable. This to me sums up my plan in the funds I run for my nieces and nephews; I invest in individual stocks because the funds are relatively small and not needed immediately to pay for rent and food, and because investing in individual stocks allow for much greater interaction and teaching opportunities about the market relative to a simple index fund (or ETF).
I heartily recommend Malkiel's book and am a bit worried about the normally staid and on-point Stewart… don't ride that system to the end.
Cross posted at LITGM