Most people would not like to travel the way I travel. They want a specific route itinerary and planned places to visit.
For me, it is the spontaneity of the journey that I like. Last November I decided to drive from California to Minneapolis to attend Thanksgiving with my small family. And it was the unplanned stops along the way, a few way off course, that made the trip. I wrote about that trip here.
I have found a travel companion, and because of her background as a cruise director for the Royal Viking Line (and the first female cruise director), she is on board with my travel plans made at the last minute.
Inger once told me that she and her charge of passengers were in the middle of India, and the scheduled plane that was to take them to the Taj Mahal would not come. Now that is a challenge making arrangements "on the fly" for 20 people who are depending on you to get them to their destination in a timely manner. So she is used to travel's unexpected detours.
A few weeks ago we found ourselves heading west with the general destination of the Bay Area, and Silicon Valley, as the goal. While on the road, the menu of possibilities was to see the Tech Museum at San Jose, or take a Tech Tour of the many technological icons the world knows today, such as Facebook and YouTube.
How'd you like to be the current occupants of the house where Steven Jobs and Steve Wozniak built their first Apple Computer?
As we crossed the Dumbarton Bridge leading us to Menlo Park, we both were amazed at the costs of real estate there. I went to school there in Menlo Park for 2 years in the late 60s, and the contrasts are astounding. The first land you encounter is East Palo Alto, which a local told me was referred as "the marshlands". I wouldn't call it a ghetto at the time, but it was rather run down. Inger, who used to be involved in real estate, looked up a house price there now and it was $3.5 million.
While she and her family came from Norway, one of her first homes as a child in the US was in Palo Alto. And her house there sold in 2019 for $9 million. With a $113,000 annual property tax. I told her as long time Californians most of us couldn't afford to live in the homes we had as children!
Which has had business repercussions throughout the state that I'll tie in with a subsequent post here.
Those few of you who have read my posts at The Lexicans know that I am fascinated by history and how such profound changes can occur from the smallest of things.
Would World War ll in Europe have ended differently – and before Pearl Harbor, if Wallis Simpson not been in his life and Edward VIII remained king?
Would there even be a Microsoft today if Gary Kildall hadn't been out of the office in Monterey? (For what it's worth the Forbes recollection is different from what I heard but I will go with the Forbes version for this post). If Gary had been more flexible with IBM and seen the future as Bill Gates saw it (with licensing to non-IBM hardware manufacturers). It was a CP/M world – not MS-DOS – with Intel processors before this meeting.
In 1980 IBM was out looking for an operating system for its coming PC. The legend is that Kildall missed a meeting with IBM because he was out flying one of his planes. He could never live down that legend, but it wasn't entirely true. He was flying, yes, but he showed up only a little late. Then he talked all day and through the night on a flight with the IBM representatives back to their office in Florida. The sticking point: IBM wanted to pay a flat $200,000 license fee to get a royalty-free license in perpetuity. Kildall wanted more.
Bill Gates came up with a similar operating system. He gave DOS away to IBM for $50,000 and figured, correctly, that he could get rich by licensing the system to other computer manufacturers.
The story I heard was a bit different and Gates didn't even have what became MS-DOS, but when IBM, desperate for an operating system, then called him and Gates bought what became MS-DOS  from Seattle Computer for $50,000 to give to IBM.
In those days, IBM was such a dominant and respected force with the industry saying, "Nobody ever got fired for selecting IBM". And since Microsoft really became its own dominant force because of IBM's endorsement, how different would IBM be today if they insisted on having a part of Gate's (then) fledgling company? I can remember an article in Forbes – or Fortune – giving the 50 largest computer companies in America.
IBM was of course, number one. Digital Equipment was number 2. It took the revenues of the "bottom 49" companies to equal mighty IBM.
Today, Digital Equipment, who pioneered the mini computer (and whose computer Gates learned  programming) , is gone. Along with so many others who couldn't transition along with the technological wave of the microcomputer.
So anyway, I suggested to Inger that we have lunch where Google was (allegedly) born. Like my version of Gary Kildall (he was out sailing, and his wife was at the office afraid to sign with IBM an NDA) this may or may not be true.
I have heard this story from several sources which doesn't make it any more or less true.
But the restaurant where Google was allegedly born has given birth to other tech companies.
According to owner Jamis MacNiven, there's an impressive list of deal-making history at Buck's.
"Hotmail was founded here," he says. "Netscape had their early meetings in the back room; Tesla was founded here; PayPal got funded here."
And Yahoo, according to MacNiven, was turned down during a meeting at Buck's. The restaurant is just miles from Sand Hill Road, site of the nation's largest aggregation of venture capital firms.
Buck's isn't really fancy or pretentious, but a nice restaurant where a lot of venture capitalists come to have lunch. And it's in my favorite area of California. If I could afford it I would live there. It's just about 10 miles or so from Redwood City and "up in the pines". If you traverse the Peninsula east to west, you go up into the mountains with a rustic atmosphere and then to the ocean, all in 30-40 miles. Plus it has some of the best weather in California, temperate the year round.
While this meeting of co-founders Larry Page and Sergey Brin isn't acknowledged in their official history, the story I heard was when they felt that their new search program was ready for the market, they made pitches to all of the established search engines to sell or license it.
Companies like Alta Vista and Yahoo. I remember using them in the 90s. You literally had to sift through a ton of chaff to get a few grains of wheat. You'd get 50 or 100 results of which 2 or 3 were of any interest.  As far as I know, Alta Vista is gone today and Yahoo, which was the dominant force in the 90s, and should have been where Google is today, was sold a few years ago with the buyer realizing that the parts were worth more than the whole. If you read Google's official history, you know that their search algorithm was radically different, using links from other websites.
Anyway, the story I have heard is that once they were rebuffed by all of the established companies (where are they now?) they decided over a lunch at Buck's to start their own company.
And something I discovered a few years ago, also not verified.
They don't go out to the websites that they find for you, but they have copies of all of the websites on the Net. I came to this conclusion when I wrote something for the Lexicans, found it on Google literally minutes later (what summons the programmatic "spiders" that go out to the post so fast?).
I made a change on the post 20 minutes later and then used Google, and the original post was still there. To be updated with my change eventually. Their Google server rooms must be an amazing sight, or at least amazing to an old programmer like me.
Anyway, if you go to Bucks, their displays along the walls are worth the trip alone.
You must spend at least 30 minutes going around the wall displays, including the shoe of Shaquille O'Neal (size 22!). A frequent patron bought it for $20,000 and gave it to Buck's owner for his display.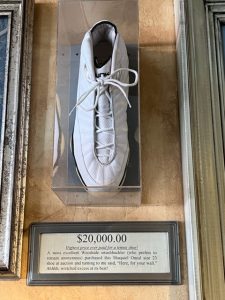 There's a lot of money in the Bay Area.
After lunch we decided to drive to Google Headquarters in Mountain View 10-20 miles away. I expected it to be in a typical industrial park, where we could walk around. I wasn't expecting the reality, where it was a complex of buildings over a mile long.  They are building 2 new headquarters buildings with what Inger called "whimsical roofs". If I understood the workman correctly, they will not have conventional heating or air conditioning, but get these needs from below the ground.
Don't ask me how they will do it, but I am trying to ignore my past questioning of technology's possibilities as the future has unfolded.