Earth Hour was a world-wide event which let conscientious environmentalists symbolically vote for preserving the environment by turning off their lights for an entire hour. No one, however, went to the heroic lengths of North Korea. Just look at this satellite picture comparing the indifferent, environment-wrecking people of South Korea versus the caring, Gaia-nurturing people of North Korea.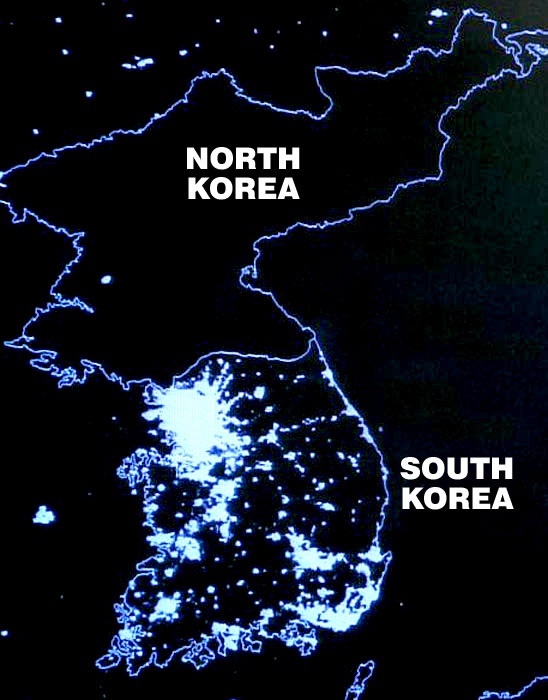 Wait, it gets even better…
In writing this post, I found out that North Korea celebrates Earth Hour every hour of every night and has done so for decades! North Korea was the industrialized area of Korea at the end of WWII, but over the last 70 years they have bravely chosen to wean themselves from pollution-vomiting factories, the consumption of fossil fuels and unsustainable machine- and artificial-fertilizer-based agriculture. Of course, it goes without saying that they don't use genetically engineered frankenfoods.
Just look at this picture of progressive North Korea surrounded by more-gluttonous societies.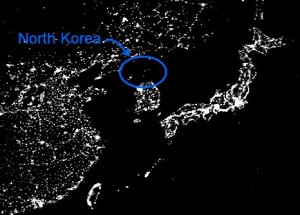 I think I speak for all environmentalists when I say that the methods that produced the level of sacrifice, organization and willpower exhibited by the North Koreans are methods that all real environmentalists would like to see extended to all the nations of Earth. 
Vote Green! If enough people do, we will all end up living the same kind of environment-respecting life as the people of North Korea!