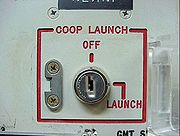 In October 2004, I visited the National Air and Space Museum in Washington DC. One of the exhibits there is a Minuteman III ballistic missile. It's not a very impressive-looking object, and I hadn't paid much attention to it on previous visits. But this time, I stopped in front of it for a while.
It was only about a month since the terrorist attack on a school in Russia, in which 186 children were murdered. And it struck me that had this missile ever flown, it would quite possibly have killed thousands of Russian children very much like those who were murdered by the terrorists.
I am not a pacifist or a nuclear disarmer, and I am not making a moral equivalence argument here; not in any way suggesting that American missileers are somehow similar to child-murdering terrorists. At the dawn of the age of strategic airpower, George Orwell summed up the situation: "If someone drops a bomb on your mother, go and drop two bombs on his mother."
While the argument that the only defense against air attack was retaliation proved to be somewhat overstated during WWII, in which radar-directed fighters and AA guns did provide some meaningful defense against bombing, the argument was quite true throughout most of the Cold War era, given the existence of unstoppable ballistic missiles. I think that as a country we did the right thing in building and deploying Minuteman–and Atlas, and Polaris, and Trident, and the rest of them. But we must never forget that these things are the instruments of nightmares, and words like "deterrence" and "nuclear umbrella" and "massive retaliation" should never be allowed to hide the underlying realities.

Recently, Hillary Clinton stated that–should Iran obtain nuclear weapons–we will protect countries in the region by including them under a "defense umbrella." What does she mean by a defense umbrella?…given this administration's hostility to antimissile technology, it should be pretty clear that she does not mean a comprehensive missile defense system. Rather, she means that the U.S. will retaliate against Iran with nuclear weapons should it launch a nuclear weapon at any of the protected countries. (During her Presidential campaign, Ms. Clinton spoke of "massive retaliation" by the U.S. against Iran should that country attack Israel with nuclear weapons.)
We now have a U.S. administration which:
a)Is not very interested in supporting dissidents seeking to overthrow the Iranian regime
b)Is not going to take any military action to prevent Iran from developing nuclear weapons, and seeks to discourage or prevent Israel from doing so. (I think Hillary herself is more positive toward an Israeli preemptive attack than is Obama–but she is only an agent here, not the primary decision-maker.)
c)Is reluctant to develop and deploy technologies which could shoot down Iranian nuclear missiles in flight
d)Basically seems willing to wait for Iran to acquire nuclear weapons and delivery capabilities (talking all the while about how "unacceptable" this outcome would be) and then, should these weapons be used to kill tens or hundreds of thousands of people in a country allied to the U.S., to kill millions of Iranians in response.
Or, at least, the Obama administration wants the Iranian regime to think that this would be the U.S. response to an attack.
Why do the same liberals and "progressives" who react with horror to any suggestion of conventional military action often speak so glibly about "nuclear umbrellas" and "massive retaliation"–phrases that in reality refer to the killing of millions of people? I think it is partly because they feel sure that these things will stay in the realm of words and never become part of the realm of reality.
About 10 years ago, a Los Alamos scientist was quoted as saying "Weapons designers play the societal role of witches in fairy tales–we scare people into behaving." This captures very well the Cold War image of nuclear weapons–they are of the supernatural rather than the natural world; they belong to the realm of fevered nightmares rather than waking thoughts. And for more than 60 years, that is where they have stayed.
But today, we are dealing with people for whom the distinction between fantasy and reality is not always too clear. As I said in this post, "the threat that faces us in today's world, though, is that the fairy-tale ogres will leave their home in the deep subconscious and emerge, their claws dripping with blood, into the daylight. Clearly, the Iranian leadership already lives in a mental world which is very close to the world of a dark fairy tale. Potential use of nuclear weapons is unlikely to fill them with the horror that it has long carried for most of the world."
And how likely is it that the Iranian regime (and the North Korean regime) will take seriously any threats of retaliation from the likes of Obama and Hillary? Establishing a trend of appeasement leads to confidence on the part of the ones being appeased, and to the belief that "since they let us get away with X, they will let us get away with Y."