From a site called Backstage, a job listing for actors.
PRESIDENT OBAMA TOWN HALL, DC MTV, BET, and CMT (prods.) are casting the audience for a town hall meeting with President Obama. Shooting Oct. 14 at 4 p.m. in Washington, DC. Seeking—Audience Members: males and females, 18+. To apply, email townhallaudience@mtvnmix.com and put "Town Hall" in the subject line. To ensure that the audience represents diverse interests and political views, include your name, phone number, hometown, school attending, your job and what issues, if any, you are…
I can't see the rest without registering. Here's a screen shot: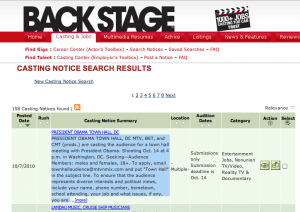 Because nothing says, "sincere, good old-fashioned, American town-hall democracy," like a room full of actors.
Remember, if they convince themselves it is in your best interest, leftists can lie to you with a clear conscience.