Posted by Michael Kennedy on January 6th, 2011 (All posts by Michael Kennedy)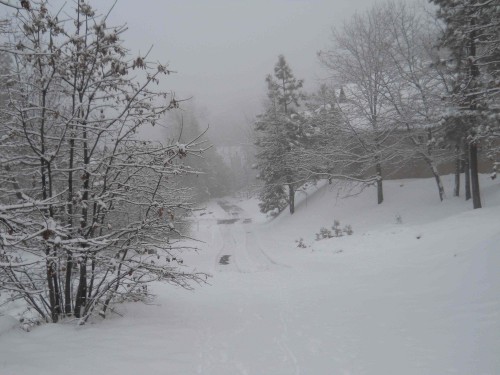 I thought I would add a photo of my house at Lake Arrowhead on New Years weekend. The road going down the hill is an access road, sort of an alley but the only access for some homes up here. My house is in the far distance in line with the road, which makes a left turn at my fence. I was walking my basset hound who loves the snow but has to jump like a sled dog breaking a trail in anything more than 6 inches of snow.
The main road is to the right and the house backs up to it but faces the access road. I have a third of an acre, all level, so the dog is content. It was 14 degrees that morning so he was not eager to go out until a bit later in the day. I've been coming up here for weekends for 35 years. It's nice to be home now. It's two hours to my previous home in Orange County and about two hours to the beach.