Here we are, on the outskirts of the city whose name inspires this very blog. The moderate 7-hour drive from Minneapolis to Chicagoland was somewhat of a challenge to us after failing to properly rest in the twin cities. Exhaustion is setting in, so Iíll yet again be brief…
St. Paul's downtown, although not as impressive as that of Minneapolis, is still quite nice. Unfortunately, we were unable to get close to the mighty cathedral there or the state capital building:


The 3M building, just outside of the Twin Cities:
Crossing the St. Croix River, entering Wisconsin:
Wisconsin farmland:
Wisconsin sported far more trees than I remember from my previous visits:
More farms:
The rain hit us almost as soon as we got into the state, and lasted till we got past Madison:
These guys are pretty lame:
Dear citizens of Illinois, your toll system is blowful in the extreme. I don't know how you people do it out here, but back on planet Earth we donít clog up our main interstate trade and transportation channels with nuisance tolls every ten miles (we hit five between the state border the suburbs of Chicago, which is about 40-50 miles). It turned a sub-six hour drive into a seven to eight hour one. I know these are fairly common out here and further east, but there must be a better way to fund road maintenance…
Once the tolls were past, and our hotel room secured (Iíve been quite pleased with the Elmhurst Holiday Inn Express, by the way), we began our Journey to meet our very own Lexington Green in the flesh. Unfortunately, the Eisenhower Expressway suddenly became a parking lot, leading to much cursing and gnashing of teeth: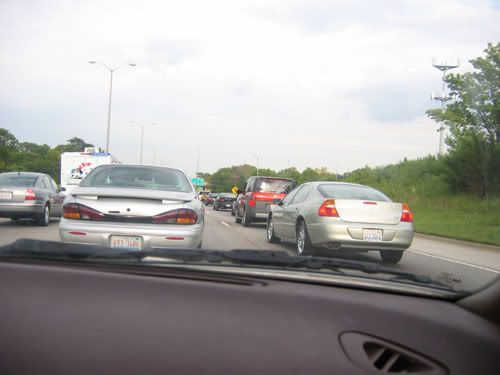 However, after this delay, we soon found ourselves at the Green household. Here we were greeted by the fine hospitality of Lex and his family. A deliciously meat-filled dinner was provided: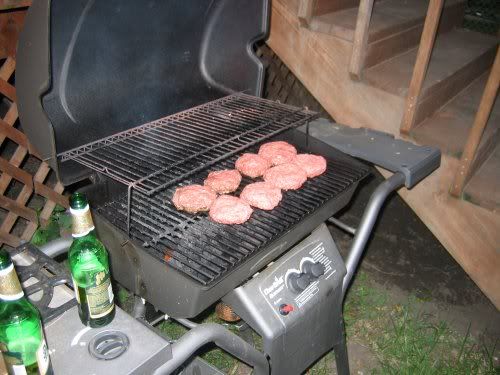 After a few beers and some fine conversation, a delectable strawberry cake was consumed, much to everyoneís delight: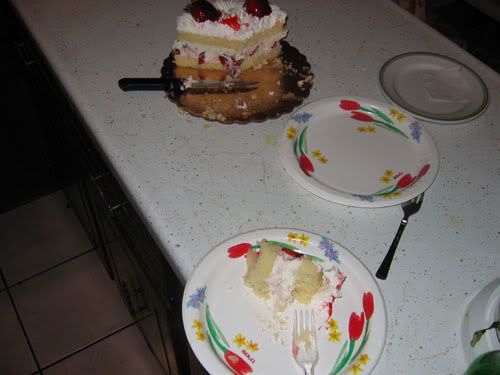 I tend to think of myself as a fairly well-read and knowledgeable fellow, but Lex puts me to shame, with his vast library and conversational skills. He is the owner of a fine home, a lovely and intelligent wife, and four charmingly spirited children. I thank him and his family for a wonderful evening.
Now I must rest, as tomorrow we'll attempt to catch some of Chicago's many attractions.