Today started out in the outskirts of Chicago and ended up in a suburb of Indianapolis.
Unfortunately, I wasn't able to hook up with my good friend Seed, from over at the Mint400.net due to a scheduling conflict. Also, the sage tourist advice given to us by Lexington Green was wasted due to poor follow-up and research, which left us lost no matter where we went in the Chicago area. However, we still managed to have a lovely time in Chi-Town.
From our suburban start we made our way to the city center: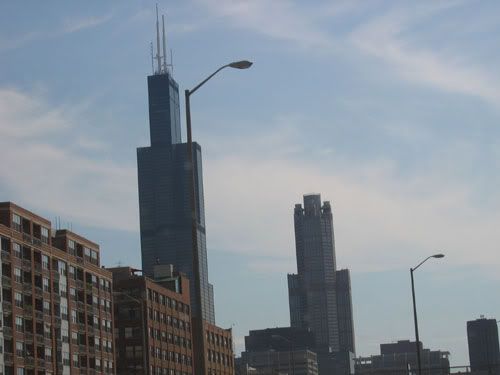 Next, after making our way through many interesting parts of Chicago's South Side, we made our way to the heart of this blogs namesake, the U of Chicago in Hyde Park. There was much beauty there, of which I shall only share one picture for now: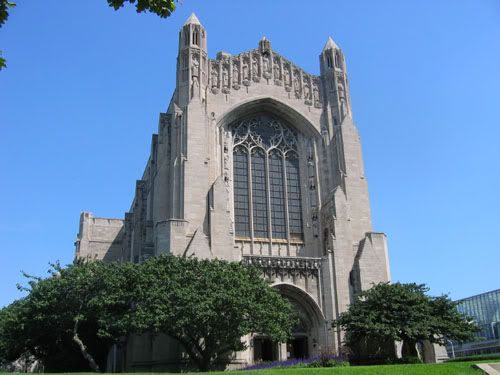 Next, we moved downtown along Lake Shore drive, which, on a day like today, is exceptionally pleasant: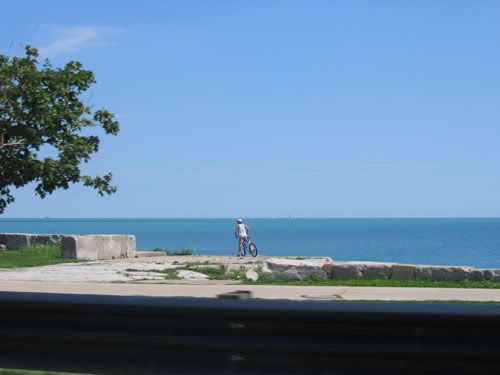 Getting lost downtown, and forgetting Lex's guidance, we ended up at one of the few Chicago landmarks Cornflake could recognize: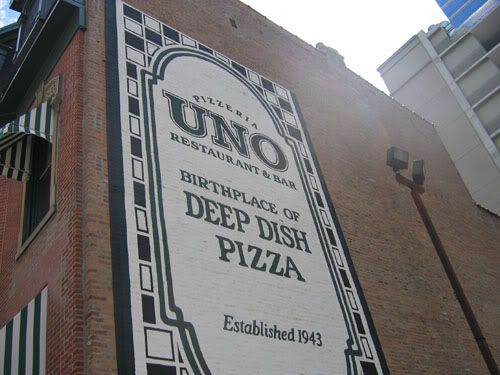 Here, at Pizzeria Uno, we enjoyed some delicious deep-dish pizza, some refreshing beers served by our new friend Juan (taking the following picture), and engaged in some brief conversation with Ivan, who was visiting our country from the great nation of Australia. We wish him luck on his American adventure: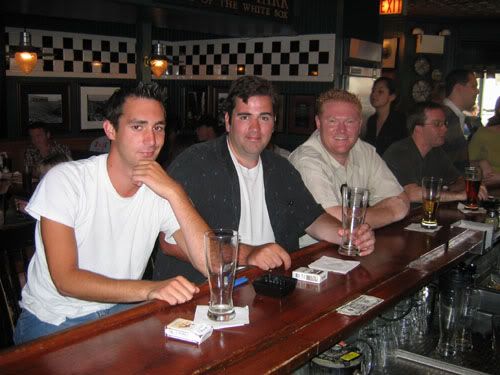 After pizza, we caroused downtown Chicago, and snuck into the Hard Rock Café to answer nature's call. Normally, I find this chain reprehensible, but I could not resist capturing the following moment: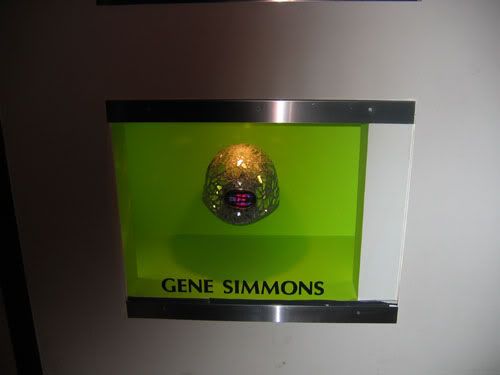 This is definitely my kind of town. Chicago features some lovely architecture, which, to conserve time and bandwidth, I shall show only a few examples: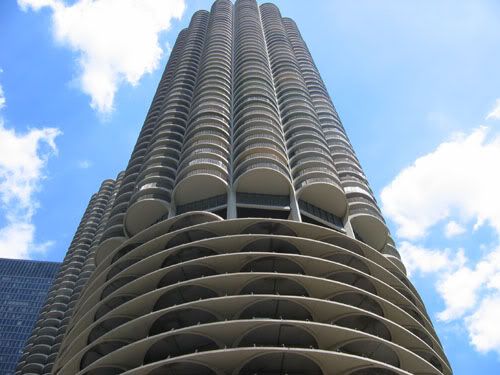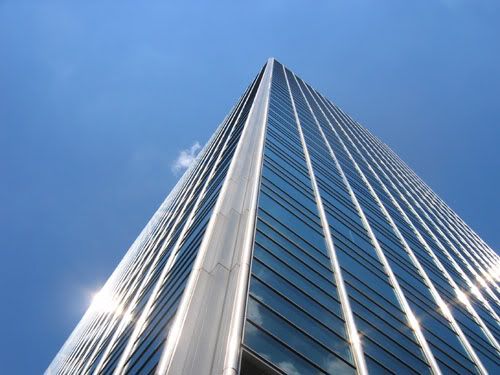 After having had our fun in the windy city, we moved on. However, I shall bitch one more time about toll-ways on eastern interstates. Entering the Chicago Skyway (I-90 east) we were forced to pay a $2.00 toll, a price which doesn't bother me in particular, but then we were presented with an interstate in the following condition on a Sunday afternoon: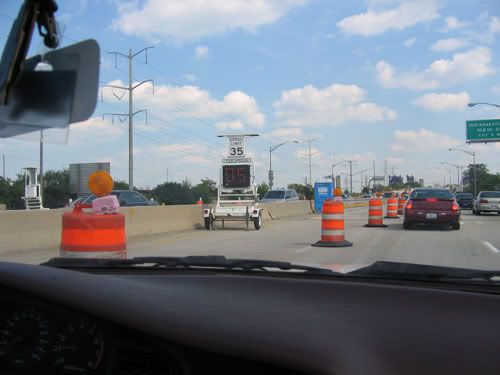 Your tax dollars (and tolls) at work…
Rural Indiana isn't worth mentioning, considering earlier posts. However, the skyline of Indianapolis seems quite nice: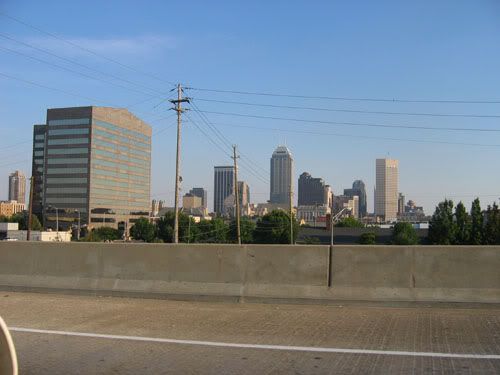 Hoping to avoid traffic in the morning, we proceeded to the outskirts of Indianapolis before stopping. In Greenfield IN, aside from finding a very nice Comfort Inn to stay, we found a wonderful drinking establishment to whet our whistle at. I forget what it was called, but a number of very nice Midwestern folks (is there another kind?) made us feel right at home.
In the following picture, we see our new friend Laurie, who, along with her husband, made us want to follow NASCAR much closer. Laurie, who had a bit to drink, cleaned our chronometers in a game a darts and then bought us shots of Triple-Sec. A simply charming couple. Here we are in a group picture: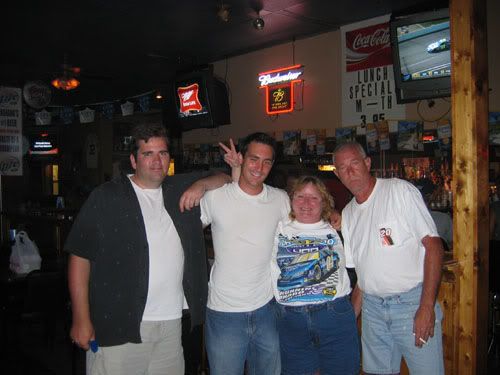 The general good cheer of the bar was, for a brief time, nearly turned to disaster by a dispute between Laurie's husband and the local barkeep. Threats of police calls were mentioned, but fortunately all was settled through a friendly handshake. Eric (the bartender) was a thoroughly decent fellow.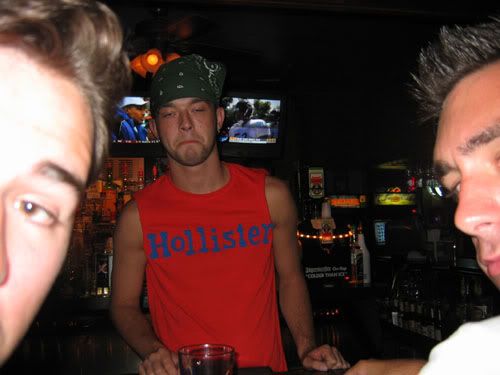 Tomorrow, we plan to cover most of Ohio and enter West Virginia. More soon.