I blogged a bit ago about how much the album Lifes Rich Pageant affected me as a young college student. It may help readers to review that post before you go forward with this one. It was sort of like I was holding a meteor or other object that I simply couldn't identify – I was listening to it and wondering what I had been doing listening to so much crap over the years. The album just took me places I had never been musically and I never looked back from there.

To celebrate (make money?) the 25th anniversary of the release of LRP, they have come out with a remastered version of the album. I decided to buy it for a couple of reasons. First, the only copy I have of LRP is my old vinyl from the college days. That particular piece of history is like a time capsule to me – it isn't just an album for me, it is the sound of my youth. So I needed a copy and am too lazy/busy to do the ipod thing so I bought the cd set to listen to in my car on the way back and forth to work. The second reason I bought it was that the set comes with some demo tapes of the songs from LRP along with a few others from that time period.
So, I think a short review is in order. I think that the new remaster is both good and bad. It is much easier to pick out each instrument in the remix. I seem to remember the album sounding much more like a band and it being more difficult to pick out individual parts. It isn't better or worse, just different. I also thought the mix was too heavy on the treble, and didn't have enough bass. I adjusted my car stereo and it sounded fine.
As for the music, well, I have already droned on about how much I love this album, so I don't see the need to review that. If you don't own it, get it today in one form or another.
I can review the demos. Unless you are a diehard fan of this disc and REM in this time period, I wouldn't recommend it. I enjoyed a lot of the demos (called the Athens demos) and it was cool to hear drops in a song where there wasn't one, and other little things like that. The coolest thing to me was the two verses in Cuyahoga where they didn't have any vocals. I was happy to provide them in the car since I know every word. If you are as big a fan of this album as I am you will find some very neat things in the demos.
The liner notes were a little whiny and a bit stupid at times, but I learned a bit from them anyway.
Interesting what you get with a CD these days. I haven't actually purchased any music since I got satellite radio a decade or so ago and was sort of taken aback at all this crap that came along with the discs.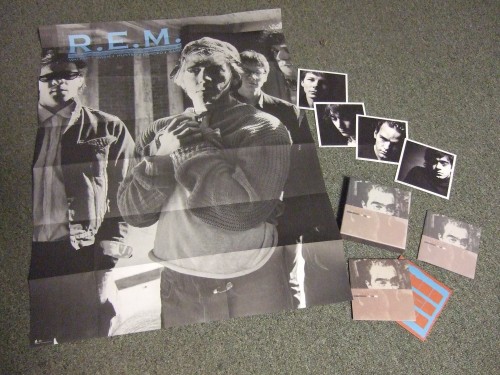 Do they actually expect forty something folks (I assume the market they are trying to hit with this item) to put that poster up on their wall? I mean no kids are going to buy this, are they? Who, exactly is going to hang this poster, I wonder.
I do like the little photos of the band members from that era, and will probably make a wall hanging featuring those and the actual album I own of LRP from college. My kids will probably ask me how that thing actually makes music – in fact it doesn't in my house anymore since I don't have a record player.
Times change, but this album will always be one of my favorites. That will never change.
Cross posted at LITGM.