Oh, lord, I thought on Monday afternoon, when I ripped opened the industrially-strong sticky tape that held the cardboard mailer closed around a hardbound book the weight and dimension of two bricks – did I really write all that? The UPS guy had just brought it, and left it on the porch after ringing the doorbell, and departing as swift as the wind . . . or as swift as one can be, working a delivery job at the height of the summer in South Texas. I wouldn't want to linger on a doorstep either, when it's over 100 degrees in the shade and towards the end of a working day.
My first historical novel – about the great California emigrant trail adventure of the Stephens-Townsend Party came out in 2007: it was a book that I wrote in the white-heat of enthusiasm upon getting let go from a medium-sized corporation. Truth to tell, I didn't really mind;  in fact, I was weirdly cheerful about the whole thing, which freaked out the HR guy overseeing my exit. I think he expected hysterics, but I was thinking, "Hey, I could go home and write! For the rest of the day! And tomorrow, too!" For the next couple of years I temped and part-timed about twenty hours a week, and scraped up editing jobs here and there, before becoming a partner in a Tiny Publishing Bidness.
In the meantime, I was working on the follow-up novel. I had been stuck at first: it had to be another unknown story, probably in the 19th century, I really liked writing about the American frontier … and then it hit me: to write about the founding of the German settlements in the Texas Hill Country. It was so unknown to scribblers of fiction that no major writer has done anything with it, novel-wise since James Michner, with Texas, and that was thirty-plus years ago. I'd certainly have the field to myself, in that case. And the story did kinda carry me away, once I started research on what would become the Adelsverein Trilogy. Of course I had to carry it up through the Civil War, and once that was done, what about the glory days of the long-trek cattle-drives, which launched a thousand legends?
The research and writing of it I had nailed down within the space of two years — hey, writer's block is so not my problem —  but I measured out the resulting saga into three separate and free-standing novels, all published in paperback  three years ago. Let's just say that it has sold very well, as these things go when one's nom de plume is not Philippa Gregory, Dan Brown or Larry McMurtry. The Trilogy continues to sell, in paperback and e-book categories . . . but one of my biggest fans and I decided to bring out a hard-bound with dust-jacket version of all three books in one through the Tiny Publishing Bidness. As I said, it is the size and weight of a couple of bricks, a solid 1040 pages (including historical notes) . . . and although a bit pricy, the retail price will be much less than the cost of all three volumes in paperback, and will probably last a titch longer under the weight of constant re-reading.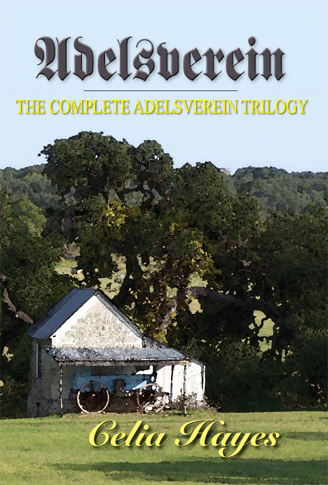 And see the dust-jacket cover? My little brother, the graphic artist, did that – and from a picture I took on the grounds of old Fort Martin Scott, just outside of Fredericksburg . . . where a lot of the action and drama took place.
Alas, have to tweak a couple of pages of content; namely the family trees. My own late dear Dad asked me to include family tree/trees, so that he could keep all of the main characters and their children straight. I did this with a mind fairly split: yes, it would be good to keep casual readers appraised of who was related to whom, especially as the story began to focus on the second and third generation, but I hated, hated, hated to give away plot developments: Readers could go to the family tree and plainly see who was going to marry whom, and who was going to eventually drop off their perch in the branches, and when, and given significant dates and events, probably from what cause . . . ugh.
I hated to telegraph future developments, especially after taking such care in setting up plot and characters, and making people care and invest their interest in them, and all, and then hitting them with the surprise twist. It's like – oh, she's/he's toast in Chapter Umpteen-whatever, don't emotionally invest her/him at all. Or; he and she are going to marry anyway, so why bother with building up any suspense? So, I compromised and put the family tree in the last volume. One more thing to tweak . . . and anyway, here it is. The hardbound all-in-one publication of the Trilogy will be available on or about the first of September, through Amazon, Barnes & Noble and the usual on-line and big box store outlets. Enjoy . . . just as I have finished this one last tweak.
The hardbound version has all three volumes of the Trilogy, and the historic notes – and although it makes a … er … rather hefty volume (suitable for having a small child sit upon, at the Thanksgiving supper table in lieu of a telephone book) the retail price of it is about 2/3rds of what it would be to get all three separate volumes in paperback. And with luck, it will hold up to being read and re-read a little better than the paperback versions will. And you will be able to work on your hand and forearm strength in holding it up to read for hours at a time! Not just an entertaining and educational read – but a work-out too!
Note:  I've set up a page at my website to take pre release  orders of the hardbound Complete Adelsverein Trilogy – to be autographed and mailed on 1 September, 2011. Anyone ordering a copy of the Complete Adelsverein will have their name put into a drawing for one of two very nice customized tee shirts from ooshirts.com.
Such a deal!