Behold!  The saddle bag!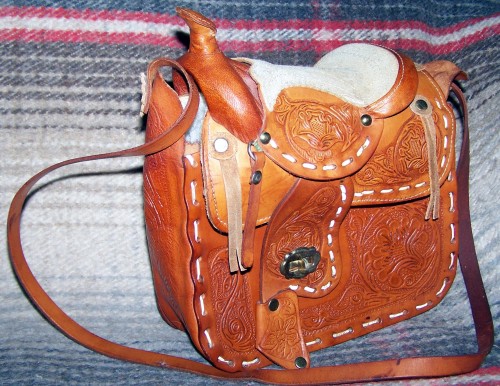 It's a vintage circa 1970ies tooled-leather shoulder-bag … with the top shaped and adorned like a Western saddle, found in a consignment store in Lockhart, Texas, last weekend. It's stamped "Made in Mexico" and neither my daughter or I or the owner of the consignment store had never, ever seen anything like it. And being women, you know … we do know our handbags.  It was quirky, amusing, original … and we liked it. My daughter and I decided against it at first, but talked about it over lunch, decided to go halves and share custody. Because we agreed that we so would regret walking away.
I have found three or four on line, all of about the same size and general design, but different in color,  tooled designs, and slight differences in the shape of pommel and cantle  — which are made of wood, covered with leather. The inside flap of the bag is lined in sheep-skin. Considering all that, my semi-scientific wild-ass guess is that they were all made one-off,  in some leather workshop in a border-town, dealing with the tourist trade.
Hey – you fashionista with the multi-thousand dollar Fendi bag? Dig this, if you dare!