Actually, it's very much the best of times in New Braunfels, Texas, this week, because Wurstfest is going on.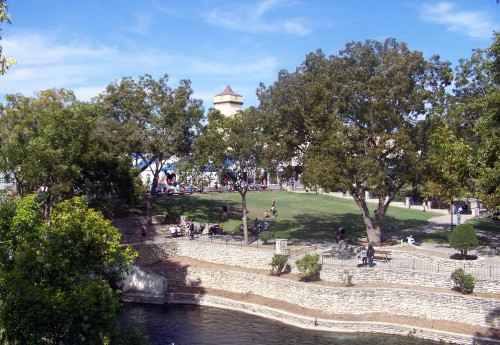 The Wurstfest started in a venue in down-town New Braunfels, but moved to permanent grounds in Landa Park, on the banks of the Comal River – grounds that now include three huge halls, adminstrative offices, and the Spass-Haus, which houses a portion of the largest collection of beer bottles in the world.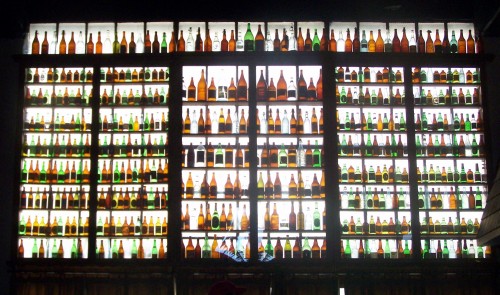 Nine hundred ninety-nine thousand, nine hundred ninety-nine bottles of Bier on the wall….
The line to get in on Saturday at the front gate was extensive, but moved very fast. The organizers of it all … are very organized. Wurstfest is a family event during the days, and then a party event in the evenings.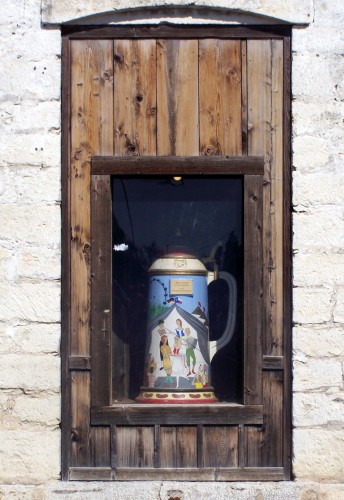 One small stein for a man, one giant stein for all mankind…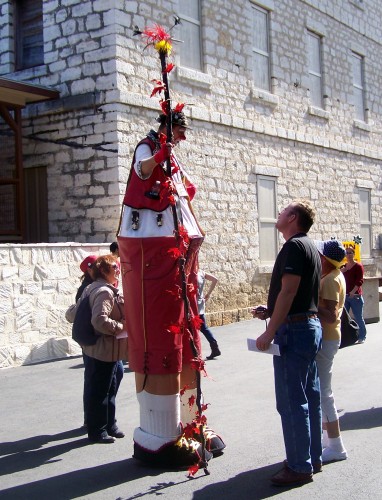 One more time: Everything is bigger in Texas!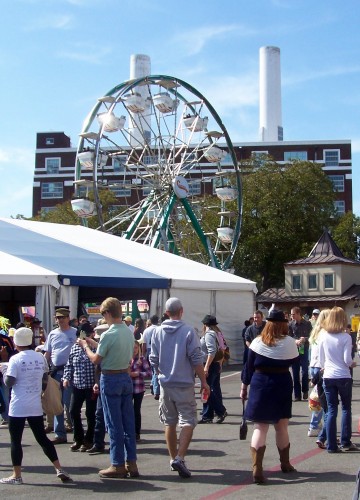 There's carnival rides for the kids…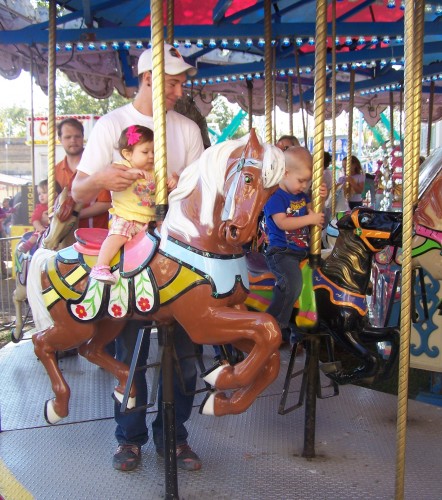 Including a merry-go-round and a ferris wheel…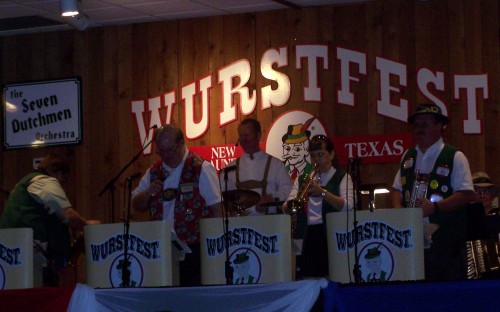 Music … really, you haven't lived until you've heard an Ooompha Band play Waltz Across Texas… and even the chickens get into it.
Das Chicken-Tanze!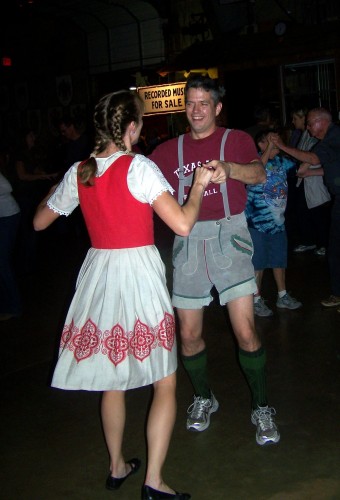 And swing-dancing … in colorful native attire…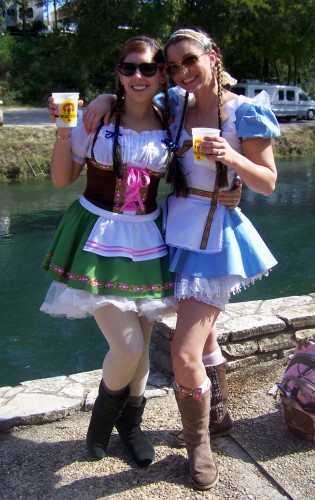 Really colorful native attire…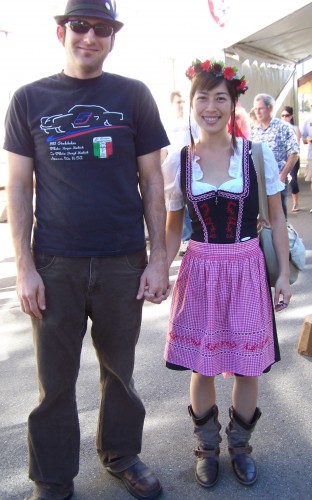 And cute small children in colorful native attire..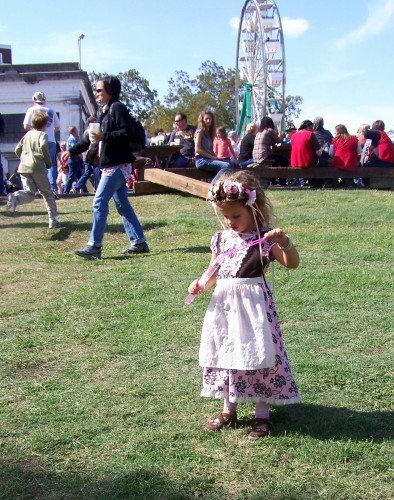 A lot of people attending and volunteering in the various food and merchandise booths also go for very strange hats. Like this –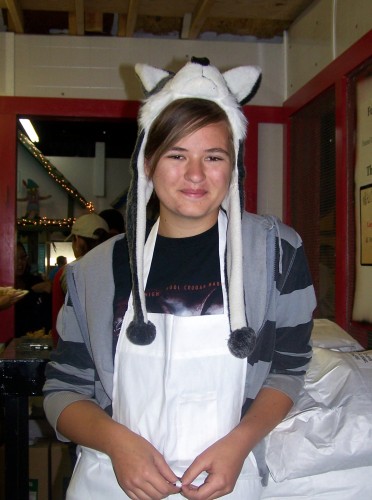 Like this …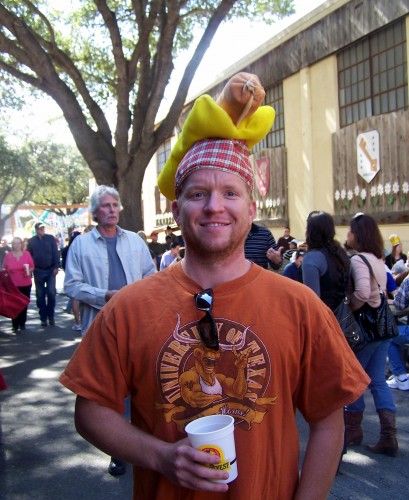 Or this …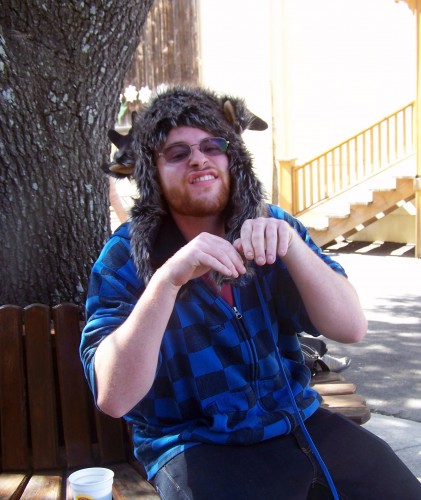 I think it was a moose. Or a squirrel. Maybe moose and squirrel!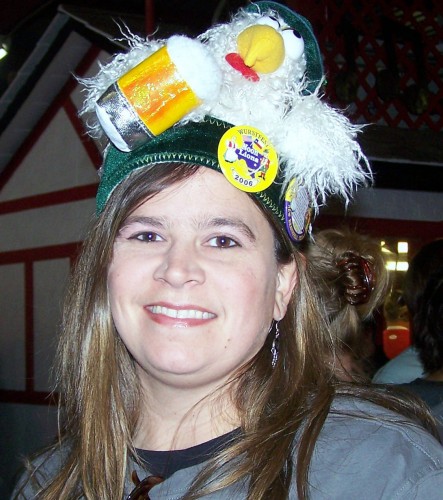 Too motifs in one – a chicken and a stein!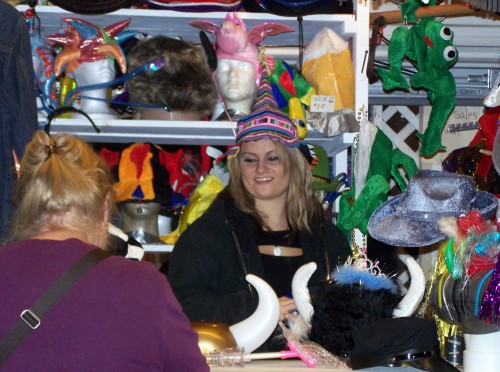 If you came without a strange hat, not to fear — you can buy one there. And also sample other interesting local delicacies besides sausage and beer.
German Tacos? OK … what about this?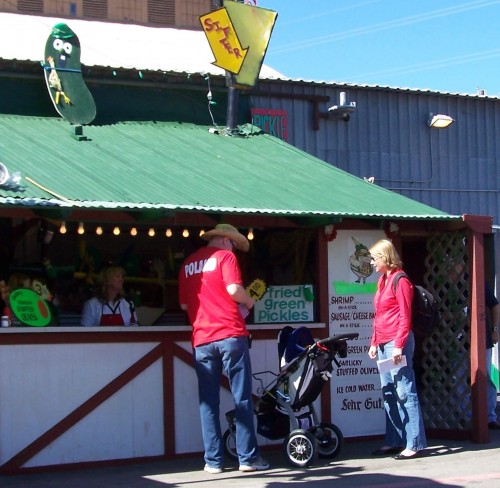 Fried green pickles, and the usual meat-onna-stick…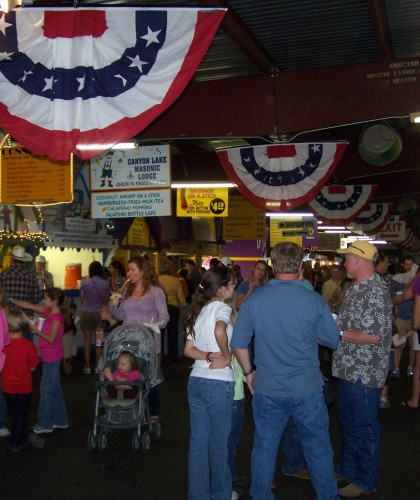 But … chicken-fried bacon? I can hear arteries clogging all the way from San Antonio.
And to round it all off, a nightly melodrama in the little theater on the gounds …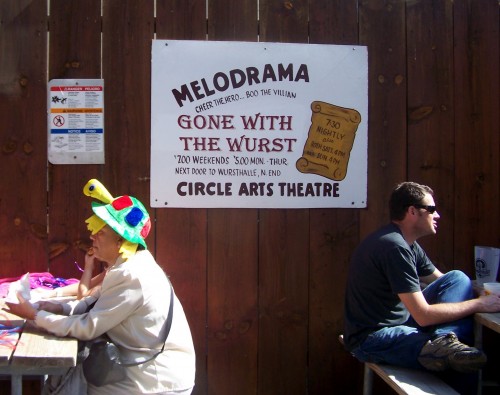 Just think of it as an amusing class of cultures; what happens,  when Germany meets Texas. My daughter and I go every year, more to people-watch and take pictures … and to sample some of the local sausage-onna-stick. Many of the vendors get their supplies from a local meat market … which we hit on the way home, to stock up our freezer. It's called Granzins. The locals go there, out of towners must make do with  the New Braunfels Smokehouse. 
Guten Tag, y'all!