Below the fold is information on our chickens, if you desire.

Below is a photo of an old pig barn that is on our farm and a hammock that I have not used one single time.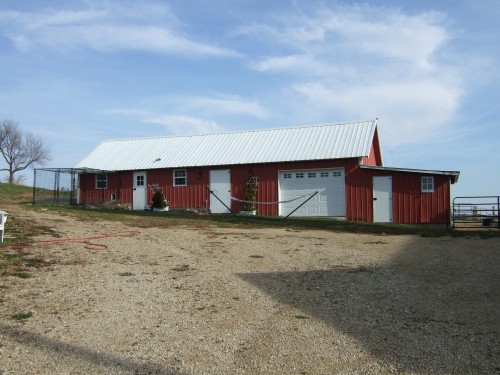 Have you ever been in a pig barn? Yes? Then you know the smell. That stench has faded for the most part, but I don't think it will ever go completely away. We were this close to tearing down this structure but we didn't and we are glad we kept it. On the right side is a lean to that the small horses go into when it is raining. It had to be shored up as it was in pretty sad shape when we inherited it.
On the left you can see a wire cage – it is actually a dog kennel type thing that we got from a hardware store pretty cheap. That is the outdoor section of the chicken area – it has to be fenced since we have predators like hawks, foxes and coyotes. When we are there we let the chickens out and they love to eat the grass. If you look closely you can see a small square door by the fenced in area with a ramp. The chickens can go in and out of the structure as they please but we shoo them inside for the night just in case a predator tries to get over zealous. Of course the inside is heated in the winter and has a fan in the summer. Most of the old pig barn is used for horse hay storage, grain for the horses and other things. We came to find out that you can't ever have enough "storage" when owning a place like this.
So here is the inside of the chicken area.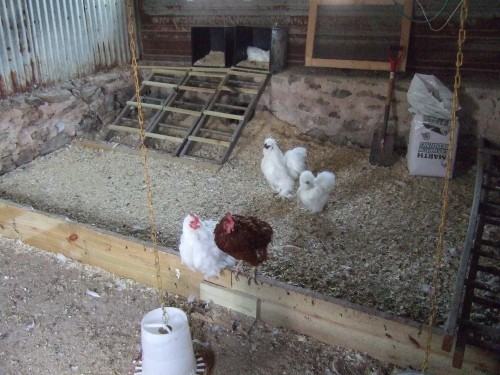 In the foreground is Angel, the white one, and Red, well, the red one. Behind them we have the taller silky rooster, which I have named "The Situation" and next to him is JWoww (you will have to brush up on your Jersey Shore to understand these names). Sitting in the laying box is Sammi and below her under the ladders is Snooki. When daylight is long we get up to three eggs a day. Right now we are getting about one every other day.
This is pretty much a money loser if you consider the feed and electricity to keep these things alive, but it is enjoyable, pretty cool to get fresh eggs, and the kids and I have fun with them. We handle them a lot so you can pick up most of them and pet them if you desire. I love watching these stupid animals cluck and scratch around. We are making another coop like this and will be getting six more exotic chickens for that area.