At our hobby farm we have cattle for beef, chickens for eggs, cats for rodent control, a dog for a warning system (and to kill a coyote/fox if needed) and horses for pleasure. I don't really do the horse thing but the wife and kids sure do love 'em. It is nice that we have our own grass hay to feed them, making their maintenance cost very low, just need to keep their hooves taken care of and the occasional vet visit.

Below are Cowboy, the miniature horse and Tanner, a Pony of the Americas.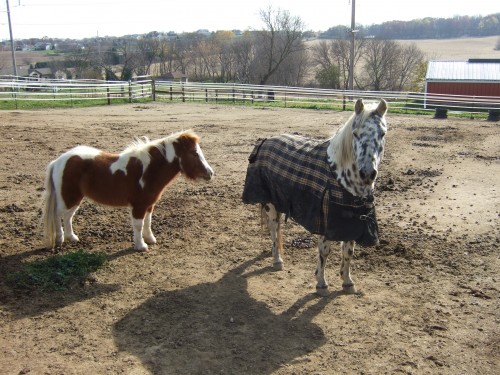 Cowboy came to us virtually free from a farm that had too many. Tanner was totally free. There seem to be a lot of places that are trying to scale down during the difficult economic times. Cowboy is fully grown. He is pretty fluffy now since winter is coming. It is amazing to me how animals just do their thing when the weather comes. Tanner is also fully grown. Cowboy isn't trained yet, but Tanner participates in cart and sled driving and is ridden in kids classes.
Below is Lady Astor, we just call her Lady.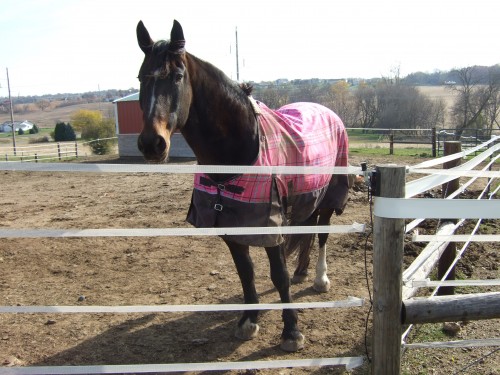 She is a Shire cross and stands 17 hands. She is a magnificent animal. She is ridden in dressage and hunt classes and also pulls a cart. My wife has won a competition with her driving cart already and we have only had her for a year and a half. It is hard to describe how large this beast it until you are right up on her. Very mild mannered though. That is a qualification to living on our hobby farm – if the animal is "hot" it isn't for us.
Winter is coming and that means sleigh rides. It helps make the season pass more quickly when you are doing fun things like that.