Posted by Sgt. Mom on March 5th, 2012 (All posts by Sgt. Mom)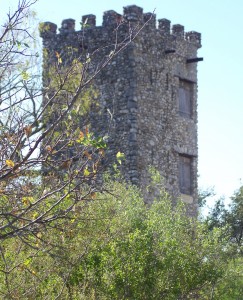 The last remains of a dream castle that never was completed – Comanche Hill, San Antonio

Comanche Hill is one of the tallest hills in Bexar County, and has always had an amazing view of the countryside all around. The Indians are supposed to have used it, to watch for herds of game moving around below. In the 1920s a retired Army officer bought the hill, and began building a replica of a Gothic castle, modeled after those he had seen in the Rhineland. He got as far as one tower – and maybe another, long fallen down – a range of stone buildings for garaging and sheds, and a foundation for the main house. Then his stonemason died, the retired officer died, and the stock market tanked … but this tower is still there. It's a park now, where people walk their dogs on the weekend.