Chicagoboyz like to visit the target range, but after President Obama was elected we realized that guns are bad and so we donated all of ours to schools and hospitals and took a tax deduction. This has caused us some problems as we sometimes get invited on shooting outings, and we have had to resort to borrowing our Uncle Ernie's old Mauser that he brought back from the Spanish-American War. This is a very fine weapon and in theory we could hit a gnat at 500 yards, with either hand (during legal gnat season, of course). The problem is that we have eyes like an eagle, if by eagle you mean a middle-aged eagle with lousy eyesight, and the sights on old Mausers are very small and probably not usable by anybody older than about 14.
The easiest remedy seemed to be an aperture on our shooting glasses. You can buy a fancy-shmancy commercial aperture but this costs actual money and we are cheap. So we attempted DIY measures. The first approximation was a short piece of electrical tape in which we poked a small hole with something like a paper clip. This didn't work well as it's difficult to make a clean hole in tape, and the hole gets further distorted as you remove and replace the tape in the process of locating the best place on your glasses for the aperture. The second approximation was to put a hole in a piece of aluminum foil and tape it to the glasses.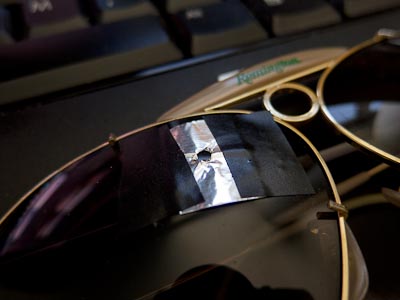 We used the tip of a ball-point pen to make the hole, and you can see that it's pretty rough. Nonetheless it worked well and gave a clean sight picture that enabled us to hit the damn target for once.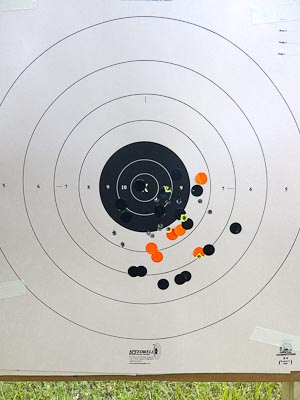 This isn't so bad for a worn rifle with open sights and surplus ammo from the bench. (That's a 25 yard rapid-fire pistol target at 100 yards.) We could probably have done better from prone with a sling or on the bench with a sandbag. Or maybe not. In any case the makeshift aperture helps a lot.
The next approximation is probably to cut some rectangular blanks from beer-can stock and drill them cleanly at various diameters to accommodate different light conditions. If we stick the aperture to our glasses with a couple of bits of cloth gaffer's tape it should be easy to adjust or remove without making a mess, but we haven't tried this yet.