This is a fun camera, with some limitations. It was introduced in early 2012 at a relatively high price and received mixed reviews due to its size (bigger than other cameras in its "class") and styling. Apparently it was a sales flop, because now you can get one for around $300 without a lens, or with a nice compact lens for another 100 bucks (these prices are more than 50% off the original street prices).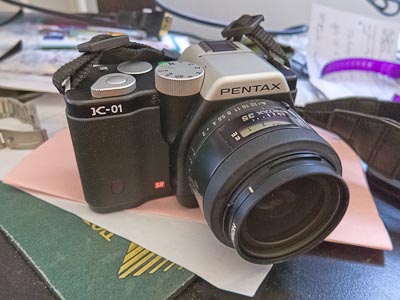 (With my lens.)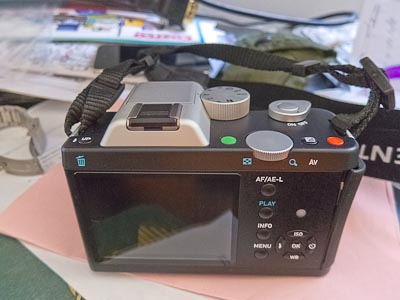 This is essentially a very compact entry-level DSLR without a viewfinder — you take pictures by looking at the rear LCD as on a point-and-shoot camera. Because it has an excellent DSLR-sized image sensor it is capable of extremely high-quality results, particularly in dim light. The camera also operates much more rapidly than a P&S. I decided to buy one because the price was right, I have some Pentax lenses and thought this might be a good camera for candid people photos. It is smaller and, because one uses the LCD to compose rather than a viewfinder, less conspicuous than my usual big black camera. And while bigger than a P&S it is also much more responsive with none of the infuriating shutter lag that makes P&S people photography so frustrating. So far I enjoy the camera and am glad I bought it. (Note that if you buy it from B&H via the links in this post the Chicagoboyz media empire will make a few shekels. Also, B&H has a generous return policy.)
I will skip the typical camera-review lists of menus and specs and instead list my impressions on the variables that I think are important.
Pros:
-Superb image quality.
-Excellent JPEGs.
-Fast (~6 frames/sec) in JPEG continuous-shooting mode.
-Battery capacity seems excellent.
-Very nice LCD.
-Cheap (I assume while supplies last) for what you get.
-Seems well made overall.
-Menus and controls are thoughtfully designed and work well.
-Anti-shake system built into the camera.
-You can use any Pentax lens, even cheap old ones (though these will require manual focusing).
-Manual focusing via "focus peaking" — a software-generated shimmer that appears on the LCD in image areas that are in-focus — works very well, particularly in dim light. This is a big advantage over DSLRs where manual focusing through the viewfinder is difficult.
Cons:
-Slow (~1 frame/sec) in RAW continuous-shooting mode.
-Not sealed against moisture.
-In manual mode, can only vary shutter speed. Must switch out of manual mode to change aperture. In practice this is probably not a big deal.
-Stylish soft-rubber cover over memory-card slot is easy to dislodge and looks like it won't hold up over time. This is a design flaw that has been noted in many reviews.
-Bigger than competing "mirrorless" cameras (e.g., Sony NEX-5/6/7 series), though in each of these cases the camera size depends heavily on the specific lens used.
-Default autofocus system works poorly in dim light until upgraded with latest firmware. However, the upgrade is easy to do.
Also:
-The shape of the camera is a bid odd and many reviewers don't like it. It seems OK to me, though you may find the finger rest on the right side to be too small for a comfortable one-handed grip. However, the camera's shape facilitates other ways of holding it that may be quite useful. For example, the camera is comfortable to hold with all of your fingers wrapped around the grip and your thumb on the shutter button, a position that works well when you are photographing people and don't want to raise the camera to your face.
-The boxy shape of the camera makes it easy to put it on a table or wall or whatever for time exposures. You can even prop the camera vertically without much effort.
-It is capable of professional-quality results but looks like a big P&S, particularly with the 40mm kit lens. You may be able to get away with bringing it into concerts, museums, ball games and so forth that forbid professional cameras.
Buy:
Pentax K-01 with 40mm lens.