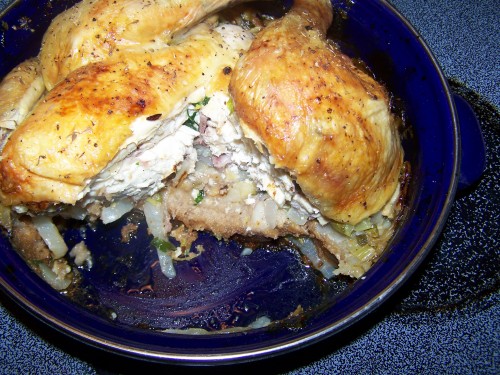 This is a lovely recipe for a whole chicken, butterflied and baked on a layer of seasoned, sauteed onions and slices of stout artisanal bread – which we will have for supper tonight, with leftovers reserved for another evening. I found it in an old issue of "Cuisine at Home", where it had been taken from Ari Weinzweig's "Zingerman's Guide to Good Eating". Enjoy… but take note that the bread has to be very sturdy. My local supermarket bakery does a very nice ciabetta loaf that works well.

Sautee in 1/4 cup olive oil in a cast-iron skillet or oven-proof skillet approx. 12 inches in diameter:
3 large onions, halved, and sliced into half-moon shapes
3 cups celery, sliced
Stir in:
2 tsp. minced lemon zest
1 3/4 tsp. coars sea or kosher salt
1 tsp. minced garlic
1/2 tsp. freshly ground pepper
1/2 tsp. dried thyme
1/2 tsp. red pepper flakes
1/4 cup chopped fresh Italian parsley
While the onion is cooking, butterfly one 3-4 lb young chicken, snipping along the backbone with kitchen shears on either side. Spread out the chicken flat, and press down with the palm of your hand on the breastbone to crack and flatten it. Rub the butterflied chicken with 2 Tbsp. olive oil, 1 tsp. freshly ground pepper, and 1/2 tsp. salt
When onions are soft and translucent, empty the onion mixture from the pan, remove from heat, and cover the bottom of the skillet with slices of the bread, cut 1/2 inch thick. The recipe calls for about half a baguette, or two ciabatta rolls. Spread out onion mixture on top of the bread, and top with the butterflied chicken, arranging it to cover as much of the surface of the onion and bread as possible. Pour over the chicken:
1/4 cup fresh lemon juice.
Roast uncovered, in a pre-heated 375 deg. oven for about an hour and a half, until beautifully golden-brown. Let stand for ten minutes after being taken out of the oven. To serve, cut chicken into quarters, and serve over a lavish spoonful of the vegetables and the bread, which will be almost caramelized on the bottom.