The small town of West, Texas, north of Waco, has had its fertilizer plant blow up around 7:15pm CST. There was a fire with fire fighting units on-site when a tank in the plant exploded in a massive fireball described as "nuclear" by local residents.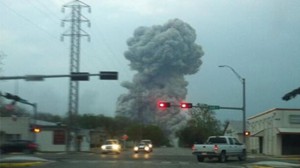 The plant, and buildings within four blocks — including the hospital, apartments & a nursing home — have been leveled with many on fire. The local school district is closed the next two days from damage and use as a trauma center.
Dallas TV is reporting the West EMS director as giving a casualty count of 60-70 dead with hundreds injured in a town of 2,500.
The local Dallas TV is showing most of West is on fire with a 10-mile back up on I-35 filled with 1st responders and other traffic. I-35 between Waco and West is currently in the midst of a major construction project contributing to this.
The triage center at a local football field was evacuated at 10:00pm CST for fear of another tank at the plant exploding.
Further Dallas media reports (10:50pm CST) are that Northern Waco is being evacuated for fear of toxic chemical releases from the West Fertilizer Plant fires.
Update 11:20pm:
The Mayor of West has held a press conference that just ended (11:15PM CST). The Mayor is also a fire fighter and was a block away, responding, when the plant blew. He did not give overall casualty numbers, but five West fire fighters were on-site when the plant blew and are unaccounted for. The nearby nursing home was evacuated. First responders are going house to house in the northern portion of town looking for survivors, wounded and dead. Areas north of West are being subjected to a potentially toxic smoke plume but the fire is under control.
Earlier reports of Waco evacuation appear untrue.
Update: 06:30 AM
The death count dropped overnight from 60-70 to 5-to-15 "missing" mostly from the West Volunteer Fire Department. Facebook has a photo of the blast cloud here.
The cloud has the characteristic mushroom shape of any really large explosion. FYI, that photo was taken from Arlington, Texas about 70 miles away.
Update: 11:15am
The blast photo was changed as there was a question the earlier photo was faked.
Update: 12:40 pm
The main tank that blew in West had a 12,000 gallon volume and CNN is now reporting multiple hospital victims with anhydrous ammonia burns. That tank is almost certainly the source of the anhydrous ammonia. See the comments section for a retired OSHA investigator's view of the explosion videos.
Update 12:50pm
West is known for a couple of things in Texas. Really good kolaches (pigs in a blanket with alternete fruit or cheese fillings for you non-Czech-Texans) and Westfest a polka festival every Labor Day. I suspect Westfest is going to be much more somber this year.