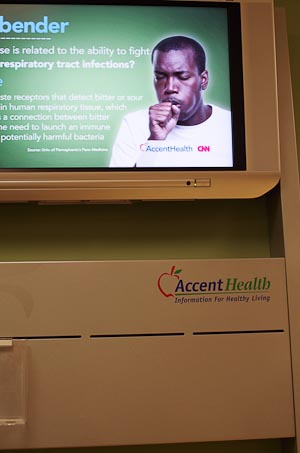 Stuck in a doctor's waiting room where I've been sitting for an hour and will be sitting another hour at least.
A large TV monitor is playing and replaying the same annoying loop of fluffy health programs and ads that I've seen many times on successive visits to this office. Sound volume is loud and inescapable. I ask the receptionist if it's possible to lower the volume. She says she has no control. I ask if it's possible to turn the thing off, isn't that an on/off switch? She says: no, believe me, we'd like to, the switch doesn't work. I try pressing the switch. Nothing happens.
I assume that CNN (which produced the show) is paying the doctors to keep this damn machine running in their waiting room, and that one of the terms of the deal is that the machine won't be turned down or off. And the advertisers are paying CNN. Good deal for them, and for the doctors — they aren't likely to lose patients over such a nuisance. But this is really an abusive business model and I hope that it falls out of favor.
UPDATE: The LCD's power cord is routed through conduit and wired into a junction box, so there is no easy way to pull the plug.