One of the focal points in writing this History Friday column has been trying to answer the question "How would the American military have fought the Imperial Japanese in November 1945 had the A-bomb failed?" Today's column is focusing on an almost unknown aircraft, the Curtis SC-1 Seahawk light patrol seaplane as one of many "reality lives in the detail" changes in material, training and doctrine that the US military was making for the invasion of Japan. Then placing the Seahawk in the wider context of the contrasting US versus Imperial Japanese fighting styles, of American "matériel battle" aka "Materialsclacht" versus Japanese "Samurai spirit."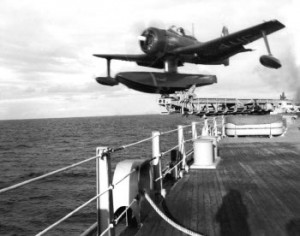 This is what Wikipedia has to say about the Curtis SC-1 Seahawk
"While only intended to seat the pilot, a bunk was provided in the aft fuselage for rescue or personnel transfer. Two 0.5 in (12.7 mm) M2 Browning machine guns were fitted in the wings, and two underwing hardpoints allowed carriage of 250 lb (113 kg) bombs or, on the right wing, surface-scan radar. The main float, designed to incorporate a bomb bay, suffered substantial leaks when used in that fashion, and was modified to carry an auxiliary fuel tank.
You can see a nice You Tube video titled "SC-1 SeaHawk Seaplane Fighters in Combat Operations!" at this link:
The Seahawk served the US Navy from 1944 through 1948 and was replaced by helicopters. It is at best a footnote in the most detailed histories of World War 2. It is also a perfect metaphor for the fighting that would have happened, but didn't, thanks to the ultimate in WW2 Materialsclacht…the atomic bombs dropped on Hiroshima and Nagasaki.
Materialsclacht is a German military word coined in November 1916 by Generals Ludendorff and Hindenburg after the battles of Verdun and the Somme. Roughly translated into English it comes out as either "matériel battle" or "attrition warfare." In the original German it has a great deal more meaning; this passage from a 1 Nov 1916 letter from Hindenberg to Bethmann-Hollweg will give you a better sense of the meaning:
"The ever increasing "influence of the machine" meant that even the unquestionable "Spiritual superiority [geistige Ubergewicht] of the German soldier was not enough. Superiority in cannon, munitions and machine guns was also increasingly required. Germany must therefore double its munitions and triple its artillery and machine gun production by 1917."
After that letter, the Germans retreated to deeply dug-in, concrete reinforced, positions on the Western Front's "Hindenburg Line" for 18 months, to give them the breathing space to defeat the Imperial Russians in the East. Then they returned to squander their last reserves of hard to produce matériel and victorious troops from the East in a failed 1918 offensive that cost them the war.
This post-1918 offensive losing position was very much where the Japanese were in the Spring of 1945 when the commanding officer of the Japanese 32nd Army, Lieutenant General Mitsuru Ushijima, wrote the following (taken from "Okinawa: The Last Battle of World War II" By Robert Leckie):
"You cannot regard the enemy as on a par with you. You must realize that material power usually overcomes spiritual power in the present war. The enemy is clearly our superior in machines. Do not depend on your spirits overcoming this enemy. Devise combat methods based on mathematical precision – then think about displaying your spiritual power."
Ushijima's success in doing just that and bleeding out the American 10th Army and III Marine Amphibious Corps at the price of his entire 32nd Army was the stuff of military legend.
So was what came next.
In the early hours of July 29, 1945, on a bright moonlit night, a kamikaze plane hit and sank the destroyer USS Callaghan (DD-792) at Radar Picket Station 9A, 60 miles southwest of Okinawa's air defense "Point Bolo." USS Cassin Young (DD-793) fought off other incoming planes while the destroyer USS Prichett (DD-561) went to Callaghan to take off survivors before the ship sank. The next night during the early morning hours of July 30, 1945, a "very slow plane" hit Cassin Young when stationed off the entrance to Buckner Bay. The crash killed 22 and wounded 45. Both ships were the victims of planes like the Yokosuka K5Y, an ancient wood and fabric bi-plane trainer whose construction made them too small a radar target for the 5-inch VT proximity fuse of the time to properly activate and who flew too low for the 1.5 meter "SC" type long wave length destroyer search radars to pick up among the clutter of land returns of Okinawa.
US Military "Ultra" code breaking reported in Thomas Allen and Norman Polmar's book "Code-Name Downfall: The Secret Plan to Invade Japan and Why Truman Dropped the Bomb" made clear the Japanese were going to convert 5,000 Yokosuka K4Y1, Yokosuka K5Y and Tachikawa Ki-17 bi-plane trainers into Kamikaze.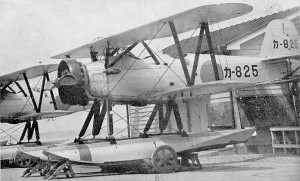 The "Spirited Japanese would have defeated the US Invasion of Japan with Stealth Kamikaze Bi-Planes" narrative is built around those Ultra messages and that series of engagements. (See "The Coming Kamikaze Threat in World War II We Never Faced" at this link: http://aviationtrivia.blogspot.com/2012/08/the-coming-kamikaze-threat-in-world-war.html for an example.)
The detailed reality of Operation Olympic would have been much different than this simplified narrative.
War is the ultimate human game of Darwinian evolutionary selection. The US Military and in this case the US Navy was making a massive change in its cruiser and battleship observation plane force structure between Operation Iceberg (Okinawa) and Operation Olympic (Japan) by doing a mass replacement of all earlier seaplane models with the Curtis SC-1 Seahawk by October 1945. This would have made a significant difference in dealing with the Kamikaze bi-planes.
The Curtis SC-1 Seahawk was armed with a pair of .50 caliber (12.7 mm) heavy machine guns, had a maximum speed of 313 mph (504 km/hr), could out-climb an F6F "Hellcat" to 6,000 ft. (1829 m), and could out-turn the brand new F8F "Bearcat". The SC-1 had two underwing hard points each capable of carrying up to a 325 lb (147kg) depth bomb and a bomb bay in the float with the same depth bomb capability. (This was seldom used as the bay doors leaked after use; a fuel tank was usually substituted.) The SC-1 was faster than the Imperial Japanese Army Nakajima Ki-27 "Nate" and only 7 miles an hour slower than the Nakajima Ki-43 "Oscar" with the same machine gun armament. Think in terms of an American version of the A6M2 Zero based "Ruf" seaplane fighter.
There would have been 150 of them in US Naval forces as follows via Thomas Allen and Norman Polmar's book Code-Name Downfall: The Secret Plan to Invade Japan-And Why Truman Dropped the Bomb
and Naval Aeronautic Organization, 23 July 1945
U.S. Naval Forces Available for Olympic/Majestic equipped with SC-1 —
FAST CARRIER TASK FORCE
14 CV
6 CVL
9 BB (4x SC-1 each)
2 CB (3x SC-1 each)
7 CA (2x SC-1 each)
12 CL (2x SC-1 each)
5 CLAA
75 DD
AMPHIBIOUS SUPPORT FORCES
12 CVE
11 BB (Older) (2x SC-1 each on nine OBB)
10 CA (2x SC-1 each)
15 CL (2x SC-1 each)
36 DD
6 DE
LOGISTICS PROTECTION GROUP
10 CVE
1 CL (2x SC-1 each)
12 DD
42 DE
In daylight the SC-1 would be able to intercept and shoot down wood and canvas bi-planes no sweat and tangle at low level with 2nd line and old front line Japanese Army fighters in daylight. Per US Navy doctrine of the time it would have been patrolling at low level on the flanks of the invasion fleet and in the low hills behind the landing beaches and ahead of the landing craft. This was exactly where the low and slow bi-planes would have to pass to get to American troop transports.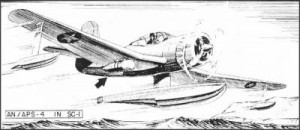 At night time, the SC-1 Seahawk had two very special surprises for the small numbers of large flight hour, night flying capable, instructor pilots (likely no more than 5%) of these bi-plane Kamikazes. The SC-1 was equipped with the pod mounted AN/ASP-4 surface search/air intercept radar! (See drawing above and the photo below.)
This 3cm/X-band radar could be used close to the ocean, unlike the destroyer "SC" radars and could see small bi-planes. More importantly, unlike the radar equipped F6F-3N and F4U-3N fighters, the Seahawk had wing slats that let it fly low and slow, as slowly as 80 knots (148km/hr), to land on rough seas. This meant that the Seahawk was uniquely suited to hunting the bi-planes that sank USS Callaghan and damaged USS Cassin Young.
Thus you see yet again, in a "reality lives in the details" small scale contest between American "Materialsclacht" versus Japanese "Samurai spirit," bet "Materialsclacht." Which, in fact, is what Pres. Truman did with the atomic bomb, he used it on a massive scale to crush Japanese "Samurai spirit." And the world is a much better place because of it.
Naval Acronyms
CV – Fleet Carrier
CVL – Light Carrier
CVE – Escort Carrier
BB – Battleship
CB — Battlecruiser
CA – Heavy Cruiser
CL – Light Cruiser
CLAA – Light Anti-Aircraft Cruiser
DD — destroyer
DE – Destroyer escort
Notes and Sources —
1. Thomas Allen and Norman Polmar, "Code-Name Downfall: The Secret Plan to Invade Japan and Why Truman Dropped the Bomb," Simon & Schuster; First Edition edition (July 1995) ISBN-13: 978-0684804064
2. AN/APS-4 (ASH) Lightweight ASV and Interception Set
http://www.history.navy.mil/library/online/radar-10.htm
DESCRIPTION: Lightweight airborne search and interception set primarily for carrier based aircraft. All major components are contained in a single pressurized housing similar to a Mk 41 depth bomb, and detachable in the same manner as an ordinary bomb.
.
USES: For locating and homing on ships and coastal targets; for locating planes and making interception approaches; and for navigating. Range, bearing and elevation data are given as B or modified H indications appearing on the same scope. Set operates with AN/CPN-6 racon, and has provisions for IFF connections for identifying targets.
.
PERFORMANCE: Reliable maximum ranges are 15 miles on surfaced submarines (broadside), 30 miles on 4,000-8,000 ton ship, 75 miles on well-defined coastline, and 5 miles on aircraft. Aircraft can be tracked to 300 feet. Range accuracy is ± 5%. Covers ± 75° in bearing. Bearing accuracy is ± 3°. Covers -30° to +10° in elevation when searching, ± 30° when intercepting. Elevation accuracy is ± 3°.
3. ASH Airborne Radar
http://pwencycl.kgbudge.com/A/s/ASH_airborne_radar.htm
Specifications:
Wavelength – 3 cm
Power – 1 kW
Range –
5 nautical miles (9 km) on aircraft
15 nautical miles (30km) submarine
30 nautical miles (55km) on merchant ship
75 nautical miles (140km) coastline
Accuracy – 3 degrees
Scope –
B scope at all ranges
G scope at shortest range
Weight – 180 lbs
Also known as AN/APS-4, the ASH airborne radar was mounted in Avengers escorted by Hellcats. It was intended to be a general purpose radar capable of both air and surface search as well as navigation and homing. The main components were mounted in a pod resembling a depth bomb that was mounted on a bomb rack.
.
The system had four range settings, for 4, 20, 50, and 100 nautical miles (6, 30, 80, and 160 km). The system was equipped with IFF.
.
Though rather too large and complex for effective use in fighters, a number of sets were installed in the F6F-5E Hellcat night fighter. These were eventually superseded by the much more suitable AN/APS-6 gunsight radar.
4. Airborne Search Radar RT-5A/APS-4 (USA 1943)
http://www.duxfordradiosociety.org/restoration/equip/aps4/aps4.html
5. ASH Radar Mounted on Curtis SC-1 Seahawk
http://navsource.org/archives/01/057/015701h.jpg
6. D.M. Giangreco , "Hell to Pay- Operation Downfall and the Invasion of Japan, 1945-1947". Naval Institute Press, 2009.
7. Robert Leckie , "Okinawa: The Last Battle of World War II," Penguin Books (July 1, 1996) ASIN: B00362AMFM
8. Naval Aeronautic Organization, 23 July 1945
http://www.history.navy.mil/a-record/nao-23-52.htm
PDF Page 24:
"For planning purposes BBU now using OS2U as substitutes for SC are assumed to be re-equipped with SC by Oct 1945."
.
Page 25:
"For planning purposes CAU now using OS2U or SOC as substitute for SC are assumed to be re-equipped with SC by Oct 1945."
CAU = Heavy Cruiser units
.
Page 26
"For planning purposes CLU now using OS2U or SOC as substitute for SC are assumed to be re-equipped with SC by Oct 1945."
CLU = Light Cruiser units..
9. Radar Bulletin NO. 2A (RADTWO A) "THE TACTICAL USE OF RADAR IN AIRCRAFT," Part Two RADAR SYSTEMS, PRINCIPLES OF OPERATION OF THE RADAR SYSTEM, Navy Department, Office of the Chief of Naval Operations
http://www.ibiblio.org/hyperwar/USN/ref/RADTWOA/RADTWOA-2.html
10. Curtis SC-1 "Seahawk", NavSource Online: Battleship Photo Archive
http://www.navsource.org/archives/01/57k2.htm
11. SC Seahawk, U.S. Reconnaissance Float Plane
http://pwencycl.kgbudge.com/S/c/SC_Seahawk.htm
12. Curtis SC-1 Aircraft, USSLittleRock.org
http://www.usslittlerock.org/Armament/SC-1_Aircraft.html
13. Curtiss SC Seahawk 1944, Virtual Aircraft Museum
http://www.aviastar.org/air/usa/curtiss_model97.php