Happy VJ-day!
Seventy five years ago today the Imperial Japanese Government broadcast their unconditional acceptance of the terms Potsdam Proclamation.  It would take several weeks to arrange the surrender in Tokyo bay and more time to land an occupation force to begin disarmament.  Yet it is this day that is remembered.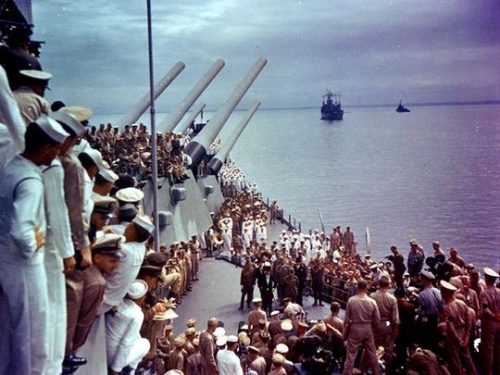 Chicagoboyz has commemorated this day — more or less — since 2010.
Below is a link list with thumb nail descriptions of the columns.
2020 – Hiroshima and the Atomic Bomb…Plus 75 Years.
This column speaks to how the US military use it's secret SIGSALY digital radio-telephone system to communicate about the Atomic Bomb.
2019 — The Collapse of Atomic Diplomacy…Again?
This months delayed column was on a 2011 NHK documentary titled as follows:
"Atomic bombing – top secret information that was never utilized
原爆投下 活(い)かされなかった極秘情報"
The NHK documentary answers questions that "Atomic Diplomacy" has never bothered to ask. Specifically "What did the Imperial Japanese Military & Government know about the American nuclear weapon program, when did it know it, and what did it do about it."