Last weekend I took the family to Chicago for our annual Christmas weekend in the big city. We had a great time, as always. Some observations below the fold.

The crowds weren't as massive as last year. This is in part, imho, due to the weather. Last year it was unseasonably warm, and this year it was…seasonal. As we walked down Michigan Avenue we needed to duck into stores here and there to warm up. But to us, that is part of the fun.
The stores all seemed to have pretty good sales. I bought a nice coat at Cole Haan. This was strange for me, as I usually don't care too much about fashion, but it is time for me to start looking smart as I am a successful businessman in my mid forties and the coat fit and I just said what the hell. It was 30% off. I had them ship it home to Wisconsin. I was going to be damned if I was going to pay the extortion like Chicago sales tax on a several hundred dollar purchase.
Even the high end stores on Michigan avenue seemed to have shoppers in them. We aren't in the $3500 handbag set, but we always like to see the fashions and then try to get them on the cheap at outlet stores or get knockoffs elsewhere. These high end stores seemed to be ringing up sales though.
The restaurants were all packed. We had a hard time getting a reservation at a lot of places, so we ended up taking an early 5.30pm at Cafe Spiaggia. It was absolutely amazing. I highly recommend it. But bring your wallet. After tip, we broke through the $300 mark for dinner for the four of us although in the big picture, this isn't too terrible since we had appetizers, dinner and dessert along with a few glasses of wine (for the wife and I, not the kids, of course). Across the hall was the "big brother" restaurant called simply "Spiaggia". It looked more formal. I can't imagine the food getting any better, but I imagine the views and clientele are a bit higher end. Maybe someone from Chciago can help me out with that.
All of the stores were decked out and looked great. One store that wasn't decked out was All Saints. This store has mod fashions for all of you hipsters out there. Interesting to me was the decor. They had a bunch of old sewing machines and looms scattered about. Very cool to look at. But a t-shirt is $75 or so. Not my style but I recommend you stroll through there for the ambiance and marketing.
We ran quick through Water Tower Place, a giant seven story mall. Again, it was busy, but not insanely packed like last year.
Saturday was museum day, and we did the Shedd Aquarium. It was a great value if you like this sort of thing. We paid the "all in" fee so we could catch the movie in 4-d, as well as the dolphin/whale show and a few other exhibits. Very well done.
We were at the Shedd for 5 hours, then made a quick dash to the Field Museum. We did most of this last year but wanted to finish it up. They have a cool 1893 World's Fair exhibit going on and more importantly to me, a great display of Nazi propaganda posters and movies. I highly recommend it. They even have little cards under the posters that translate them into English.
Sunday morning we got up and took a trip to the top of the Hancock. There was literally nobody there when we arrived right at opening. I recommend this if you are having trouble getting to the top of the Sears Tower because of crowds. The view is just as good. They also play movies up at the top that explain the construction of the building. Santa is there right now, too. We started to get a bit of vertigo after a while, and headed down. I took this photo of Carl's place and jokingly texted him that I could see him.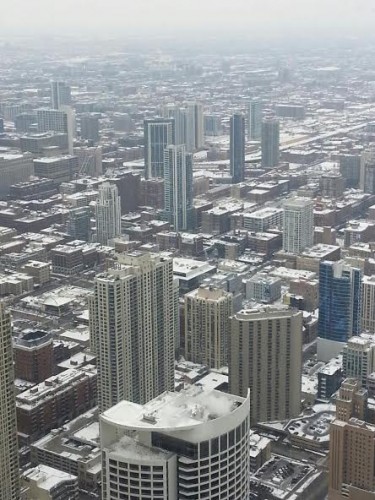 He texted me back and asked if I took it with a real camera, but no, it was my Samsung Galaxy S3. Which is probably the best camera I own as this is even done with a bit of zoom.
On the way out of town we stopped in the Lincoln Park area because the SO wanted to hit West Elm. The shops around that area also looked busy, but not insane. We picked up a couple of items and headed home.
We stayed this time at the Residence Inn on Walton. Perfect location, and one of the few "suite" rooms we found that was reasonably affordable. Free breakfast each day eased the pain a bit. Still, two nights were $800 after taxes and parking – parking was $50 per day. Chicago isn't a cheap date, but a location like that never would be. We also walked through the famous Drake hotel, which was right down the street and it looked dynamite. A great time was had by all.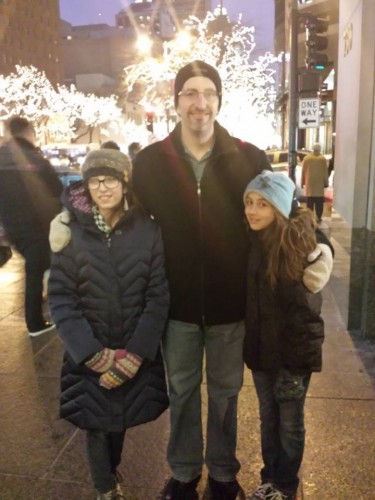 Cross posted at LITGM.