One of the objectives when I started writing my "History Friday" columns was to improve the public's understanding about the "cancelled by atomic bomb" November 1945 invasion of Japan. A recurring focal point has been trying to answer the "counterfactual" or "What If" question "How would the American military have fought the Imperial Japanese in November 1945 if the A-bomb failed?" in ways that challenge current academic narratives about the end of World War 2 in the Pacific.
This History Friday column returns to that theme by examining a technology forgotten and a technology familiar and using the combination to challenge the standing academic narrative of "If America invaded Japan in 1945 without the A-bomb, Japan had a chance of winning." The "Forgotten" is the "Brodie Device" a "cableway" technology for launching and landing small fixed wing aircraft. The "Familiar" are small general aviation planes of the Piper Cub class and television. Early television created in the form of the "Block III" missile guidance seeker of R.C.A.'s WW2 era chief scientist Dr. Vladimir Zworykin. And taken together, they represented the qualitative aspect of the American materialschlacht – battle of material – that was actually on a sharp upward slope in the closing months of WW2. Creating for the cancelled Operation Olympic Invasion of Japan something that looked like a direct ancestor of the 2013 Robert J. Collier Trophy winning MC-12 Liberty. A Hawker Beechcraft King Air "Manned UAV," which is flying combat missions over Afghanistan today.
Brodie Device
The "Brodie Device" was the invention of one Lieutenant, later decorated with the Legion of Merit and promoted Captain, James H Brodie of the USAAF Transportation Corps. Brodie's day job was redesigning freighters in the Port of New Orleans to carry aircraft to the front. He saw any number of ships with his work torpedoed and sunk by U-boats, and unlike most, he could and did something about it. He designed a cableway device to give his freighters their own Piper Cub air spotters. With much politicking on his part, he was given $10,000 and designed a 7,000 lbs (3,175 kg) cableway launch and landing system that began testing in April 1943. By July 1943 he was pestering transient USAAF pilots to test fly an L-4 "Grasshopper" Piper Cub into his contraption. Finally he found a B-26 pilot, named Maj James D Kemp, with enough bravery and shear craziness to do both a take-off and landing on 3 Sept 1943.
By Mid-September 1943 Brodie's project was assigned its first permanent test pilot and he obtained his first cargo ship, City of Dalhart, in late 1943 to conduct sea trials. A series of successful landings and takeoffs were successfully made with a Stinson L-5 in December 1943, vindicating the project.
His invention missed the Battle of the Atlantic and wound up being used in a "Combat test" as a portable launch and landing system to turn a single Tank Landing Ship (LST) into very light aircraft carrier for the invasions of Iwo Jima and Okinawa. The success US Army Artillery pilots — in L-4 Piper Cubs flying from of the USS LST-776 — in spotting Japanese suicide boats for the 77th infantry Division invasion of Kerama Retto Islands off of Okinawa resulted in an order for 24 more Brodie devices. Only eight were installed on ships before the end of the war, but they would have played a great role in the cancelled invasion of the Japanese home islands.
The 40th Infantry Division plus the I, IX and XI Corps would have had a Brodie LST aircraft carriers for spotting Japanese suicide units during the landings. (See photo below).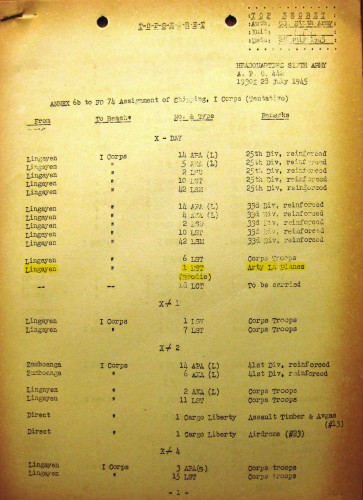 By itself the Brodie Device story is a great one for underlining the American materialschlacht – battle of material – the Japanese faced in November 1945. It wasn't alone. It was going to be augmented with 1940's high tech, RCA WW2 Chief Scientist Dr. Vladimir Zworykin's Block III Television guided missile seeker. And how I found this out was pretty much a complete accident.
The JAVAMAN TV-Guided Boat Bomb
I have been researching a joint US Army Air Force (USAAF) and Operation of Strategic Services (OSS) for some time and along the way have struck up e-mail conversations with the son of one of the USAAF Test pilots who would have flown the modified B-17 controlling the Javaman TV-guided boat missile. Javaman was originally called initially called Project Campbell and that gave me the photo you see below.
After that, I had run into a complete block exhausting all my usual sources. Then I hit upon trying early television hobbyists. The US Military dumped a hug amount of surplus electronics on the domestic market after WW2 and I played that card in my Internet searches. This turned up Dr. Vladimir Zworykin's television seeker and a 2007 Early Television conference in Cleveland Ohio. (See both photos below)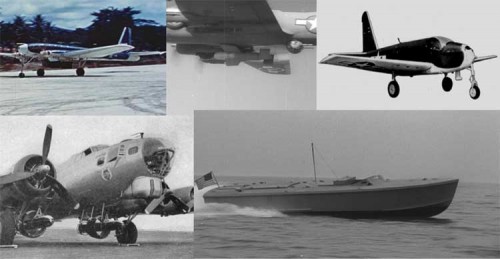 Serendipity, Arriving
During that period of research I was also looking through a document on the June 1946 US Army infantry Branch Conference. This conference distilled all the lessons learned from WW2 and provided a "dog and pony show" for all the most advanced weapons that didn't make it into combat due to the Atomic bomb. In it, I found the following passage:
TELEVISION IN L-5 AIRPLANE
Purpose. To demonstrate the characteristics, capabilities, and limitations of this equipment.
.
Organization. The observing group will be divided into two sections, one observing the receiver and the other examining equipment. The sections will change places at the middle of the period.
.
Description. In the first phase of the demonstration, complete equipment will be displayed and the operator will explain the functioning, range of the set, effects of weather and light conditions on reception, desired development, and possible future uses.
.
Major components on display will be:
.
1. The conversion unit, or camera, which "looks" in an area and converts the variations in light intensity into electrical variations.
.
2. The transmitter, which is an ordinary radio transmitter, sending electrical variations of the camera instead of the conventional voice or code. This unit, because of the high frequency used, has line of sight characteristics.
.
3. The filter-junction box and dynamotor which supply the necessary high voltage to the conversion unit and the transmitter.
.
4. The receiver which receives the transmitted radio waves and converts them to a visible image.
.
The first three units described above are mounted in the L-5 airplane for this demonstration.
.
In the second phase of the demonstration, observers will see artillery firing white phosphorous shells and will be able to compare the actual firing with the image received on the view screen of the receiver.
.
Remarks. This equipment (Code name BLOCK gear) was developed for use of the Navy as a homing device for a glide bomber similar to the German V-1. The missile was to be released from a mother plane and its glide path controlled so as to guide it to large targets such as battleships. Since the equipment was developed for a "one way ride," certain features such as lack of ruggedness make its use limited at present.
The "Remarks" section above refers to the US Navy GLOMB. I didn't recognize that – I have had this document for literally years – until I ran into that TV hobbyist document.
This connection is hugely important because immediately after the defeat of Germany in May 1945, the Office of Science, Research and Development (OSRD) had told all of its components to either get a weapon to US armed force in a year or shut down. The "Block gear" remote TV camera gear described above met that directive.
The only application, given the number built – three – the timing and the Brodie information in "Annex 6b to Field Order 74 Assignment of Shipping, I Corps (Tentative)" meant that there was going to be one "Block gear" kit for each Brodie LST flying Stinson L-5 Liaison spotter planes for I, IX and XI Corps in Operation Olympic.
This L-5 spotter plane plus Dr. Vladimir Zworykin's TV Seeker "Manned UAV" combination underlines the qualitative aspect of the American materialschlacht that was on a asymptotically sharp upward slope in the closing months of WW2 for the cancelled by A-Bomb November 1945 invasion of Japan. It was a direct ancestor of the MC-12 Liberty flying over Afghanistan today.
And now you know another reason why I think the current academic narratives about the end of World War 2 in the Pacific are "methodologically flawed."
Notes and Sources:
T/4 Charles E. Adams, "1 Idea + $10,000" Field Artillery Journal, Vol 36, No. 4, April 1946, pg. 201-203
Annex 6b to Field Order 74 Assignment of Shipping, I Corps (Tentative) pg. 1, Krueger Collection, Texas A&M
A Runway On a Rope
http://www.aerofiles.com/brodie-rig.html accessed 01/08/2013
Infantry Conference June 1946, Demonstrations, Weapons and Equipment, Prepared by the Infantry School, Ft. Benning, Georgia, Demonstration VI, Wednesday 19 June 1946, 0800-1200, Galloway Range.
James BRODIE — Portable Airport — Cable-rigged launch-landing apparatus — Article & 4 US Patents
http://www.rexresearch.com/brodie/brodie.htm#2435, accessed 01/08/2013
Irwin Kappes "PACIFIC WAR SECRET WEAPON: The Brodie System," Sea Classics, Vol. 41, No. 7, Copyright July 1, 2008
John C. Kriegsman, "THE PIPER CUB AND THE LST AIRCRAFT CARRIER" (A WWII POOR MAN'S CARRIER), Liaison Pilot Air Officer, 77th Infantry Division Artillery
MC-12 Project Liberty Team competes for aviation's 'Greatest Achievement'
http://www.acc.af.mil/news/story.asp?id=123339451 accessed 1/5/2014
Andreas Parsch , Directory of U.S. Military Rockets and Missiles, Appendix 1: Early Missiles and Drones, VB Series, Copyright © 2003
http://www.designation-systems.net/dusrm/app1/vb.html accessed 1/5/2014
Maurice Schechter "How RCA's WWII Military Television Development Shaped Modern Warfare," 2007 Early Television Convention, Hilliard, Ohio, 4-6 May 2007
www.oldradio.com/archives/hardware/TV/rcamiltv.pdf accessed 1/8/2013
Nick T. Spark, "The Secret Arsenal: Advanced American Weapons of WWII" Wings magazine in October 2004, Text copyright ©2004 https://web.archive.org/web/20120213083051/http://www.mugualumni.org/secretarsenal/page9.html accessed 1/8/2013
WORLD WAR II AERIAL TORPEDOES: TDR-1 / BQ SERIES
http://www.vectorsite.net/twcruz_1.html#m4 accessed 1/8/2013