Posted by Sgt. Mom on April 6th, 2014 (All posts by Sgt. Mom)
At the mighty Big Enchilada!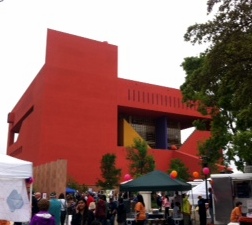 Yes, at the San Antonio Book Festival. The exhibitor tables were across the street – and there were only two homeless that I spotted, from the Watercress Press table. Otherwise a mildly rewarding day, and a grateful return home to a frozen pizza and two episodes of Upstairs, Downstairs on the TV.