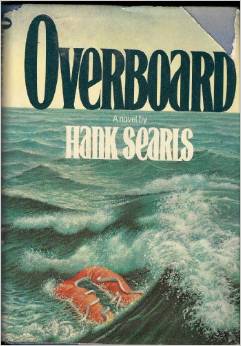 Overboard
by Hank Searls
This is one of several cover designs for this book, written in 1977. Much of the non-sailing information in the book is dated badly. The protagonist is a lawyer who wins a medical malpractice judgement of $1.5 million, "The largest judgement in California history." Obviously that is dated.
The novel opens when the wife falls overboard. She gets up to check for traffic in the night and does not fasten her safety belt although she knows she must. A simple moment of carelessness and she is in the water. They are between Tahiti and Bora Bora in the Society Islands. They have been cruising for months. The backstory is told in flash backs.
Mitch the husband is a sailor who navigates for her father, a racing skipper who is getting old and is too competitive for Mitch. Mitch was a pre-med student in college who switched to pre-law and graduated from Boalt Hall, the UC law school. Lindy, his wife, did not finish college as she became pregnant with their oldest child at age 18. The two children are rather aimless in the way many college age children were in the early 70s.
Mitch is sailing with her father on San Francisco Bay, the author is rather contemptuous of racing, when he sees a Colin Archer ketch crossing the race course and nearly colliding with them as her father refuses to give way to the right-of-way boat until Mitch forces the helm over. He is entranced with this beautiful cruising ketch and spends considerable time searching for it and the owner.
A Colin Archer ketch under full sail.
As a racer myself, I am not enamored of Colin Archer designs as they are very slow sailers. San Francisco with its 25 knot afternoon breeze, would be a good place for one. Mitch searches for the ketch and, finally, Lindy's father Shawn tells Mitch he knows where the boat is in a yard in Sausalito. Mitch goes to the yard and finds the owner, a salty old boatbuilder who looks like he has lost weight, possible due to illness, and who is very reluctant to sell. The discussion of what a buyer should look for and how a builder might feel about his boat are all authentic. The discussion ends with a tentative decision to sell.
Mitch is a trial lawyer and is suing a young doctor in a case where the patient suffered catastrophic injury but the doctor may not have been at fault. He is tortured by his conscience as his father was a surgeon (as was Searls' father) and he dreads the censure of other doctors. The malpractice crisis was just arriving as this book was published. He wins the case but decides to quit and go cruising with his new boat. His wife is a reluctant first mate but is gamely enthusiastic.
The story alternates flashbacks with the present crisis of the wife overboard. Part of the story is told from her point of view in the water and part from his point of view as he searches desperately for her. There is an undercurrent that she was not enthusiastic about going cruising and she has had a probable affair with a fictional character who is obviously Bernard Moitessier, a famous yachtsman who circumnavigated several times, most notably in a single handed round the world race which he was leading near the finish when he decided to quit and sail to the south Pacific instead of to the finish in England.
The author, who lived aboard his own yacht for many years, has many novels to his credit and many movies including Jaws2. Searls also wrote the novelizations for the films Jaws 2 (1978) starring Roy Scheider and Murray Hamilton and Jaws: The Revenge (1987) starring Michael Caine and Lorraine Gary.
His meticulous research is famous among writers. Born in 1922, he is too old to be living aboard although he was when he wrote "Overboard." In 1988, he was ashore, probably for good.
The couple now share a cozy, two-bedroom condo overlooking a golf course in Newport Beach. One bedroom serves as Searls's office, and there he begins work each day shortly after 6:30 a.m. A nearby garage holds cartons of research materials, and a rented storage room several miles away contains 700 cubic feet of carefully labeled files—enough for "five different novelists," he says. Although Searls is "easy to live with," says Bunny, "he's always researching, even if we go away on vacation."
The story is authentic in every respect I can find and I have been sailing since the 1950s. I even gave serious thought to taking six months off from my medical practice to go cruising in the late 1970s, about the same time as this story. The story is a bit of a downer compared to "Trustee from the Toolroom" but the details of sailing are excellent and the story is very plausible, which "Trustee" lacks a bit. A view of the movie I made of the 1981 Transpac will show that we were almost completely negligent in the matter of safety harnesses but we were a full crew. A single or double handed boat crew at night is almost suicidally careless to ignore safety gear. When we were in heavy weather, we always wore safety harnesses. In a small hurricane in 1977 off Mexico, we spent the night in swim trunks and safety harnesses with the wind at 60 knots plus like a hot shower.
The book is an authentic tale of sailing in the days before satellite telephones and GPS.