Today's History Friday column is another in a series focusing on an almost unknown series of military documents from World War II (WW2) called "The Reports of the Pacific Warfare Board," and specifically Pacific Warfare Board (PWB) Reports #42 Pershing, PWB #76 Future Armament and Employment of Main Armament Flamethrower Tanks, and Pacific Warfare Technical Reports (PWTR) 2 & 3.
These reports, like most of the PWB reports, had been classified for decades and only now, thanks to the cratering costs USB flash drives and increasing quality of digital cameras, has it become possible for the interested hobbyist or blogger to access and write about these reports from the formally hard to use National Archives. While the US Marine Corps histories make clear how they were going to arm their tank battalions, the same is not true of the US Army Tank battalions and much in the way of myth, and little fact, has filled the void. Today's column seeks to fill in and correct the official narrative of the cancelled by A-bombings Invasion of Japan.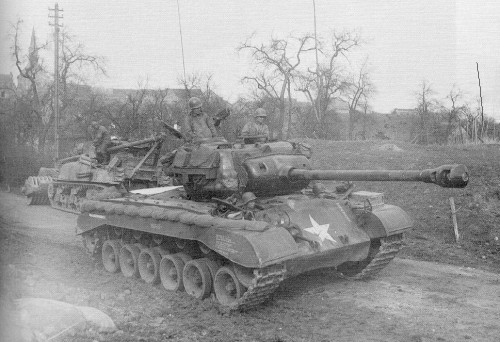 TANK BATTALION FORCE POSTURE AUGUST 1945
There were 14 independent US Army tank battalions in the Pacific in August 1945 with three more due to arrive in September 1945. One of these tank battalions, the 713th on Okinawa, was a 'provisional' flame tank unit with 54 flame tanks and three gun tanks in three companies of 19 radial engine M4 Shermans and an additional headquarters element with three M4 gun tanks and an assault platoon of six Ford engine M4A3(105) with HVSS (Horizontal Volute Suspension System) 24-inch wide track suspensions. It would remain a special flame tank unit for Operation Downfall, but was too shot up to participate in the invasion of Kyushu.
While the 713th wasn't going into Kyushu, nine of the 16 other US Army tank battalions and three Marine Corps Tank battalions were to invade Japan in the November 1945, in the first half of the "Operation Downfall" strategic invasion plan. Those 17 US Army tank battalions were to be joined by six more US Army tank battalions in two Armored Divisions scheduled for the 2nd half of Operation Downfall — the March 1946 Operation Coronet invasion of the Tokyo plains on Honshu.
The standard Pacific area US Army tank battalion in MacArthur's SWPA (South West Pacific Area) theater prior to V-E Day had three companies of 18 radial engine Shermans armed with 75mm guns (17) and 105mm (1 tank) guns, a single company of 17 each, 37mm gun armed, M5A1 Stuart light tanks plus a battalion headquarters unit with three 75mm gun tanks and a separate "Assault gun" platoon that was to be equipped with 105mm gun armed Shermans. Often shortages of the 105mm gun armed radial engine M4 or M4A1 Sherman lead to their replacement with "Limited standard" or "Substitute Standard" 75mm howitzer armed, M5 Stuart tank based, M8 assault guns; the M7 "Priest" self-propelled guns; or 76mm armed M-10 tank destroyers. A few lucky US Army tank battalions in the SWPA and the US Navy's Central Pacific Drive had the 75mm armed M4A3 with the more powerful Ford gasoline engine and narrow 16-inch track VVSS (Vertical Volute Suspension System) suspension. In multiple planned invasions of Japan, this situation was going to change radically.

PERSHINGS IN THE STANDARD NARRATIVE
The best of the technical resource books on American tanks in WW2 come from author R.P. Hunnicutt. Neither his ultimate resource books on the M26 Pershing and the M4 Sherman tank say very much regards the invasion of Japan. Reflecting Hunnicutt's lack of access to the classified Operation Downfall and PWB files at the time he wrote those books, plus the US Army Ordnance Department's overwhelming focus on the War in Europe in its armored vehicle technical reports.
The best of the standard histories for the invasion of Japan is the 1999 "DOWNFALL: The End of The Imperial Japanese Empire" by Richard Frank. A footnote in Frank's book states that said in July 1945 orders directly from General Marshall were cut to send 125 M26 Pershings to equip the 767th Tank Btn. in Hawaii and the 706th Tank Btn, then in Luzon, for the Nov 1945 Operation Olympic invasion.
The 767th tank battalion would get three companies of M26, a company of M24 Chaffee light tanks, 10 more POA-CWS-H5 flame tanks and would be with the 98th Infantry Division. The 6th Army's Field Order 74 and the 98th Division Occupation report had the 98th ID playing the role of floating fire brigade to support and of the three Corps landing on X-day. (See 6th Army landing map)
The 706th tank battalion would get four companies of 17 each M26 Pershings (71 total) and no light tanks, ten of the Hawaii built POA-CWS-H5 flamethrowers mounted in M4A3 tanks and, according to FO 74, it would be 6th Army troops at Ariake Wan (IX Corps area) which was the 6th Army's main effort on Kyushu. Both Battalions would get M4A3(105) HVSS in lieu of the 105mm armed M45 Pershing variant in the assault gun platoons and as medium tank company howitzer tanks.
BEYOND THE STANDARD NARRATIVE
At this point the "Standard Narrative" suggests that only seven of 28 medium tank companies Olympic, in only two tank battalions, would be in Pershings. For the remaining 21 medium tank companies in seven battalions, something like the previous 75mm gun armed standard SWPA and Central Pacific Army tank battalions would have been used in invading Japan. What Alternatewars.com researcher Ryan Crierie and I found recently in the Pacific Warfare Board message traffic says something very different. See 14 July 1945 message photo below: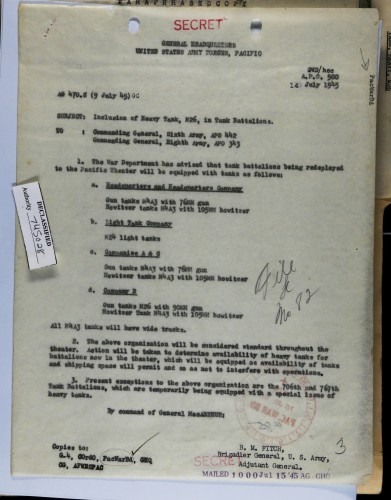 The message states that the new table of organization and equipment for 20 of the 23 for US Army tank battalions for the two "Downfall" plan invasions of Japan — Olympic and Coronet — were to be as follows:
Two Comp. (17 ea) M4A3 (76) HVSS with one M4A3(105) HVSS howitzer tank
One Comp.(17 ea). M26 Pershing with one M4A3(105) HVSS howitzer tank
One Comp (17 Ea) M24 Chaffee
Three ea. M4A3(105mm) HVSS for assault gun platoon plus three M4A3 (76) HVSS battalion HQ tanks
Plus 10 ea M5-4 Flame tanks in M4A3 in two provisional platoons of five flame tanks.
This battalion organization was optimized for infantry support over a wide range of terrain rather than logistical considerations. Each battalion would have three main gun ammunition types (75mm, 76mm and 90mm), a minimum of 2-3 engines (count the higher number if you count the Pershing engine as different from the M4A3 and it was slightly so) 3-4 if using radial engine M4A1 Sherman based M5-4 flame tanks. They would also have a minimum of three different tracks for light tanks, medium gun tanks and medium flame tanks. The M4A1 based flame tank had narrow VVSS suspension with suspension extension kits to allow two sets of double end pin connector track grousers. These grousers or "duck-bill" connectors increased the width of the tracks to 23 inches.
THE GREAT FLAME TANK SHORTAGE
The major problem with that 14 July 1945 plan boiled down to a flame tank shortage. For reasons of US Army procurement politics, the US Army's Chemical Warfare Service did not receive enough of the right kind of tanks in time to fulfill that organizational outline. And while maverick Chemical Warfare Service officer Col George Unmacht had his special flame tank production unit producing 72 of his coaxial POA-CWS-H5 flamethrower tanks, it still was not enough. The US Army tank battalions supporting the I Corp and IX Corps (two each, four total), another tank battalion supporting the 81st Infantry Division of the XI Corps, and the sixth tank battalion split between the 40th Infantry Division and the 158th Regimental Combat Team would have to share 40 M5-4 flame tanks based on M4A1 tanks. That worked out to a single platoon of five flame tanks per battalion. And so short was MacArthur of personnel, the troops to man these flame tanks would come from SWPA theater tank destroyer battalions not involved in the landing!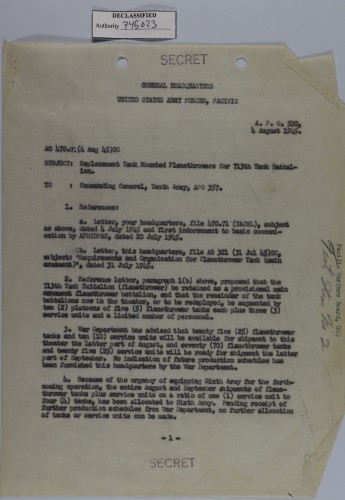 Those six tank battalions and plus an additional tank battalion in 6th Army Operation Olympic reserve supporting the 11th Airborne Division, were to be brought up to a two platoon flame tank strength while Operation Olympic was being executed.
THE OTHER TANK SHORTAGE — PERSHINGS AND M4A3
The other issue that turned up after the July 1945 Standard tank battalion letter was that neither enough of the M26 Pershings nor the Ford engined M4A3 Shermans armed with 76mm guns would arrive in time to reequip Philippine based independent tank battalions in time. Only the three tank battalions arriving in September 1945, all green units who had never seen combat, would have the standard battalion amount of M26 and M4A3 tanks. General Krueger, 6th Army commander, placed them one each in the I Corp, XI Corps and his 11th Airborne Division 6th Army reserve. Photos in R.P. Hunnicutt's ultimate resource book on the Sherman tank, "Sherman: A History of the American Medium Tank" show a mix of 75mm gun armed M4A3 and M4A1 Shermans in Philippine tank depots in the Summer of 1945. Replacement tanks ordered months before the fall of German in May 1945 and only just arrived by August…and the basis of the old narrative myths about what tanks would have been used to invade Japan.
THE NEW NARRATIVE…ARRIVING
Thanks to the arrival of new digital camera and storage technology, we can see a new historical narrative of the cancelled by A-bomb invasion of Japan emerge.
We can see how the myths of the Pacific Army liking 75mm gun Sherman tanks over other American tanks were created.
And we know know that 10 of the 28 medium tank companies that were going to land in the cancelled Operation Olympic landing (36%), eventually growing to 14 of 28 (50%) by the end of the Olympic, were going to be M26 Pershings.