When I started writing my "History Friday" columns, one of my objectives was to explore the "military historical narratives" around General Douglas MacArthur, so I could write with a better understanding about the "cancelled by atomic bomb" November 1945 invasion of Japan. Today's column is focusing on an almost unknown series of Documents called "The Reports of the Pacific Warfare Board," and in specific reports No. 31 and 50. This professional lack of interest by the academic history community in these reports represents a huge methodological flaw in the current "narratives" about the end of World War 2 in the Pacific. These two reports amplify and expand an earlier column of mine hitting that "flawed narrative" point titled History Friday: Operation Olympic – Something Forgotten & Something Familiar. A column that was about a WW2 "manned UAV" (unmanned air vehicle AKA a drone), an L-5 artillery spotter plane with an early vacuum tube technology broadcast TV camera, pictured below.

These Pacific Warfare Board (PWB) reports have been classified for decades and unlike their more well know, examined by many researchers, and posted on-line European Theater equivalents. Almost nothing from them has made it to the public since their mass declassification in the 1990's. There are good reasons for that. The National Archive has a 98,000 file, 80 GB finding aide. One that isn't on-line. Until recently, the only way you can get at archive files like the Pacific Warfare Board Reports is to learn that finding aide and make your own copies using National Archive equipment. This was usually time consuming and cost prohibitive to all but the most determined researchers or hired archivists.
Thanks to the cratering costs USB flash drives and increasing quality of digital cameras built into even moderately priced cell phones over the last few years, this is no longer true. And as a result, the academic history profession is about to have its key institutional research advantage outsourced to hobbyists and bloggers.
The following National Archives PWB documents were sent to me by ALTERNATEWARS.COM guru Ryan Crierie, first from PWB Report No. 31 BRODIE DEVICES AND INSTRUCTION TEAMS –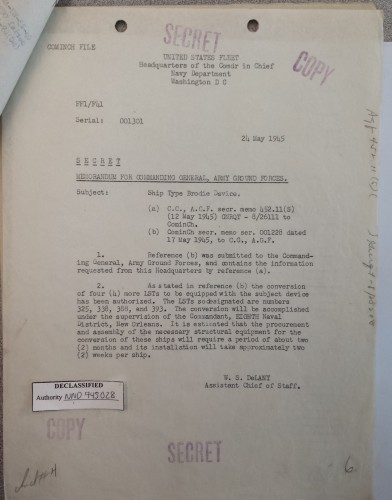 And this extract from the very bureaucratically titled PWB Report No. 50 TELEVISION EQUIPMENT FOR L-5 TYPE AIRCRAFT, DEMONSTRATION TEAM OF BLOCK III EQUIPMENT DEMONSTRATION TEAM.
Thus far we have seen yet another series of reports that adds more detail in terms of military equipment names but essentially repeats what my previous article pulled from the 6th Army's Field Order 74 and the 1946 US Army Infantry Branch Conference…except for the following –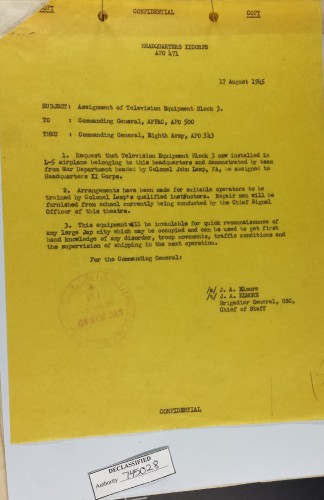 So, not only did the Block III Broadcast TV L-5 spotter plane get demonstrated in the Pacific, one of them was _DEPLOYED_ TO Japan with XI Corps as a part of the Operation BLACKLIST occupation!
This brings up a very interesting question about the Korean War. Given how welcomed and enthusiastically endorsed this capability was by MacArthur's headquarters, why weren't there any Block III L-5 "Manned UAV's" available to General Douglas MacArthur for the Korean War? In particular, why weren't there any searching for the Chinese troops of the People's Liberation Army in the hills of North Korea?
I could spend many paragraphs quoting various post-war documents, but the short answer is enough. The Truman Administration created the Defense Department out of the merged Departments of War and Navy, while founding a separate US Air Force and radically cutting the military budget. That left no money and huge turf issues between the US Army and new US Air Force that killed the block III broadcast TV plus L-5 spotter plane "Manned UAV" in the cradle.
Only decades later in the aftermath of the Iraq and Afghan Wars — over the USAF's bureaucratically killed and buried body — has the US Army gotten the surveillance capability promised to General MacArthur in the fall of 1945.
And now you know another reason why I think the current academic narratives about the end of World War 2 in the Pacific are not only "methodologically flawed," they may have been made technologically obsolete.